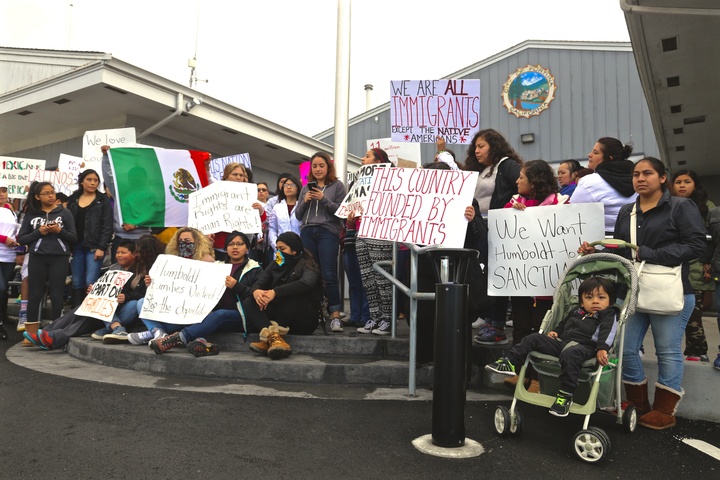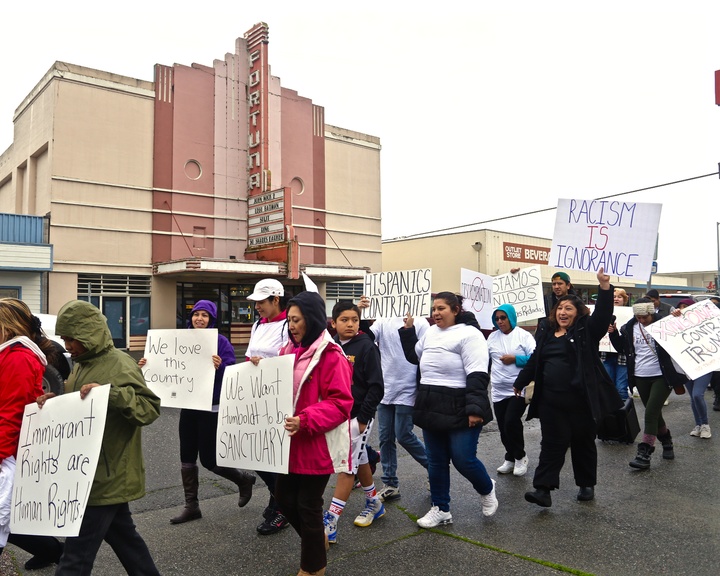 The latest example of a Trump-provoked, social media-fanned mass protest, immigrants across the nation opted to forego work, school and other activities Thursday to demonstrate how important they are to American life. During "A Day Without Immigrants," numerous businesses opted to remain closed for the day while many of the freed-up workers attended rallies resistant to the new President's more hostile immigration policies.

In Humboldt, local activists involved with Centro del Pueblo took up the cause scheduling a morning rally in front of Fortuna City Hall and a march that wound through the Friendly City's most trafficked streets.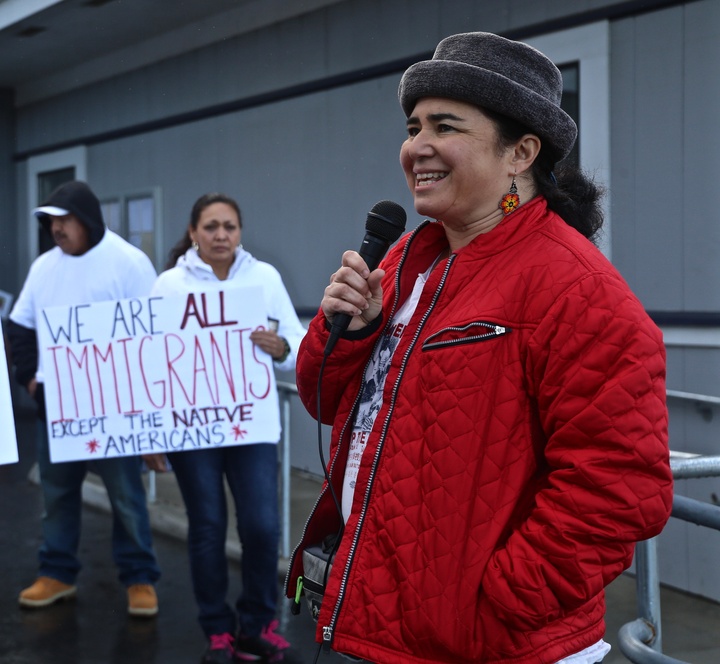 There's a developing trend, here. This was Centro del Pueblo's second straight Thursday of protests in Fortuna. On Feb. 9, in response to U.S. Immigration and Customs Enforcement (ICE) officers' involvement in a Drug Task Force raid in the city and the fear that sent through the Latino community, the group held a somewhat similar rally, also in front of city hall.
A week later on Feb. 16, on a drizzly morn, they were back at it. With a crowd made up predominantly by the local Latino population that grew to near 200 people, Centro del Pueblo members and their supporters began with music, chants and speeches — mostly in Spanish. Renee Saucedo, Centro del Pueblo's most seasoned activist, led the proceedings and translated speakers' sentiments from Spanish to English and vice versa (see video below).
"We want dignity," said Samyrha Saba, an HSU student and member of Centro del Pueblo. "I think the fact that there was such a big turnout — considering the fear that has been imposed on the community throughout the nation through the raids that are happening — I think it speaks to [our] strength and to the resistance that [we have] not let that fear take us over."
The march went smooth. For the most part the chant-enhanced journey was upbeat. Passing motorist's friendly honks far outweighed those who chose to rev their engines or scream pro-Trump sentiments from their windows. The procession slowed a few times as word spread through the group that a law enforcement SUV had been spotted up the road aways. While this made demonstrators temporarily wary, there were no contacts with any officials throughout the duration of the near three hour-long march. Grecia Rojas, herself the daughter of immigrants, was encouraged by the tone of the day.
"I think we expected agitators — people to disrespect us, people to be against our purpose and our mission," Rojas said. "But we also expected a lot of love and encouragement. We got a little bit of both. I think we got way more love than hate."
In keeping with the day's angle, several Fortuna businesses remained closed Thursday, including El Buen Gusto Market and Six Rivers Motel.
"We're going to do it again. If it means taking it to the streets, if it means disrupting, we will," Rojas said. "It's important for everybody to have the decency of safety — not separating families — and that's what we're here for."
[Hear the Outpost's exchange with Saba and Rojas below. More photos from the day below that.]
(AUDIO) 'A Day Without Immigrants' in Fortuna