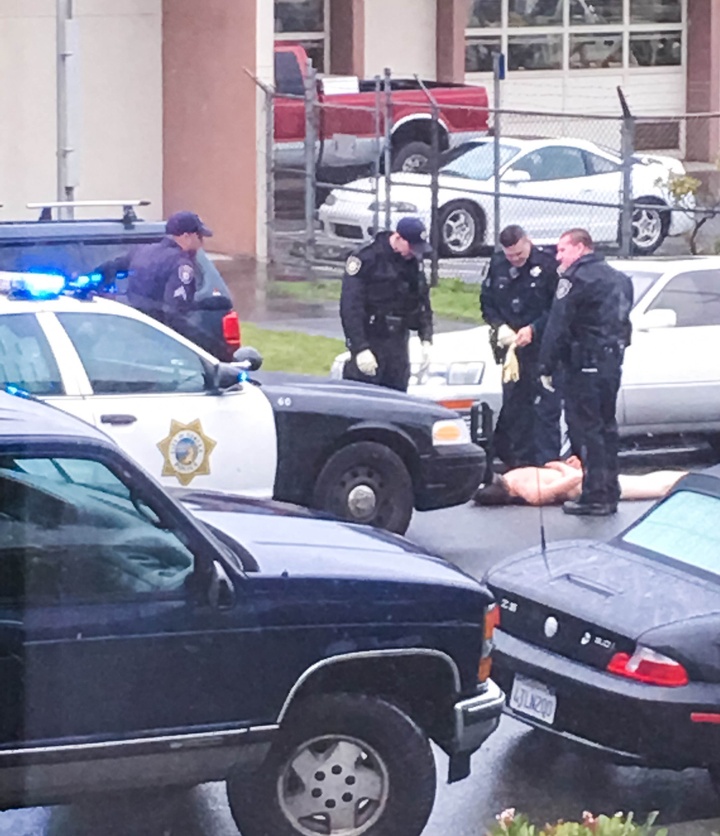 UPDATE, 11:53 a.m.: The Eureka Police Department tells us that the man arrested is Connor Rideout, 20 of Crescent City. He has been charged for public intoxication and assault on ambulance staff.
# # #
Shortly before 9 a.m. Friday, Eureka Police officers responded to a call about a domestic disturbance between a man and woman who share a child.
"The male appeared to be under the influence of an unknown substance and was acting aggressively, even climbing on top of the female's car," said Public Information Officer Brittany Powell. "The male then got off of the car and started taking off his clothes."
As you can see in the photo above, he completed that endeavor and was completely naked by the time he was arrested near the corner of 15th and California streets. From there he was transported to St. Joseph Hospital.
"It is not clear to me yet if it was an injury or medical clearance based on his level of intoxication" that required the hospital trip, Powell said.
It should be noted that public nudity in Eureka has only been illegal for about a year.
We'll update when more information is available.