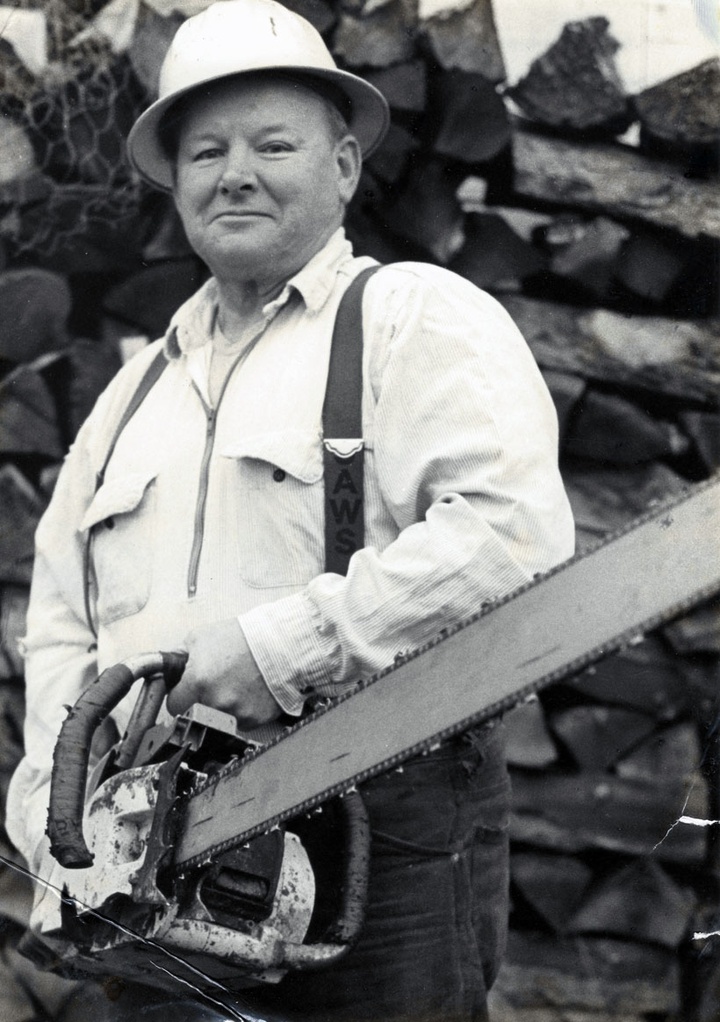 Bruno Melton Isaacson passed peacefully in the early morning hours of January 30, 2017. The youngest of four, Bruno was born on January 11, 1932 to Emil William Isaacson and Sandra Mary Ahola Isaacson. While Bruno lived a majority of his life in Eureka, his formative years were spent on the family farm in Washington.

His mother passed when he was very young and his father, with the assistance of Bruno's older sister and hired housekeeper, assumed the role of both parents. Early on he learned the necessity and value of hard work. From dusk to dawn, 365 days per year, Bruno and his siblings worked various chores on their farm in Washington. All of the food they ate, canned, and bartered or sold on the open market, were the result of their hard work. There was a huge woodshed that had to be kept filled to provide fuel for warmth, cooking, and heating water. The fire place in the main house was used nearly every day of the year and thus, the boys were responsible for cutting trees from the property to provide the number of cords of wood needed each year. It was here that Bruno learned the trade that would do him well all his working life, that of a timber faller. It earned him and his brother Bill, his business partner for several decades, the title of "Gold Dust Twins" because of the huge amount of money they made for all of the companies they chose to work for up and down the coast of Northern California.
In the 1940s the family moved to Eureka and it was there that Bruno graduated from Eureka High School and later met his wife of more than 60 years, Millicent Crnich Isaacson. In the height of the timber industry, Bruno began to fall and buck timber with his father, who taught him the ways of the crosscut and later chainsaw. He learned the physics behind bringing large diameter trees to the ground with as little damage and possible. "It is all weight and measures," Bruno would often say. His early working years were put on hold when the Korean conflict involved the U.S. Always loyal to his country, his family, his community, Bruno joined the US Army and was sent to the front lines for 2 years. He was the only surviving member of his troop (100 strong) not once but after reinforcements arrived to replace casualties, twice. He did not like recalling the memory of the war but did his duty to the best of his ability and the best of his knowledge. He was shot several times and received a Purple Heart and 2 bronze medals from the government for his efforts. But, the one item he cherished more than any other from that time was a cigarette lighter that he always kept in his left breast pocket of his uniform. It was the lighter that took the brunt of the force from an enemy bullet that hit right in the business part of his left breast and spared his life.
Once home, he and his brother teamed up and began the partnership that saw the two work together for decades. Bruno was very proud to work with his oldest brother and was proud that they had the least breakage percentage of any set of fallers that worked the freeway bypass in the far Humboldt County area on into Del Norte County. A breakage of less than 3% is very difficult with today's smaller more flexible timber let alone the giant redwoods of yesterday. That was their legacy.
After retiring, Bruno bought a little Wood Mizer sawmill . He and the high climber from his working days, Eric Schatz, began to "cut for grade" all conifer and a few hardwood logs they came across. One week found the two of them way down past Los Angeles milling up pine logs! Bruno was able to do the physical part up until he turned 80 and though he wanted to continue he did feel blessed to have had that many years of sheer abuse on his body without one single debilitating injury.
Highlights of his retirement were getting to attend his great grandchildren's sporting events, several fishing trips to Alaska, an Elk hunt in Wyoming, a moose hunt in Canada and family dinners. Every year, Bruno cooked the family turkey for Thanksgiving, the family ham for Christmas, the mashed potatoes for both days, and baked the bread. December marked the final time that we, the family, will have been so blessed with his cooking, his company, his stories, and sadly his presence at our family dinners.
Bruno Melton Isaacson is survived by his daughter Patricia Colegrove, his Grand-daughter and Adrienne and husband Roland Raymond, his great grandchildren Kristen Rose Raymond, Sasheen Shailee Raymond, and Wilfred Melton Alvin Raymond, and great great grand-daughter Aniyah Tsisna Raymond. Also survived by his siblings Bill and wife Bette Isaacson, David and wife Christine Isaacson, Kathleen Bieber, and Jeannie and husband Ross Hibler. Numerous nieces and nephews and also, and his good friend Eric Schatz. Pre-deceased by wife Millicent Crnich Isaacson, son James Anderson, son-in-law Wilfred Colegrove, sister Norma (Isaacson) Komar, brother Vernon Isaacson and sister Diane Costin. A service will be held Monday, February 6 at 10:00 a.m. at Sanders Mortuary on E Street (near Wabash Avenue) in Eureka, internment at Ocean View Cemetery will immediately follow. Pall Bearers will be Wilfred Raymond, Kent Aultman, Buster Pidgeon, Arnold Raymond, Roland Raymond, and Eric Schatz.
###

The obituary above was submitted on behalf of Bruno Isaacson's family. The Lost Coast Outpost runs obituaries of Humboldt County residents at no charge. See guidelines here. Email news@lostcoastoutpost.com.