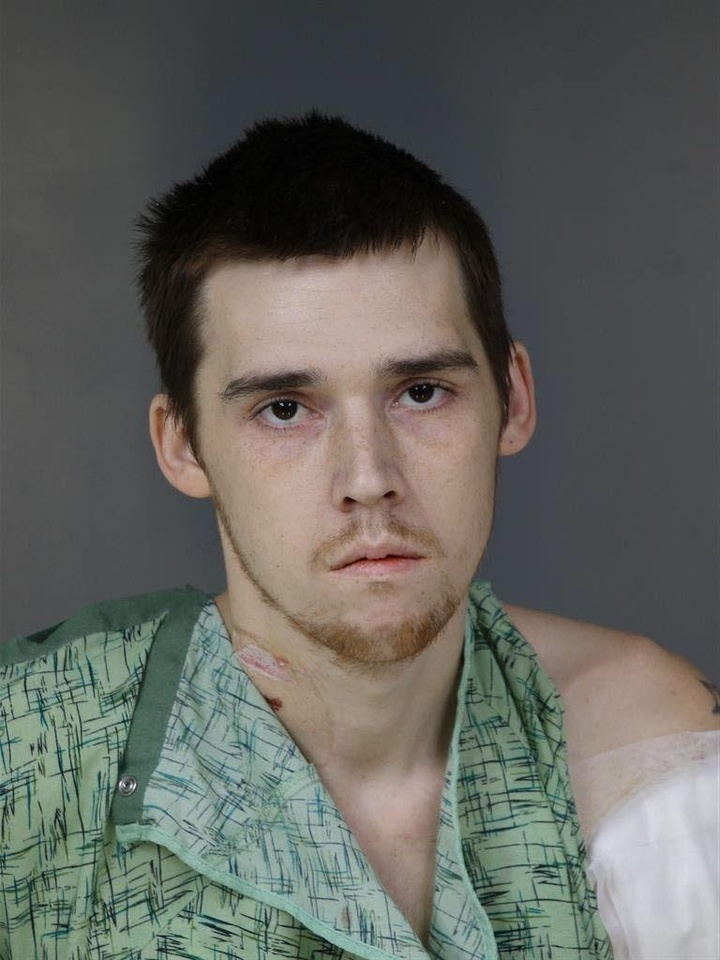 Clayton Lee Lasinksi eluded all but one of the 40-plus bullets fired at him by Eureka police. But if convicted of the slew of charges against him, he may not escape a 40-plus years in state prison.
Today Judge John Feeney held Lasinski to answer for 13 crimes ranging from running a stop sign to attempted carjacking and assault with a firearm. The maximum penalty is 42 years. A number of the charges carry the special allegation of personal use of a firearm.
"It does appear to me that Mr. Lasinski is guilty of the charges and that the special allegations are true," Feeney said after hearing testimony this morning during Lasinski's preliminary hearing. Feeney's ruling means Lasinski, 26, must go to trial. His arraignment was scheduled for Feb. 16.
Lasinski led Eureka police officers on a wild chase on the afternoon of Dec. 6 in downtown Eureka. During that time he allegedly pointed a gun at a Best Western motel employee, stole a car from Sole Savers auto dealership, pointed the same gun at Officer Steven Linfoot and finally attempted to carjack a Toyota pickup truck on Sixth Street. He eventually collapsed from a bullet wound to the chest.
PREVIOUSLY:

EPD Detective John Gordon, testifying under questioning by Deputy District Attorney Luke Bernthal, said Lasinki's gun was found on the ground next to him. There were eight rounds in the magazine but none in the chamber. Gordon said the gun's safety was off and the hammer was cocked, but the weapon had not been fired. The EPD is still waiting for word from the Department of Justice on whether the gun was functional.
Gordon said the firearm was traced to a Trinity County man who told investigators it had been stolen in October or November while he was out of town on vacation. Lasinski told police he had received the gun as a gift six months to a year earlier.
On Dec. 6 Lasinski and his girlfriend were staying at the Best Western motel in Eureka, and it was near there that California Highway Patrol Office Brent Walker spotted him driving without a seatbelt and running a stop sign at Fourth and Commercial streets. Walker testified today that he turned on his red light and followed Lasinski's Dodge pickup truck into the motel parking lot. But when he went to approach the truck on the driver's side, nobody was there.
Lasinski had sprinted to a second- floor balcony and was running back and forth. At that point Walker didn't know he was armed. The officer said he was watching from ground level and saying "Give up. It's not worth it. You have nowhere to go. I don't want to pepper-spray you."
But then, Lasinski allegedly pulled a gun on a motel maintenance man who was trying to help Walker catch him. The man backed off and Lasinski ran, Walker running behind him with Taser in hand.
By then Eureka police were involved in the chase, which progressed to Sole Savers auto dealership and a barrage of bullets.
Detective Gordon interviewed all officers involved, and testified today as to what he was told. He said Linfoot spotted Lasinski climbing into the passenger seat of a Mazda sedan, its doors open and motor running. Linfoot was yelling at Lasinski to stop.
"(Lasinski) got into the car … he pointed a gun at Officer Linfoot over the dashboard as he crawled from the passenger side to the driver's side," Gordon said. Linfoot, fearing he was going to be shot, began firing through the Mazda's windshield. He stepped back, tripped over a curb and fell on his back. The officer had emptied his gun so he reloaded, then began firing into the driver's side of the car.
Lasinski peeled out of the auto dealership, encountering Officer Dustin Nantz.
"The red Mazda sedan came at (Nantz) at a high rate of speed," Gordon said. "He felt it was aimed at him, so he began firing at the driver's side of the vehicle."
Another officer, Abraham Jansen, also started shooting at that time.
The detective said based on what Lasinski told police later, it appears either Linfoot or Nantz fired the bullet that hit him.
The stolen, bullet-riddled Mazda stalled at Sixth and B streets. Now Lasinski was on foot again. And about that time a man named Jason Smith was driving by in his Toyota Tacoma pickup.
Smith told police a man came up to his truck, displayed a gun and said "Get out." Smith drove away instead.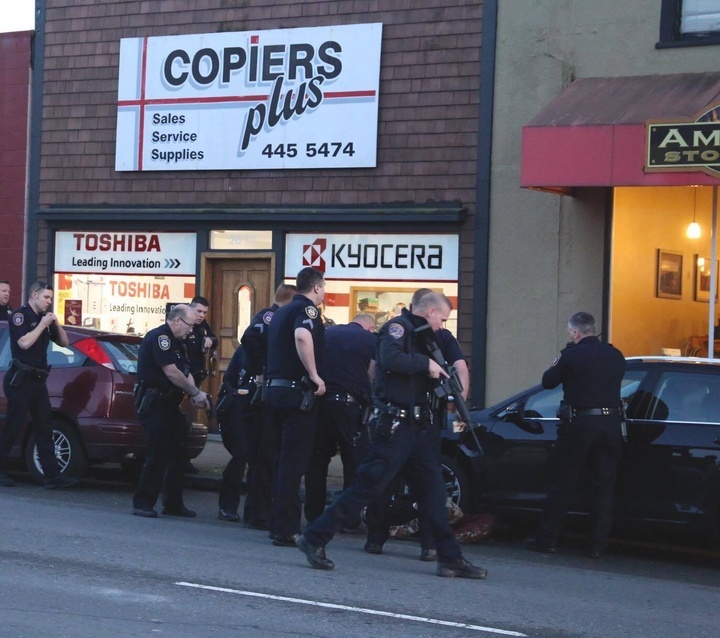 Acting Public Defender Greg Elvine-Kreis questioned Gordon about the body cameras police were wearing that day. Gordon said Linfoot's camera was turned off. The battery on Nantz's camera was dead. Apparently there is some video footage taken by another officer's camera.
Elvine-Kreis also wondered how Lasinski's hand was positioned when he was climbing into the Mazda's driver's seat, raising the possibility that Lasinski hadn't actually been pointing the gun at Linfoot.
After his arrest, Lasinski reportedly apologized and said he didn't realize his pursuers were police officers. His family members have told LoCO he believed gangs were after him.
Today CHP Officer Walker testified that during his encounter with Lasinski he was wearing a blue jumpsuit with CHP emblems and was driving a fully marked CHP vehicle. Linfoot was in full EPD uniform.