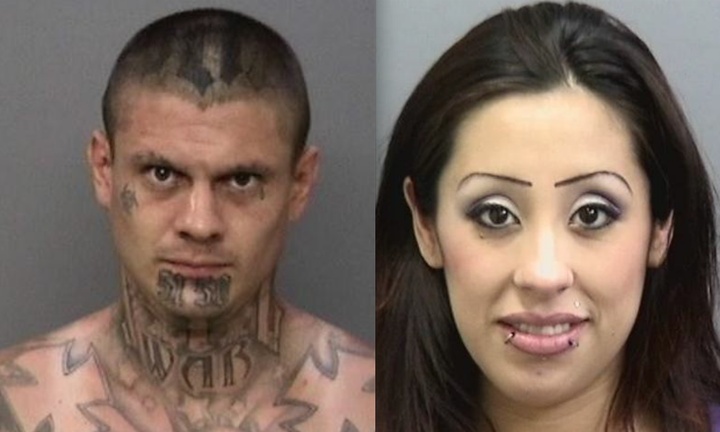 The Shasta County Sheriff's Office have named a suspect in a homicide that occurred at a trailer park on the outskirts of Redding last week. SCSO believe they've identified a suspect, 30-year-old Kane "Rage" Harrison, but have yet to locate him or his girlfriend who is believed to be with him.
SCSO is asking for the public's assistance. There is a chance the pair have left Shasta County and headed to Oregon. More details is the press release below:
On Wednesday February 1, 2017, at approximately 12:13 PM deputies responded to a call of a man down in front of Space #33 at the Bixby Knolls Mobile Home Park, in unincorporated Redding, CA. The victim has been identified as Randall Thomas Matsunaga, 24 years old of Redding. Matsunaga's autopsy was conducted on Monday, February 6, 2017 and his cause of death has been determined as a gunshot wound to his torso. Information as to the type and caliber of weapon will not be released for the integrity of the investigation.

Since February 1, 2017, detectives with the Major Crimes Unit have conducted follow-up, interviews and issued search warrants to learn what led to Matsunaga's death. Detectives have learned Matsunaga was at Space #40 at the Bixby Knolls Mobile Home Park, just prior to being shot. Space #40 is directly across from Space# 33 where Matsunaga was found on the ground. Circumstances related to the motive of this investigation will not be released at this time. As a result of the investigation, detectives have obtained a Ramey Warrant for the arrest of Kane KazzCooper Harrison; AKA "Rage", 30 years old from Redding, for the murder of Randall Matsunaga. Harrison has not been located and he is considered armed and dangerous. Harrison is believed to still be in the Shasta County area but possibly trying to flee to Oregon or Texas.

Murder suspect Harrison is believed to be in the company of his girlfriend Fawn Lilgrass Watkins, AKA "Bambi", 32 years old from Redding, CA. Watkins is also wanted for questioning for Matsunaga's murder, however, there is no warrant for her arrest at this time. There is no associated vehicle information at this time. Refer to attached flyer for further details and distribution.

If anyone has information on Harrison's and Watkins' whereabouts, they are urged to contact the Shasta County Sheriff's Office, Major Crimes Unit at 530-245- 6135 or mcu@co.shasta.ca.us.