UPDATE, 9:20 a.m.: Humboldt Bay Fire Chief Bill Gillespie just told the Outpost's Andrew Goff, at the scene, that the structure that housed El Pueblo Market will be a total loss.
Gillespie said that the department expects to be at the scene all day as firefighters continue to knock down the fire, and as the investigation as to its cause gets underway. The building's stucco exterior has proven to be troublesome — it blisters and pops as it heats up.
There is currently no fire explanation for the explosions that people heard in the early stages of the fire. Gillespie said that the current hypothesis is that they may have been produced by fireworks going off inside the building — the store may have stocked them — but that is still unconfirmed.
Fortuna Fire has been released from the scene. Remaining firefighters are preparing to pull down a wall of the building with an excavator.
Gillespie stressed that people need to respect the traffic cones they've laid out on Broadway as firefighters continue to work the scene. Already this morning, he said, one person blew through the cones and almost ran over some fire personnel.

###
UPDATE, 9 a.m.: Photos of El Pueblo Market's wreckage by Andrew Goff: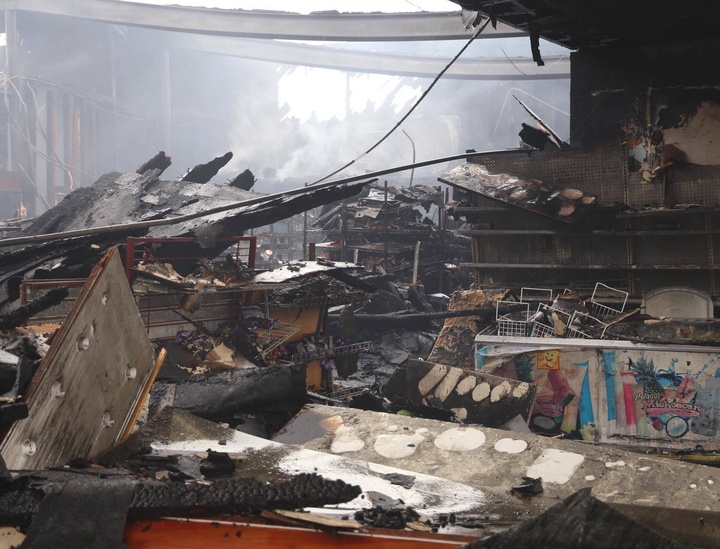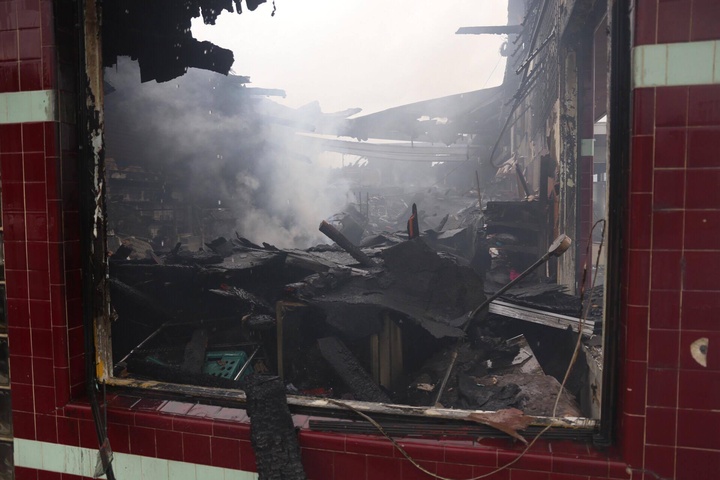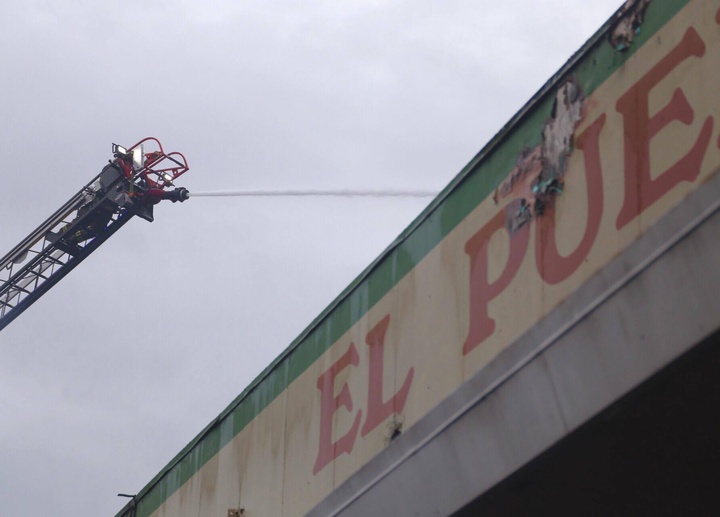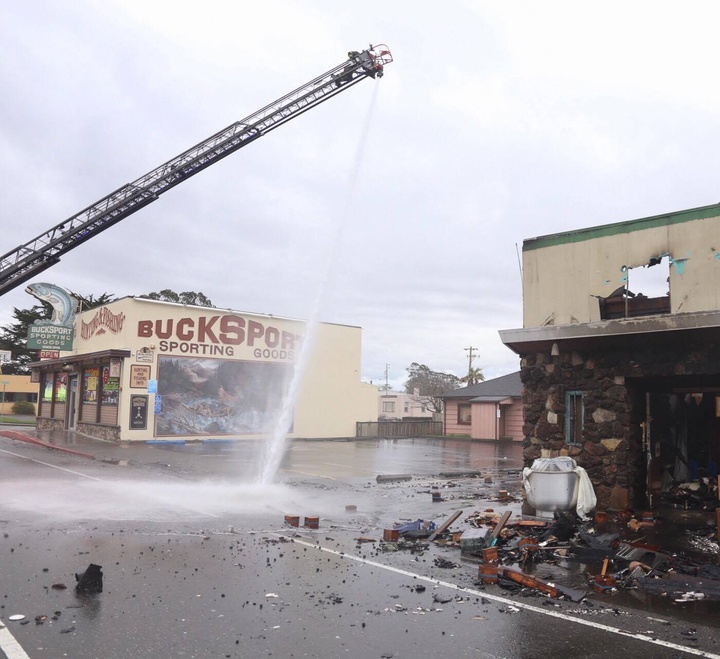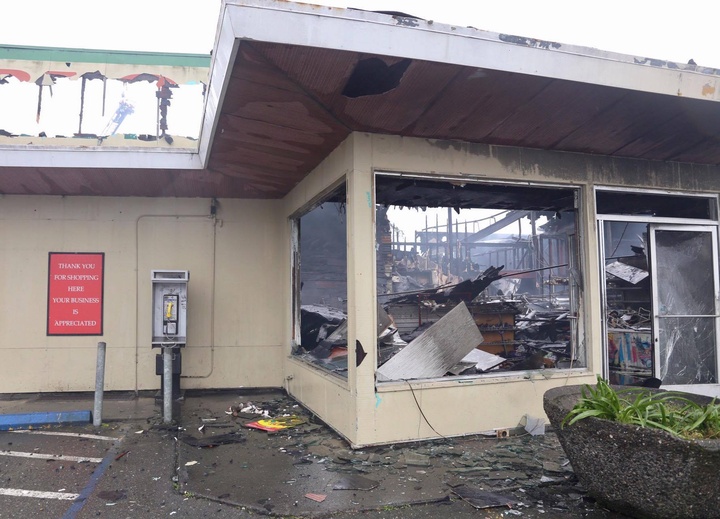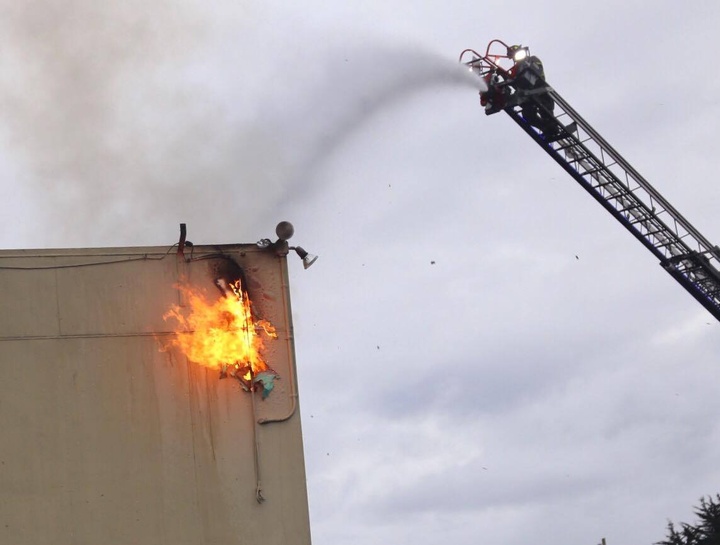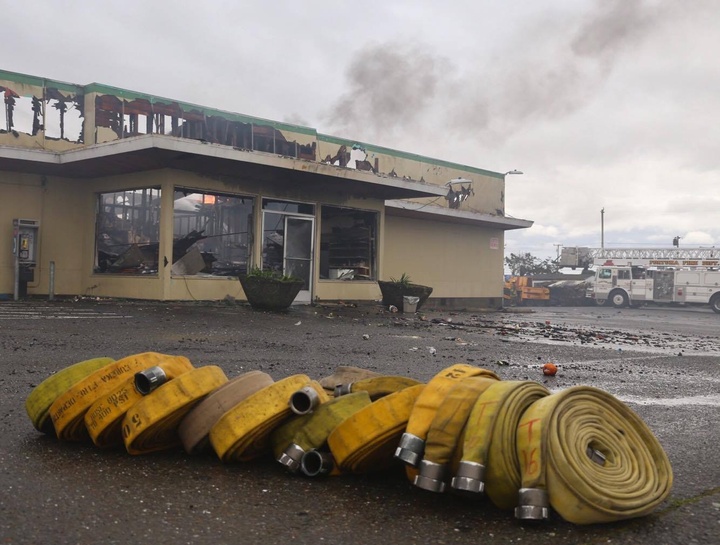 ###
Video: Sierra Jenkins
UPDATE, 8:45 a.m.: Traffic is moving in both directions down Broadway, though the southbound lanes remain closed and by all reports there is still a massive backup heading north into town.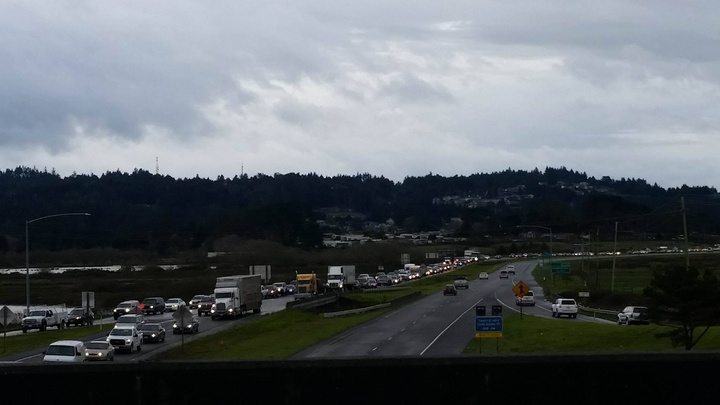 Photo: Sierra Jenkins.
###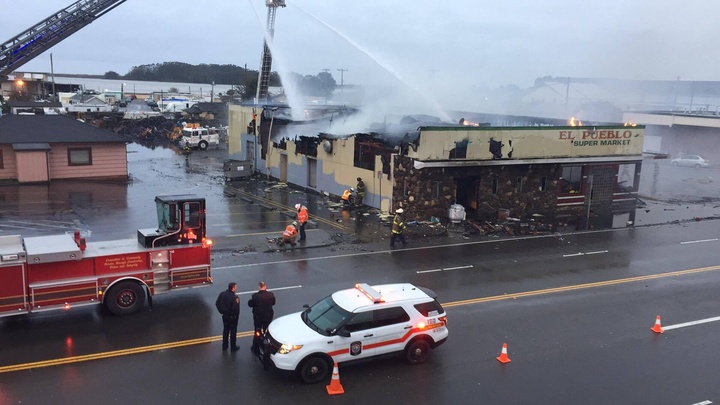 UPDATE, 8:05 a.m.: Traffic is being diverted through Herrick Avenue and Pine Hill, and readers are telling us that it's something of a madhouse. Things are moving very, very slowly. Maybe just try to put off coming into Eureka from the south, if at all possible.
###
UPDATE, 7:40 a.m.: "We're just trying to get everything put out so we can start the investigation part of it," Humboldt Bay Fire Chief Bill Gillespie tells the Outpost's Ryan Burns. No other structures were endangered during the fire.
Northbound traffic is backed all the way up to Humboldt Hill, says the Outpost's Andrew Goff.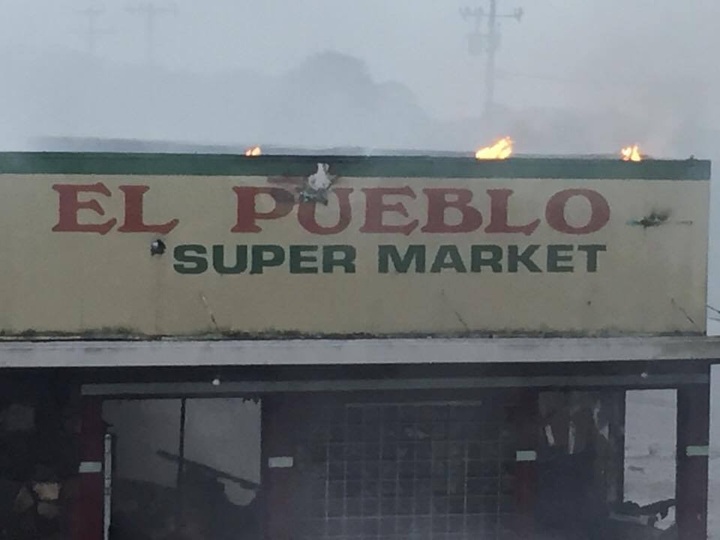 ###
UPDATE, 7:30 a.m.: Humboldt Bay Fire Battalion Chris Emmons, just arriving at the scene, tells the Outpost that they have no reason to believe anyone was inside the building when the fire broke out. Fire agencies from around the region have responded to Eureka, either to battle the fire directly or to cover for Humboldt Bay while they are at the incident.
###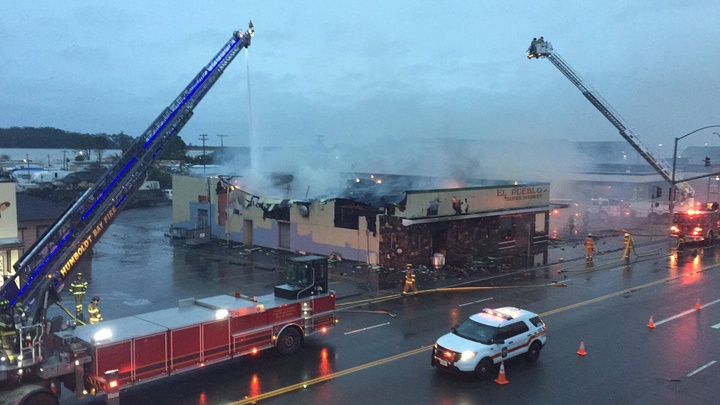 UPDATE, 7:15 a.m.: Firefighters are still on scene, knocking down the blaze. Broadway is still closed. Traffic is being diverted off the highway onto city streets.
— Hank Sims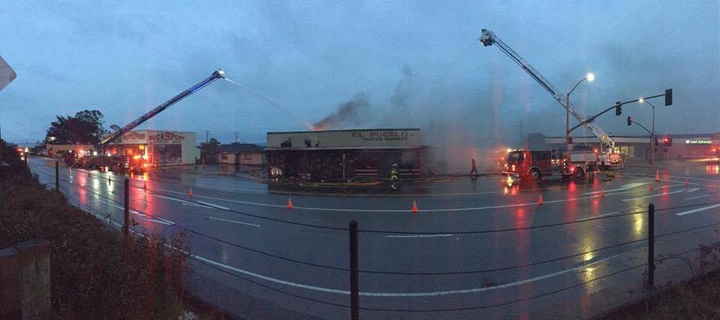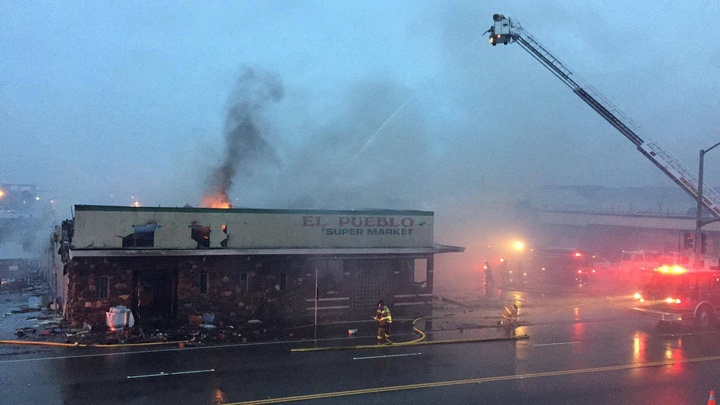 ###
A fire erupted sometime around 5 a.m. Wednesday on the 3600 block of Broadway in Eureka. Emergency personnel, including Humboldt Bay Fire and the Fortuna Fire Department, responded to the blaze, which had engulfed El Pueblo Market, according to witnesses. Highway 101 was closed in both directions as firefighters attacked the flames.
Several witnesses said they heard a large explosion around 5:15 a.m.
The Outpost is still gathering information and will update this post as it comes in.