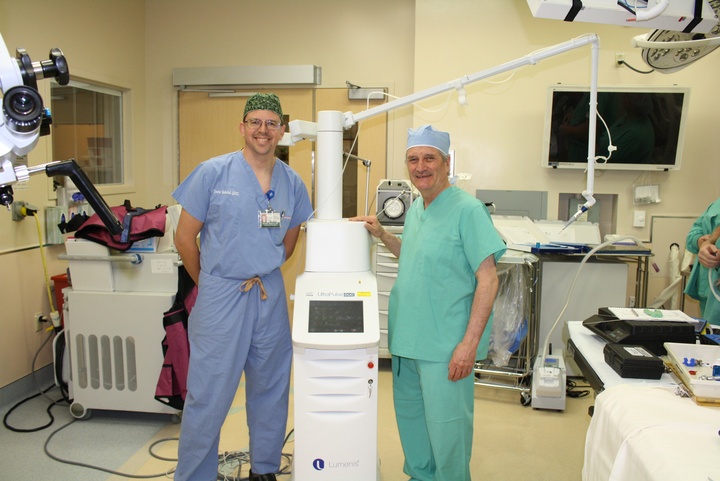 Press release from St. Joseph Hospital:
St. Joseph Hospital has purchased a cutting-edge C02 laser that will be used by specialists to treat a variety of sensitive conditions including vocal cord surgery, neurosurgery and endometriosis.

The new UltraPulse Duo laser is the first of its kind to be installed in California and will provide more efficient, precise treatment, minimizing injury to surrounding tissues.

It will be used on gynecological patients for laparoscopic and cervical procedures such as endometriosis; and for ear, nose and throat procedures such as vocal cord surgery.

"This new laser allows us to offer our head and neck cancer patients the most current, up to date, head and neck cancer treatment options available anywhere in the world," said Dr. Gregory Barkdull, an ear, nose and throat specialist with St. Joseph Health Medical Group whose practice will benefit from the laser.

"It is able to travel down glass fibers to access cancers around corners and in locations that previously were inaccessible with a traditional microscope mounted beam. Its incredible precision allows us to remove cancers while limiting injury to adjacent healthy tissues, with the goal of minimizing side effects," Barkdull said. "It is an incredible gift to our community and should continue to save lives for many years to come."

The laser was made possible by the St. Joseph Hospital Foundation, which facilitates the generosity of our community through philanthropic support.