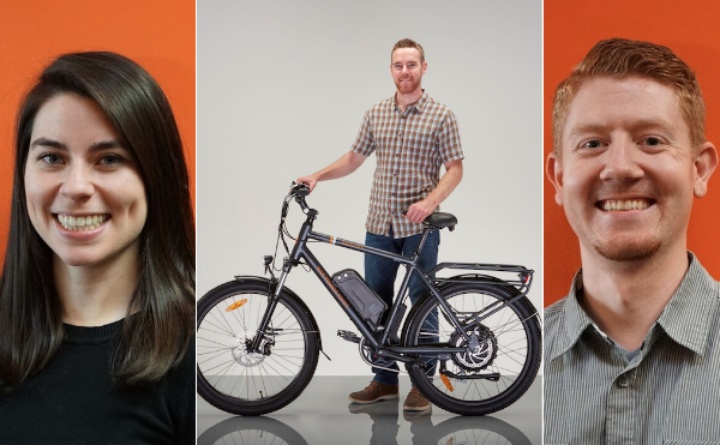 Marimar White-Espin, Mike Radenbaugh and Tyler Collins. Photos provided by Collins.
Three Humboldt State University alumni were recently named to Forbes Magazine's "30 Under 30" list for their successful Seattle-based electric bicycle company, Rad Power Bikes.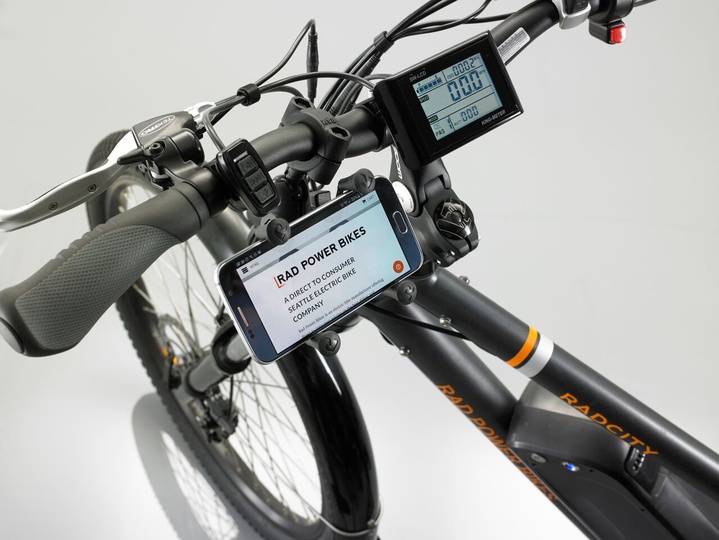 Southern Humboldt locals Mike Radenbaugh and Tyler Collins and Seattle native Marimar White-Espin made the Manufacturing & Industry section of the 2017 issue, which annually recognizes 30 influential business and industry figures under the age of 30.
The trio opened an official storefront last year, but Radenbaugh said he began developing electric bikes from an early age.
"I started building electric bikes at 15 to get to [South Fork] High School because my car was always breaking down and there was no bus service," Radenbaugh said. "I didn't want to drive with my parents because it's sort of embarrassing at that age."
In an effort to maintain his independence, Radenbaugh took to the internet and began researching different electric bike designs.
"A forum popped up online called Endless Sphere, a great forum for e-bike builds," Radenbaugh said. "I spent day and night on there leaning builds."
After some tinkering, Radenbaugh built his first prototype and started buzzing to school at 30 m.p.h.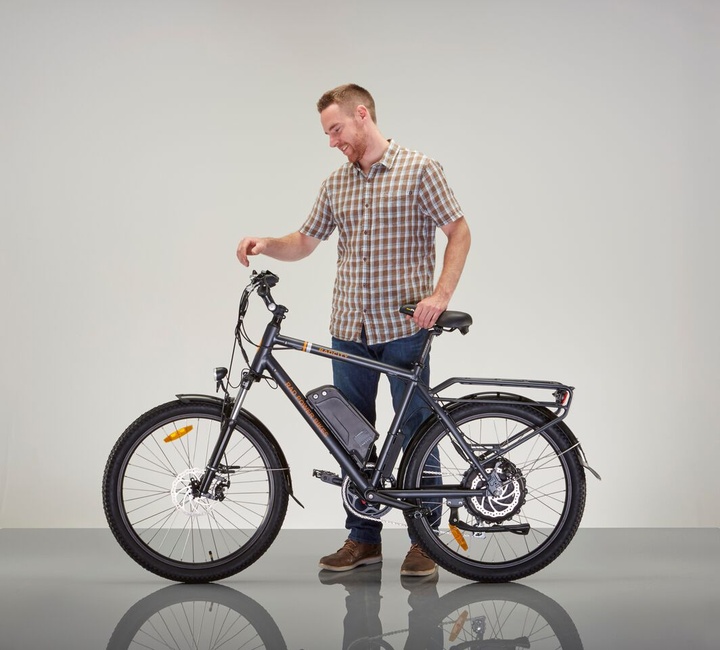 His hobby soon became a small custom e-bike business, which he used to pay his way through undergraduate school at HSU.
That's where Collins and White-Espin got involved. Although Collins and Radenbaugh first met in preschool and grew up playing junior golf together in Benbow, they didn't collaborate as business partners until becoming roommates at HSU.
Meanwhile, White-Espin connected with Radenbaugh after she noticed him effortlessly zipping up HSU's hillside on his way to track practice.
"He was always the kid who showed up to practice without breaking a sweat," White-Espin said.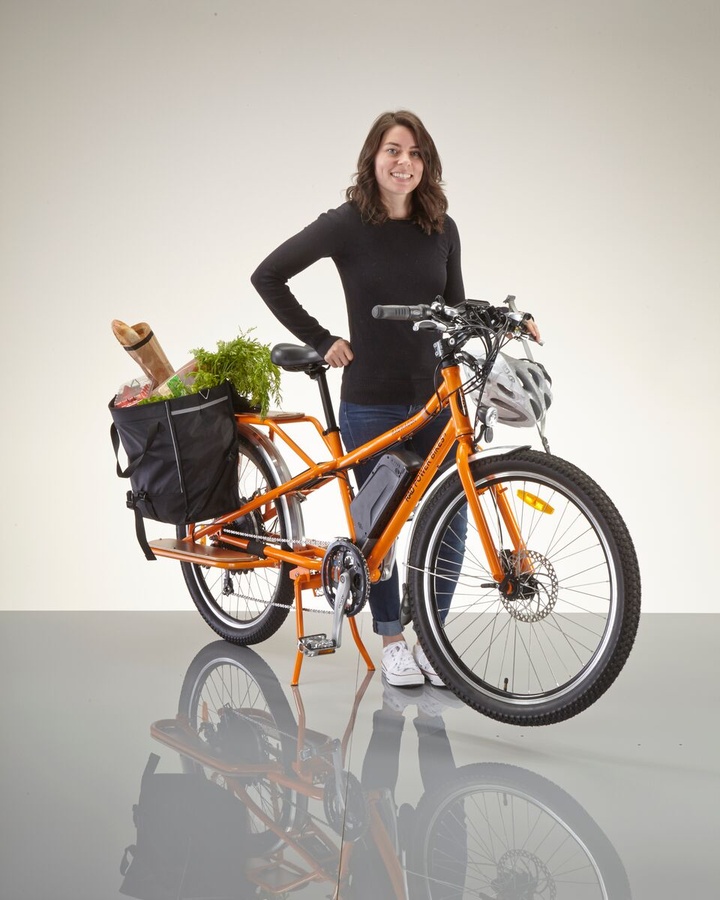 The Seattle native first decided to use Radenbaugh as a subject for a school project, but when she got her hands on a Rad Power Bike of her own she was inspired to work with Radenbaugh to promote his business.
"Working with him I thought, 'hey, this has potential,'" she said. "Rad Power Bikes was a really fun, localized small business that I could use for all my school projects."
While Radenbaugh studied industrial technologies, White-Espin and Collins used their journalism backgrounds to build and market their brand, promoting the bikes online and at summer arts fairs in Benbow.
"Logo designs and media packages were done for colleges classes," Collins said. "It was just a fun excuse to work on a hobby."
A few years after graduating from HSU, the trio reunited in 2015 to scrap the old custom bike business model, and began manufacturing bikes that could be sold online. A year later they opened up their storefront in Seattle.
"Seattle has a nice grouping of young professionals in proximity to a major port," Radenbaugh said. "Being in a tech city is important and it's more affordable than San Francisco. Now we have about 7,000 square feet of office space."
Radenbaugh said the business had a strong first year and a huge second year, seeing a 750 percent increase in revenue after they opened their Seattle storefront.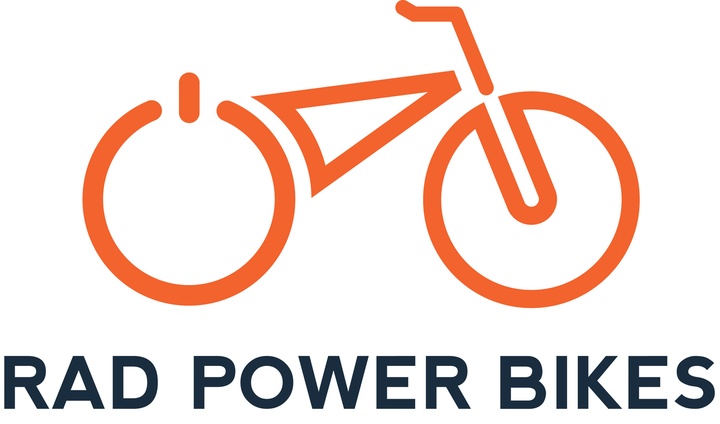 Despite their rapid success, the group was pleasantly surprised to learn that they were in the running to make Forbes' list about a month before the issue was published.
"It was very late notice," Collins said. "We were losing a little bit of faith since we hadn't heard anything since we they told us we were in the running. We didn't know were on the list until we saw it on forbes.com, so it was a pretty incredible surprise."
Other than free promotion, there is no direct prize for making the list, but the group said they hope their public success will inspire HSU students and Humboldt locals to dream big.
"Coming from Humboldt County, it's really important to be a positive example for the local youth," Collins said. "I Grew up hearing how terrible South Fork High School was, and you hear the disappointment in people's voices when you tell them you're going to HSU. But as long as you really focus on your passion, you don't have to go to that fancy high school or Ivy League college. There are still plenty of opportunities."