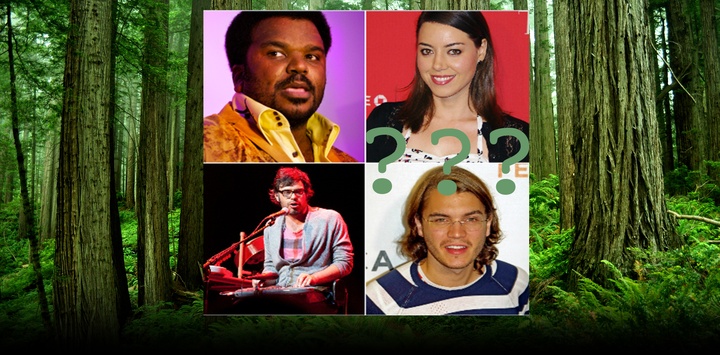 Plaza on the Plaza? Celebrity photos from Wikimedia.
Since reports began to flood in yesterday that Hollywood stars Craig Robinson and Jemaine Clement are in town filming a movie, LoCO's been digging up all it can on the film.
Until this morning, we didn't have much. But one of the movie's lesser known actors Robert J. Hawk tweeted out the name of the film last night: "An Evening with Beverly Luff Linn."
Making movie magic "An Evening with Beverley Luff Linn." #film #television #movies #tv #directing #acting #actorslife pic.twitter.com/xnAvMB5zm4

— Robert J. Hawk (@TheRobertJHawk) January 14, 2017
When contacted with this information, Humboldt-Del Norte Film Commissioner Cassandra Hesseltine stated that this name was incorrect. However, this may be a technicality as Hawk misspelled the name Beverly in his tweet.
"The title as-mentioned is incorrect," Hesseltine said. "Production asks for respectful distance and the creative ability to work and enjoy their short time in Humboldt County."
Details on the film are pretty tight lipped, but some savvy googling reveals that Emile Hirsch and Aubrey Plaza may also be in the film.
This info comes from the website CastingAbout.com, which tracks and publishes casting information for major film and television projects in Hollywood.
However, there's still no word if Hirsch or Plaza will be in town for the month-long shoot.

A few other tidbits can be found online, like these audition videos that were likely sent to casting agents by Hollywood hopefuls.
That's all we have for now. But keep sending us your photos, and we'll keep you updated with any new information.