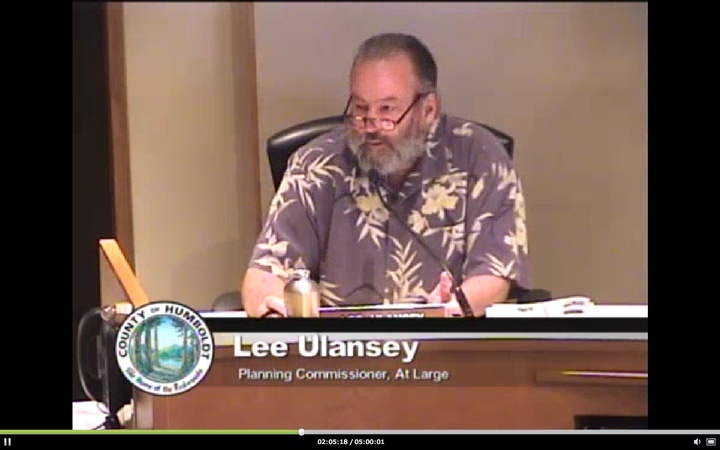 PREVIOUSLY:
# # #
It was a prime example of talking around the topic this morning as the Humboldt County Board of Supervisors considered reappointing divisive at-large Planning Commissioner Lee Ulansey to a second four-year term. While public speakers showed up to denounce the property rights advocate, the supervisors themselves focused on questions of protocol, wrestling with bureaucratic technicalities before voting 4-1 to postpone the vote until next week.
And in a possible sign of dissatisfaction with Ulansey, several members of the board encouraged others to apply for the position.
Board Chair and Fourth District Supervisor Virginia Bass started the conversation by noting that the county's email system has been on the fritz, so replies to constituents may have gotten delayed in cyberspace.
The board then launched into a lengthy and convoluted discussion about protocol. First District Supervisor Rex Bohn had brought the agenda item forward, hoping his fellow supervisors would join him in simply reappointing Ulansey at today's meeting to another four-year term, and he appeared visibly frustrated that things didn't work out that way.
Bass noted that a "protocol concern" had been raised, and, as it turns out, the protocol in question was born of another controversial reappointment to the Planning Commission six years ago. Longtime commissioner Bruce Emad was reappointed to a fourth term over the objections of Bass and Fifth District Supervisor Ryan Sundberg, both of whom felt a bit blindsided by the process. (See this 2011 North Coast Journal writeup from the Outpost's Hank Sims.)
In the aftermath of that appointment, Bass and Sundberg pushed for a new protocol, one that's designed to give supervisors a heads-up before major at-large commission appointments show up on the agenda. That protocol, which can be read here, allows any member of the board to delay an appointment for the purpose of discussion.
Both Sundberg and newly elected Third District Supervisor Mike Wilson suggested invoking that protocol — which is to say they both wanted to hold off on rubber-stamping Ulansey.
Sundberg noted that other people had recently submitted applications. Indeed, Nicole Sager, assistant director of the Yurok Tribe's planning department, turned in an application on December 30 and Virgil Moorehead, general manager of the Big Lagoon Rancheria, submitted one just yesterday.
"For myself, I'd like to have an opportunity to look through the people who applied [and] possibly come back next week" to make a selection, Sundberg said. He made a motion to that effect and noted that others could also apply for the position. Wilson promptly seconded the motion.
Bohn challenged the move, noting that two years ago he'd put forward Commissioner Dave Edmonds in the exact same manner and nobody objected; Edmonds was reappointed. But he allowed that this was a more contentious appointment. "I know there's a lot of pressure on a lot of people out there," he said.
Second District Supervisor Estelle Fennell explained that it only takes one supervisor to invoke the 2011 protocol for it to take effect. She, too, asked about other applicants for the spot, wondering when the application deadline would be.
There ensued some confused back-and-forth with staff about how to proceed. Ulansey's name did not come up during this part of the deliberations. Sundberg said he hoped the board could make a selection at next week's meeting. Wilson, after some more hesitancy about protocol, again seconded the motion.
During public comment, Trinidad resident (and former colleague of this reporter) Carrie Peyton Dahlberg urged the board to think beyond their own social circles and try to appoint people reflective of the larger community, including working-class folks, women and people of color.
Robert Shearer, an HSU student and recently appointed elected delegate on the California Democratic Central Committee, said Ulansey represents a "blatant and offensive conflict of interest" whose actions come "at the expense of everyday people and the land."
A woman named Pat, who said she was only recently inspired to be politically active by the Occupy movement and Bernie Sanders, objected to Ulansey's ability to influence policies pertaining to his own property, and she compared him to Trump appointees. "We want to remove money from politics and give a clean Earth to our children," she said.
Union activist and Democratic delegate Allen McCloskey submitted written comments (read by a surrogate), saying Ulansey's political donations have created a conflict of interest and encouraging the board to seek an alternate candidate.
Only habitual public commenter Kent Sawatsky came to Ulansey's defense. "Lee and I aren't necessarily on speaking terms, but I respect his ability on the dais," Sawatksy said. He added that Ulansey does his research, has experience and possesses "an ability to question authority."
When the matter came back to the board, Wilson asked for clarification on a deadline: When do people have to turn in applications for the position? Chief Administrative Officer Amy Nilsen said it would have to be before this Thursday at 5 p.m. in order to make the applications ready for the agenda packet that goes with next week's meeting.
Bohn said his mind is made up. "I'm probably gonna stick pretty much with what I brought forward," he said.
The board voted 4-1, with Bohn dissenting, to continue the discussion and make an appointment next week.
Anyone interested in applying for the at-large position on the Planning Commission can contact Clerk of the Board Kathy Hayes at khayes@co.humboldt.ca.us or (707) 476-2396.
Here's more information from the county:
Submit application to serve on Planning Commission


The Humboldt County Board of Supervisors is accepting applications to fill one space on the Planning Commission, with a term set to begin on Feb. 1, 2017.

Members of the public can submit applications any time during the year to serve on the commission. However, applications to fill the available seat should be submitted to the Clerk of the Board by Thursday, Jan. 19 at 5 p.m.

You can submit your completed application to the Clerk of the Board via email to khayes@co.humboldt.ca.us. You can also mail the applications, but they must be received by the Clerk by Jan. 19 to be considered for the upcoming appointment.

Citizens from all districts in Humboldt County are welcome to apply.