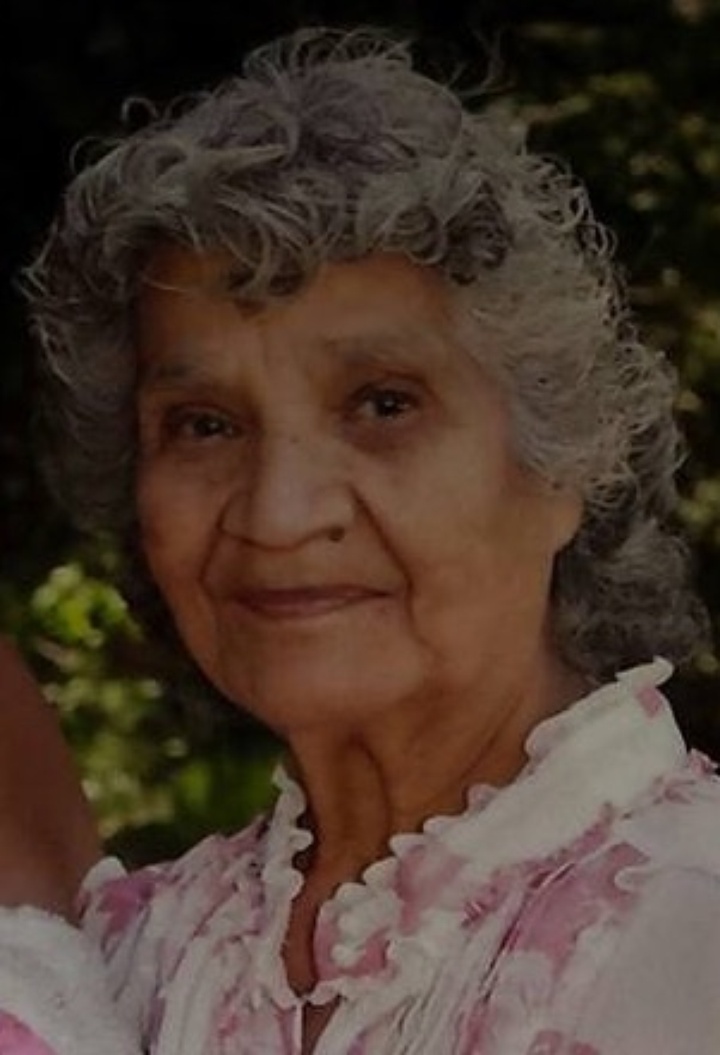 Our mother, grandmother, great-grandmother Dolores Angela Anaya (Valenzuela), has joined her husband and love of her life, Henry Anaya Sr. in Heaven at last. She passed away Christmas morning in Grass Valley after a brief illness, with family by her side.
Dolores was born in Bakersfield to Joaquin Valenzuela and Sebastiana Beatrice Perez on October 1st, 1931. Her mother died when she was a young girl. She grew up living with numerous aunts and relatives and later became close with her father. She liked to tell stories about her dad being an accomplished horseman and rodeo rider, as well a violinist.
She met her future husband in high school. They married in 1951 and she passed away the day after what would have been their 65th wedding anniversary. Henry joined the Army and she followed him wherever his job took them. They had their first child after he returned from fighting in the Korean War. After his discharge they welcomed 10 more children.
They spent half of their time in Fortuna and later moved to Atwater before settling in Grass Valley, where they retired. We will always keep the memories of their home in Grass Valley dear; affectionately called "Anaya City," it was a place our large family would gather for holidays, play flag football and soccer in the yard.
Dolores was always very proud of her family and heritage; her paternal grandfather was known to have roamed with the famous Murrieta gang during early California history and she was of Indian decent. Her ancestors were of the coastal band of mission Indians, later known as the Chumash, Ohlone and Esselen nations. She can trace her line back to Father Juniper Serra and Captain Portola's expedition of 1769 to find Monterey Bay.
She was an avid animal lover to a fault; any animal - dog, cat or bird. Any mistreatment of any type of animal was totally unacceptable to her. She was always sharing food with the local stray — a trait that has been followed by many of her offspring.
Mom was furiously loyal and proud of her family and would defend them right or wrong. She said that Pop would always refer to her as his little squaw and that the reason why they had so many kids was he was trying to lose her in the crowd. Don't let this fool you. She was the chief - little but mighty. You knew you were in trouble when you got "the look," also referred to as "the wrinkled nose." This was a well known fear amongst the grandkids.

She is preceded in death by her father, mother, husband, Henry Anaya Sr., and her son, Steve. She is survived by her sister Frances Gonzales of Bakersfield, her son Henry Jr. (Denise) and their children, Cassi (Ryan) and Spenser; Steve's children, Julie (Steven) and Jennifer (Ben); Hope (Kit) and their children, Kirk (Brenda), Holly (Kevin) and Kristin; Jack and his children, Lucretia (John), Christina (Ken), Heidi, Zachary and Jack Jr.; Dorothy and her children, Wendy (Josh) and Wesley; Mike (Tina) and their children Mike Jr. and Amber (Peter); Faith (J.R.) and their children, Jay, Julia and Jacob; Rick and his children, Henry and Heather; Timothy (Suzie) and their children, Justin and Kylie; Tina (Logan) and their children, Gracie and Logan Jr. and Cory Cartwright; and youngest son Raymond (Michelle) and their children, Kyle, Marissa, Noelia, Ray Jr. and Karlyne Hare. She also leaves 19 great grandchildren and those she considered to be family members: Glen Cartwright, Aaron Johnson, and Martin (Jeannie) Sanchez and many more.

Services were held at 11 a.m., Monday, January 23rd at Hopper and Weaver Mortuary in Nevada City. We want to take the time to thank those family and friends who cared for her over the years, especially her grandchildren, Holly and Kevin, who offered up their home and held her hand during her final days. In lieu of flowers the family requests donations be sent to the Dolores Anaya Memorial Fund, care of Hopper and Weaver Mortuary, 459 Hollow Way, Nevada City, California 95959 (530) 265-2429 or an animal charity of your choice.
###

The obituary above was submitted on behalf of Dolores Anaya's family. The Lost Coast Outpost runs obituaries of Humboldt County residents at no charge. See guidelines here. Email news@lostcoastoutpost.com.