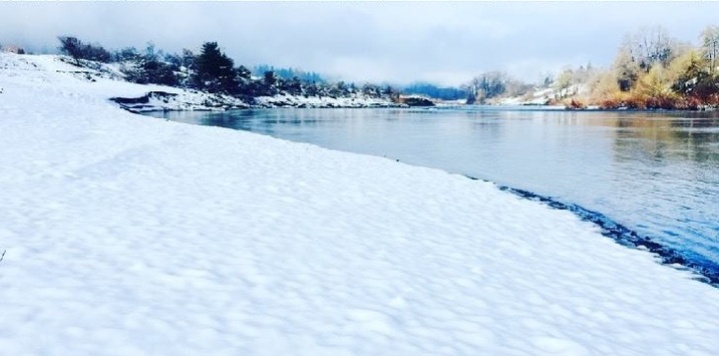 People from the northeast of the county have been gathering at our PG&E outage map today, sharing foreboding stories about the size and projected duration of the power outage that has taken out juice to some 4,500 customers along 299 all the way to Willow Creek, and up Highway 96.
Earlier today, commenter "Heather" wrote:
It seems that our infrastructure suddenly failed from titlow hill to Redding. There are rumors that thousands of people out here won't have power for a week or more.

People are already starting to freak out. Our food is going bad and all of the stores are closed. Interesting times.
This evening PG&E tells us that the outage was due to storms knocking trees into a transmission line, and the utility says it's been working assiduously since the outage began — with the proviso that accumulated snow up in the hills has made it difficult to get to affected equipment.

In the press release below, PG&E lays out — in some detail — the work they've done so far, some initial projections for getting people back on line, and their priorities in this situation and others like it.
###
From PG&E:

The safety of our customers, employees and the communities we serve is PG&E's top priority. Our crews are working safely and as quickly as possible to restore service to our customers and communities in our service area that were affected by this storm.

Yesterday evening, a storm system with strong winds and heavy rain moved across PG&E's service area knocking tree limbs and trees onto power lines, causing 9 outages along a transmission line. Electric transmission lines are the backbone of the system and deliver power from generation facilities to our substations across the state.

As of 5 pm, approximately 4,500 PG&E customers along Highway 96 from Hoopa to Willow Creek up to Somes Bar are without power as a result of the storm. That includes about 1,429 customers in Hoopa.


Snow is blocking roads and access to our equipment. We are using snowcats to clear the snow to get to the poles. PG&E crews also have been facilitating removal of trees in conjunction with Caltrans and the Hoopa Valley Tribe to gain access to the most heavily impacted roads such as Tish Tang Rd. and Pine Creek Rd. (main arteries into Hoopa). Multiple crews have been working since 5 am this morning repairing damage to the transmission system. The entire system is still being assessed. When we energize the substations, we'll find the full extent of impact on our distribution system. That will happen this evening. We expect to be able to restore power to portions of the area by this evening.

PG&E has been preparing for winter storms such as this for many months. PG&E has a plan, and is executing that plan. That plan includes extra crews on alert.

PG&E's local emergency-response center in Eureka has been activated, as well as local and regional emergency-response centers. More than 36 crews (more than 100 workers) are responding to outages throughout Humboldt County. To support crews in the field, PG&E has opened a base camp for the crews at the old Willow Creek airport across from our Willow Creek service yard.

When our crews are called into action during a storm, there are specific steps they take to restore power as safely and quickly as possible:

Protect public safety. Our top priority is to clear downed power lines and ensure that critical facilities such as hospitals, public utilities, police and fire departments have power.

Check generation facilities. We make sure our power generation stations are safe and operational, so they can produce electricity for our customers.

Repair transmission lines. Electric transmission lines are the backbone of the system and deliver power from generation facilities to our substations. They carry electric power between 60,000 and 500,000 volts.

Repair substations. Substations lower the voltage of power coming from transmission lines before electricity is routed to the distribution system that delivers power to local communities. Transmission lines and substations serve tens of thousands of customers.

Repair distribution feeder or primary lines. Distribution feeder lines deliver power between 2,000 and 50,000 volts from substations to distribution transformers that serve 1,000 to 3,000 customers.

Repair distribution tap or secondary lines. Tap lines branch off of feeder lines to deliver power at less than 2,000 volts into pockets of 20 to 300 homes.

Connect individual service drops to customers. We then repair power lines that deliver electricity directly to individual homes and businesses. Residential service drops typically include two 120-volt lines and one neutral line.

In addition to customers, PG&E focuses on restoring communities following a major storm. Important facilities such as large shopping centers with grocery stores, restaurants and gas stations also receive priority to help get the communities we serve back on their feet.
If a series of multiple storms impacts our service area over several days, we also prioritize restoration for individual customers who are experiencing extended outages from the initial storms.