UPDATE: Video, above, of Beau McClung being taken into custody while being instructed to perform his best Cornholio impression.

# # #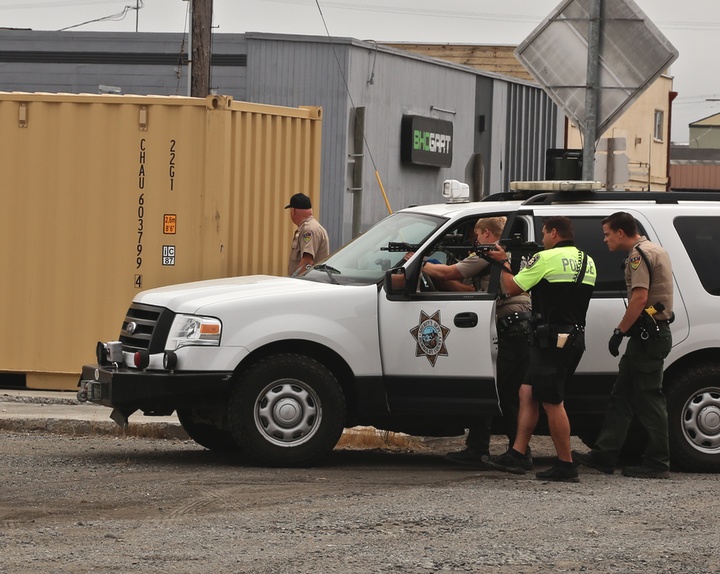 Humboldt County sheriff's deputies and Eureka police officers arrested a man at gunpoint this morning after spotting a stolen truck in the parking lot of the Nilsen Co. feed store near the corner of Fourth and Broadway in Eureka shortly before 11 a.m.
Sgt. Justin Braud of the Sheriff's Office told the Outpost that he spotted a Dodge Ram 2500 pickup outside the feed store that matched the description of a vehicle involved in a burglary a couple weeks ago in the Loleta area.
Officers made contact with a man and woman near the vehicle, and the man, who has been identified as Beau McClung of Eureka, fled through the business to an empty lot behind the building, hiding behind a black utility trailer.
The woman, who has not been identified, remained behind and cooperated with law enforcement, Braud said.
A witness told officer that they might have seen a weapon under his McClung's shirt, which prompted the armed response you can see in the photos here.

McClung was eventually arrested after officers advanced on the trailer behind an SUV. A firearm was later found under the seat of the truck, Braud said.
# # #
UPDATE, 4 p.m.: Humboldt County Sheriff's Office press release:
On 07-10-17 a Main Station Patrol Sergeant was traveling through the city of Eureka when he saw a vehicle parked in the 500 block of Broadway Street. He recognized the vehicle which was reportedly involved in several local burglaries. Standing near the vehicle he saw 40 year old Beau McClung and a female. The Sergeant turned around and drove up to the vehicle. At this point McClung disappeared from view. The female was contacted and later released. The associated vehicle returned as stolen and during a search of the vehicle a loaded Glock 19 pistol was located. While still on scene the Sergeant learned that McClung had been seen running from the area. An additional citizen reported McClung had crawled into a nearby trailer and hid. It was unknown if McClung was still armed.

With the help of the Eureka Police Department the trailer was surrounded and McClung surrendered without incident. McClung was booked into the Humboldt County Correctional Facility for possession of stolen property and felon in possession of a firearm.
# # #