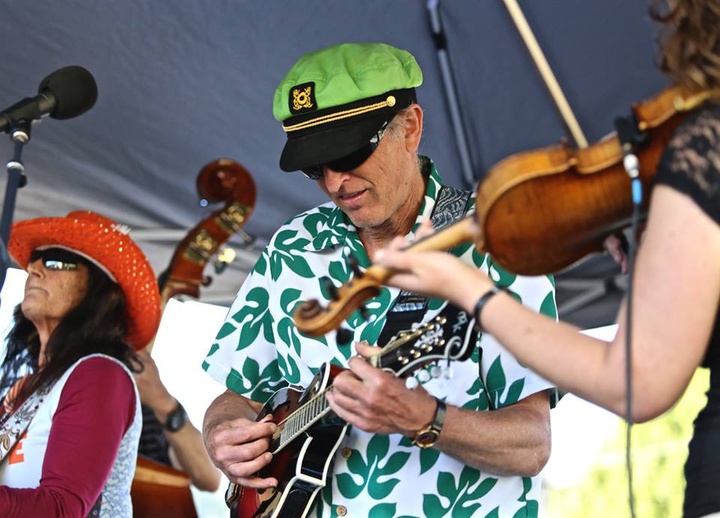 Jeff Kelley's CD is out and it's a gem. Never Been Done is a treasure trove of songs that are sweet, hilarious, deep and lovely, often combining two of these characteristics in the same song.
It's Kelley's first CD ever and it took close to a full year to record, mostly because he is busy performing, teaching and doing sound for other musicians. Among his other projects: He plays in a Grateful Dead cover band The Miracle Show, in a rowdy Irish folk music group The Vanishing Pints, and in the Dell'Arte band, recently performing in The State of Jefferson Picnic and other Dell'Arte shows such as the Red Light in Blue Lake Adult Cabaret.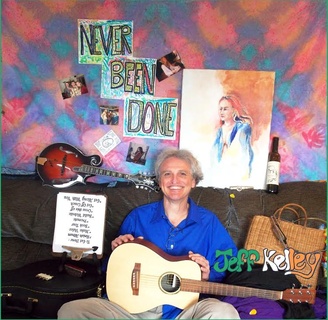 Kelley gigs as a solo act, too. And that's not all. He's a sound engineer for the Blue Lake Casino and tutors math at College of the Redwoods. No wonder the CD took a year.
"Dominic Romano at Bongo Boy Studios told me, 'Let's get this finished!' so we did," Kelley said.
Kelley estimated that they spent 40 to 50 hours in the studio, recording and bringing in other people. Romano filled in with vocals, keyboards, thumps and tambourine on many cuts. Other local guests included Jeff Thomas and Leah Mahan on vocals, Chris Parreira on harmonica, Sam Kaplan-Good on drums and shaker, Colin Trujillo on banjo, Steve Porter on saws and Anwyn Halliday on trumpet.
It all adds up to a CD that moves confidently from song to song and mood to mood. It's my new favorite to cook to, and I tested it out on seven berry pies and three cakes. Total success.
Kelley's songwriting skills are honed from years of experience. Words come first for him and the complex and clever rhyming shows that. "I typically write the lyrics first," he said. "I find it easier to find musical passages after that."
Humor is an essential element of many of his tunes. "Lord Buckley said that 'Laughter is the absence of terror'," he explained. Lord Buckley (1906-1960) was, for the uninitiated, "the hipster bebop preacher who defied all labels," according to that other hipster, Bob Dylan.

And you will laugh when you listen to the title track, "Never Been Done," Kelley's funny ode to a difficult lover. The song revels in ways to describe getting along with a problem partner, including the image of breaking up rocks in a 12-hour day. But, the song asserts, it can be done. And it goes on to remind us that "penicillin is made from mold on bread, gardens are grown in poo, I'm going to do what's never been done, I'm going to get along with you."
The musicality is rich and deep, just what one might expect from someone who started playing saxophone in the second grade, took piano lessons in grades four through six, then turned to the guitar in 10th grade. Kelley grew up in Redondo Beach and moved to Humboldt County in 1983 "because of a girl who promptly dumped me. I didn't have any money to leave and I realized I didn't want to," he said with a smile. He's been here ever since.
Kelley describes his CD as "songs of life, death and silliness." Some of the songs are touching moments of a thoughtful life. "Hello Chicago" with its tasty trumpet solo by Halliday, recalls the sweetness of a week-long visit to his daughter in Chicago and the sadness at ending the visit. The refrain of "Hello, Chicago/Can I come home to you/Will your wind blow away these lonesome blues," stays in your ear like a welcome memory, not an earworm. Another song that plays well on repetition is "Raining River."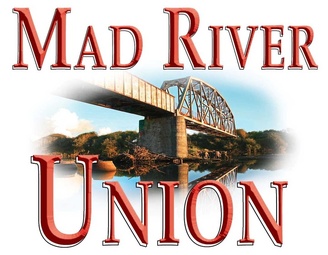 The plaintive refrain of "I still believe in love," should, by rights be the title of "Keeping Belief in Love" but, Kelley explained, there were seven other songs with that title. Who cares about a title? The song is lovely.
The last cut on the CD, "Sacrifice," is really a work of art. "It's hard to hear that and think, 'I did that'," Kelley said. He and Romano collaborated on the song. "We both played the keyboard at the same time and then went in and manipulated it on the computer," said Kelley. The mixture of organ, vocals and guitar makes for a lush arrangement of a beautiful lyric.
Get this CD and enjoy one of Humboldt's fine singer/songwriters. It's available on CDBaby and iTunes now and Kelley hopes to do a CD release party soon. Or just ask him when you see him around the county. The Vanishing Pints perform Thursday, July 13 at the Mad River Brewery from 6 to 8 p.m. and at the Humboldt Folklife Festival Saturday, July 15 at 5:45 p.m. on the street stage in front of Dell'Arte. It shouldn't be difficult to find this hardworking musician. jeffkelley.net.
###
Janine Volkmar writes for the Mad River Union. Subscribe here.