A Willow Creek woman pleaded not guilty today to embezzling from the North Coast Journal when she worked there as an office manager and bookkeeper.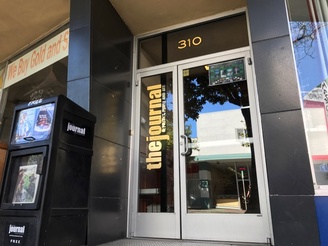 Carmen Marie England is charged with grand theft by embezzlement, with the special allegations that she stole more than $950 and also was previously convicted of "a serious or violent felony." That conviction was for first-degree manslaughter in Klamath County, Oregon, in 1985.
England was arraigned today by visiting Judge Robert Crone. Eureka attorney Michael Robinson, who accompanied England to court, entered a not guilty plea on her behalf.
According to the complaint filed by the District Attorney's Office, England worked at the North Coast Journal from approximately November 2007 to March 2015. The alleged theft wasn't discovered until after she left her job.
Journal Publisher Judy Hodgson released a written statement this afternoon, saying the case against England "stems from some discrepancies in the NCJ's financial records that came to our attention in 2015. We had an external audit performed and forwarded the findings on to the Eureka Police Department. As this case works its way through the legal system, we will refrain from making any additional public statements."
After the arraignment this afternoon, Deputy District Attorney Roger Rees declined to specify the exact amount of money missing. He pointed out, however, that his office had not filed the special allegation of embezzling more than $100,000.
Citing the large amount of evidence in the case, defense attorney Robinson asked the judge today to put off setting the preliminary hearing date until September.
"I'm told the discovery (evidence) in this case is voluminous and is coming in boxes," Robinson said.
Robinson also asked that England not have to personally appear in court for upcoming hearings, and the judge granted his motion. She will have to be in court only for evidentiary matters, such as the preliminary hearing and trial.
A hearing-setting date is scheduled for Sept. 18.