New restaurants, a cafe, a bar, a grocery store and a variety of other businesses recently opened or will soon open in northern Humboldt County, giving consumers even more choices.
New Arcata Steakhouse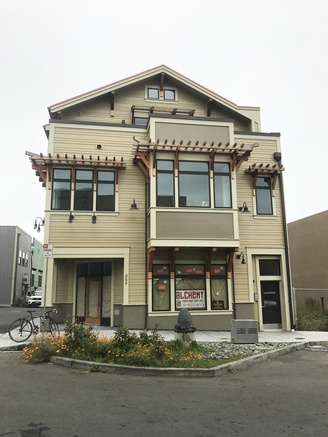 A new restaurant is planned for the ground floor of the 10,000-square-foot, three-story building completed earlier this year at 865 Ninth St. between H and I streets in downtown Arcata.

The restaurant is being opened by Dan Willey, the owner of the upscale seafood restaurant Salt, located on the Arcata Plaza at 761 Eighth St.
Willey described Campground as an "old school steakhouse," but with a modern flair. The "upscale casual" restaurant will feature a full bar with booth seating and an open kitchen. Diners will be able to watch as chefs grill meats on an Argentine-style Grillworks wood-fired grill. Rotisserie chickens, steaks, pork chops, housemade sausages and a wide variety of meats will be cooked over oak, charcoal, applewood and other hardwoods.
The restaurant will offer fancy cocktails and there will be four counter seats right in front of the grill for patrons to enjoy the sizzling view.
Construction of the 80-seat restaurant "is well underway," said Willey, who estimates that Campground will be up and running sometime this fall.
Upstairs from the restaurant, on the second floor, are nine professional office spaces housing a counselor, an accountant, some consultants and other businesses. Of the nine office spaces, two are available for lease, according to Chris Johnson of New Wave Realty, which manages the building. On the third floor are two vacation rentals.
Humboldt Bay Social Club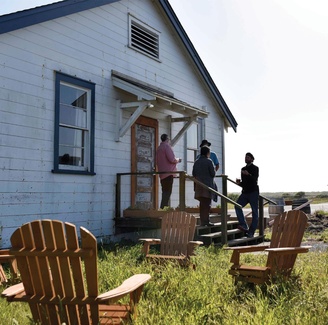 The Humboldt Bay Social Club recently opened at the Samoa Field airport out on the peninsula and includes a boutique hotel and a bar serving beer, wine, local liquor, oysters and platters to go.

The bar is open Thursday though Sunday from 4 p.m. to 10 p.m. at the airfield, which served as a blimp base during World War II. The hotel, with four suites, is located in what used to be the officers' quarters, with the bar located in what was the mess hall.
Amy Cirincione O'Connor, who owns the business with her husband Jon O'Connor, said that the bar is "locally" focused, with beer from the Six Rivers Brewery in McKinleyville and top shelf liquors from local distilleries, including gin and whiskey from Arcata's Alchemy Distillery, and vodka and rye from Eureka's Humboldt Craft Spirits. The bar also includes Budweiser and Rolling Rock for those who prefer a lighter beer.
When it comes to the food, the club offers mostly local fare that you take outside and cook yourself on a grill.
The oysters, she said, are harvested from Humboldt Bay by Aqua Rodeo Farms. Customers can cook them on a charcoal grill outside. You can bring your own charcoal, and even your own food if you wish, or the club will sell you the charcoal, veggies on a skewer and other grillable items.
Local cheese wheels, as well as crackers and other food items are available to enjoy picnic-style. There's a nearby bocce ball court that people can use free of charge.
Across the street is 22 acres of bayfront property, called Oyster Beach, with four vacation homes available for rent.
The couple also owns Humboldt Bay Provisions, a tasting room and oyster bar in Old Town Eureka at 205 G St.

Grocery Outlet
Construction is progressing on McKinleyville's new Grocery Outlet store, which is tentatively scheduled to open Nov. 30 just east of the intersection of School Road and Central Avenue.
"I think it's going pretty well," said Rhonda Andriessen, who will operate the franchise with her husband Jesse.
The couple planned to move from Jackson, located in the California foothills, to their new home in McKinleyville last weekend.
Sometime in October, they'll start conducting interviews and hope to have about 30 employees ready to work when the 14,500-square-foot store opens Nov. 30.
"We're excited to be in the community," she said.
AutoZone
Next door to the new Grocery Outlet will be an AutoZone, a national chain that sells auto parts and accessories.
The company's public relations office did not respond to a phone call from the Unionbefore it went to press.
Both AutoZone and Grocery Outlet are part of what's called the School Street Plaza, which is being constructed by School Street Plaza LLC, based in Sacramento.
Wolf Dawg
In Northtown Arcata, Amy Wolfe is planning to open a restaurant specializing in hot dogs, wraps, salads and specialty milkshakes, along with other fare.
Wolf Dawg is tentatively scheduled to open in mid-August, just in time for the return of Humboldt State students who can walk over the footbridge to 1731 G St., next door to Subway.
Wolfe said that the part of the building that will be occupied by the new restaurant was a podiatrist's office and is now being extensively remodeled. The restaurant will include a pass-through window for to-go orders.The restaurant will also feature several vegetarian options, including vegetarian hot dogs and toppings. "We have delicious wraps," she said
Wolfe is a self-described foodie and said she looks forward to bringing some unique offerings to town, such as a Banana Split milkshake and a Sweet Heat shake with chili powder and other spicy ingredients.
The new Arcata restaurant will be the second Wolf Dawg to open in Humboldt County. Wolfe operates Wolf Dawg in the lobby of the old Vance Hotel in Old Town Eureka with her business partner Viola Wolford.
"We just love doing what we do," Wolfe said about serving delicious food.
Savory Grill and Cafe
Also in Northtown, the Savory Grill & Cafe recently opened at 1504 G St. and serves brunch and dinner.
The restaurant is headed by executive chef David Velasco-Guzman, who invites diners to experience the grill's "tantalizing flavors and savors."
According to the restaurant's website, Savory serves brunch dishes such as Dungeness Crab Benedict, Stuffed French Toast and Asparagus Salad. Dinner items include El Molcajete prawns, grilled chicken, New York Steak, Paella and vegetable torte.
As of last week, restaurant staff were adjusting the menu, according to a message on the restaurant's answering machine. For more information, visit savorygrillcafe.com.
Moore's Sleep World
Moore's Sleep World opened a new store in McKinleyville April 1, and just last week opened an outlet store in Eureka.
The McKinleyville store is located in the former Bank of America building at the McKinleyville Shopping Center and includes a full selection of mattresses, bed frames and accessories.
"We basically sell everything from the ground up," said owner Jennifer Rudick.
The new clearance center is located two doors down from the Moore's Sleep World at 3 West Fifth St. in Eureka.
Rudick said she was buying new lines of mattresses and needed to sell existing stock in her warehouse, hence the opening of the clearance center.
Moore's Sleep World also has stores in Arcata and Fortuna. Redick said that the stores also sell electric fireplaces, including one that has its own sound system.
Eternal Apothic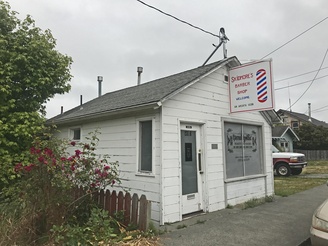 Alyson Osburn recently opened Eternal Apothic in the old Skidmore's Barbershop building at 211 G St. in the Marsh District of Arcata.
Osburn describes the business as a "beauty refinery," offering haircuts, facials, waxing, lashes, makeup and more.
But her main services are skin care and waxing. "That's the core of what I do," she said.
The services are offered in a "chemical-free, toxin-free environment," said Osburn, who has been in the beauty business since 2004. Eternal Apothic is open by appointment only. Call (707) 616-1119.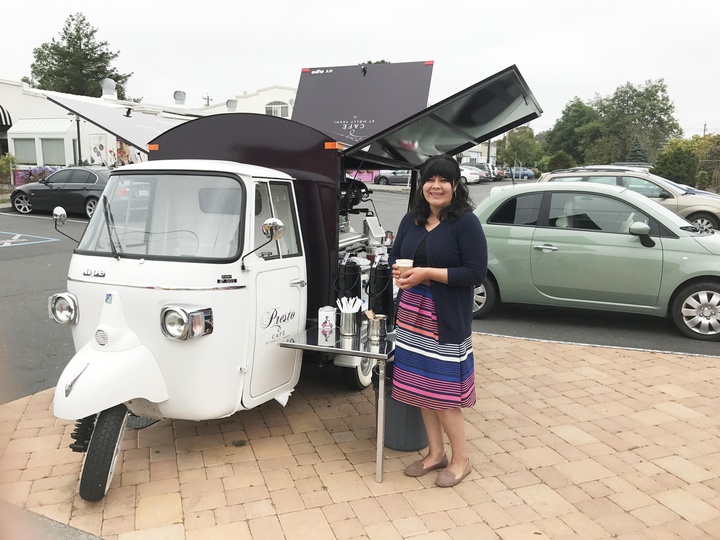 Cafe Presto
For cappuccino, latte or coffee drinks, stop in at Cafe Presto, a mobile coffee shop built into a three-wheel 1981 Piaggio APE from Italy. The APE is parked at 1300 Ninth St., Arcata, near the jewelry company Holly Yashi, which owns the cart.
The APE was recently moved from its prior location, a short distance down the street in the Creamery District.
Employee Flor Banuelos runs the coffee shop Monday through Friday from 8 a.m. to 3 p.m. The shops sells Thanksgiving Coffee and Teen Challenge pastries.
So what's it like to drive the three-wheeler, which has been christened Violetta? "It's scary," Banuelos said. "It's like a backwards wheelbarrow."
"She goes a whopping 35 mph," she said.
Wildflower Cafe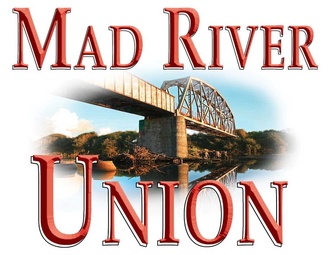 Wildflower Cafe, at 1604 G St. in Arcata, has a new seasonally-inspired summer dinner menu with things like raw zucchini pasta with sundried tomato pesto and cashew cream, which is rumored to be "really good" as well as healthy in all the ways.
It's open Thursday through Sunday for dinner.
###
Jack Durham is the editor of the Mad River Union. Subscribe here.