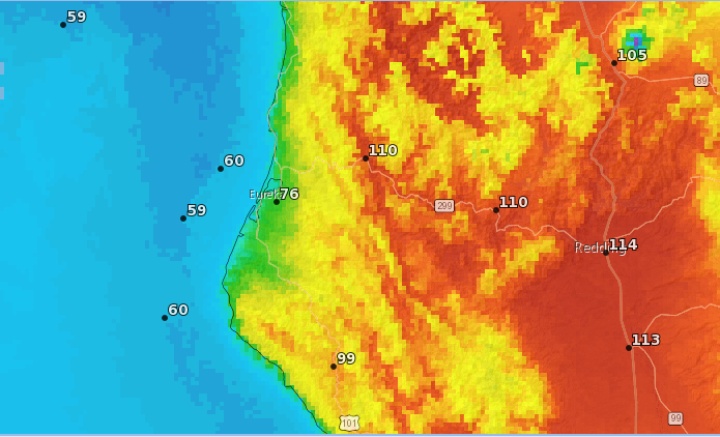 The National Weather Service and just about every concerned agency you can think of is putting out the red alert today: If you're living in inland Humboldt County, you are in for some almost unbearable weather this week.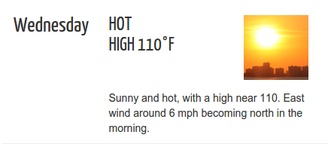 Starting today, a massive heat wave is expected to blanket the entire Pacific Northwest — they're freaking out about it in Portland and Seattle too — culminating Wednesday, when Hoopa is expected to reach a high of 110 degrees.
This is not good, especially for the elderly and small children. If you want to prepare, maybe cast your eye over these what-to-dos from the weather service and, by topic, from the Centers for Disease Control — heat prep for old folks, children, people with chronic medical conditions and low-income people.
For these folks, and for everyone, the basics are: Drink lots of water and keep cool. Know the signs of heat stroke and heat exhaustion. For God's sake, please be careful about kids and pets in cars. Have a plan to get to a cool place at the ready.
For folks inland, that cool place could be as simple as a drive to the coast. The temperatures in the fog belt aren't expected to rise above the low 70s. Check LoCO Weather for easy forecasts and current conditions around the region.
###
Excessive Heat Warning from the National Weather Service office on Woodley Island:

URGENT - WEATHER MESSAGE National Weather Service Eureka CA 242 AM PDT Mon Jul 31 2017

VERY HOT INTERIOR TEMPERATURES AND HEAT RELATED IMPACTS EXPECTED MONDAY THROUGH WEDNESDAY… .Interior regions of northwest California can expect soaring temperatures early this week…particularly Monday through Wednesday. Valley locations will see temperatures reaching 100 to 110 degrees each of those afternoons, with the highest temperatures expected Tuesday. This will increase the risk of heat-related illnesses, particularly for sensitive groups.

Del Norte Interior-Northern Humboldt Interior- Southern Humboldt Interior-Northern Trinity-Southern Trinity- Northwestern Mendocino Interior-Northeastern Mendocino Interior- Southeastern Mendocino Interior- 242 AM PDT Mon Jul 31 2017

…EXCESSIVE HEAT WARNING REMAINS IN EFFECT FROM 11 AM THIS MORNING TO 11 PM PDT WEDNESDAY…

TEMPERATURES…Afternoon valley temperatures ranging from 100 to 110 degrees…with low temperatures in the 60s.

IMPACTS…Moderate to high risk of heat illness for those who are sensitive to heat, or for those who are exposed to the sun and active for long durations. This heat will also be dangerous to anyone without proper hydration or adequate cooling. Heat stress is possible for livestock and outdoor pets. Also, area rivers still run cold and fast, increasing the risk for hypothermia and water rescues.

PRECAUTIONARY/PREPAREDNESS ACTIONS… An Excessive Heat Warning means that a prolonged period of dangerously hot temperatures will occur. This will create a dangerous situation in which heat illnesses are likely. Drink plenty of fluids, stay in an air-conditioned room, stay out of the sun, and check up on relatives and neighbors. Take extra precautions if you work or spend time outside. When possible, reschedule strenuous activities to early morning or evening. Know the signs and symptoms of heat exhaustion and heat stroke. Wear light weight and loose fitting clothing when possible and drink plenty of water. To reduce risk during outdoor work the occupational safety and health administration recommends scheduling frequent rest breaks in shaded or air conditioned environments. Anyone overcome by heat should be moved to a cool and shaded location. Heat stroke is an emergency - call 911.