As the investigation into the county's Public Administrator's Office continues, documents obtained by the Outpost reveal that employees of the Humboldt County Sheriff's Office have routinely been allowed to purchase items from estates for which the public administrator was acting as executor.
In other words, the county sheriff — who, in Humboldt County, also serves as public administrator and coroner — allowed his own deputies to buy automobiles, electronics and other items from the estates of the recently deceased, a violation of California Government Code Section 27443.
Since Jan. 1, 2016, at least four Sheriff's Office employees have purchased items in this manner, with all but one of those sales occurring under now-retired Sheriff Mike Downey. The other sale, which happened in May, shortly after Sheriff William Honsal took over the job, was of a 1976 Corvette that had belonged to the late Fred Hawkins, Jr.. The car was sold to Sheriff's Deputy Foy Melendy for $1,500.
Many other estate items managed by the Public Administrator during this period were sold to people with close ties to the Sheriff's Office, including two recently retired sheriff deputies, the wife of one of those deputies, a firefighter employed by Humboldt Bay Fire, and former county coroner/current Eureka Mayor Frank Jager and his wife, Sarah.
In a message sent to this reporter Tuesday morning, Chief Deputy Coroner/Public Administrator Lt. Ernie Stewart said, "Sheriff's Office employees have been directed to return items purchased from estates since [the Sheriff's Office's] consolidation with the Coroner/Public Administrator," a merger that happened back in February 2015.
The official investigation now underway was launched after the Outpost began looking into the estate of Fred Hawkins, a former millworker who died in his Eureka home on March 4 at age 68.
In a June 14 interview, Lt. Stewart explained how the Public Administrator gets appointed executor to an estate. If someone dies without a will, and if the office can't find any family member who's able and willing to handle the estate, Stewart will gather all the relevant information and give it to local attorney Dennis Reinholtsen, who files a petition with Humboldt County Superior Court to have Stewart appointed executor. The judge can either grant the petition or tell the administrator's office that it hasn't tried hard enough to find heirs.
In Hawkins' case, Stewart said, "He died March 4. I didn't have administrative papers until May 10. All that time between was spent trying to find relatives, heirs, wills, trusts."
But according to documents we received yesterday through a California Public Records Act request, the county started selling off Mr. Hawkins' things just days after his death.

Below is a screenshot of a receipt for the sale of a pair of sunglasses that had belonged to Hawkins. They were sold to a Timothy McCutchan for $20. The date looks to us like 3/7/17, which would have been just three days after Hawkins died. An accounting log from the county lists the sale date as March 14, still almost two months before the Public Administrator was appointed executor of the estate.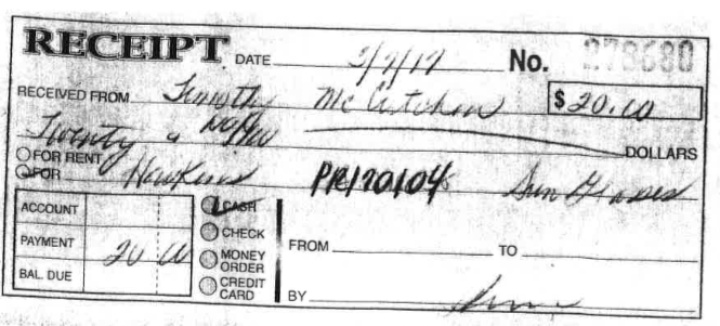 A receipt dated March 24, 2017, marks the sale of Hawkins' 70-inch flatscreen TV to Humboldt County Sheriff's Deputy Chad Zeck: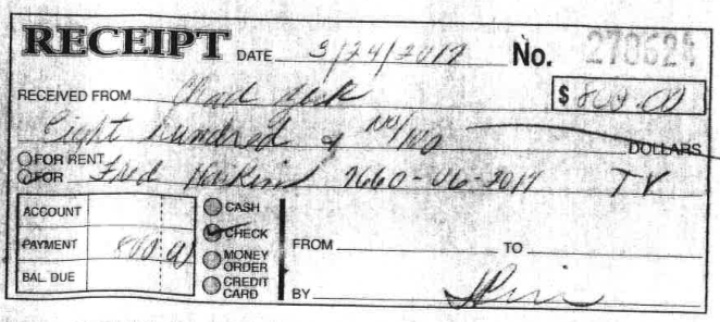 Curiously, the accounting log that accompanies this receipt includes an apparent typo for this transaction, listing the sale date as "0/27/2016."
Hawkins' 1976 Corvette was sold to Humboldt County Sheriff's Deputy Foy Melendy on either May 16 or May 18 of this year (again, the records differ) for $1,500. In last month's interview, Stewart emphasized the poor condition of the car, saying it had been parked unmoved for years, didn't run, had four flat tires and an interior covered in mold due to leaks in the roof. He also said it was "not a highly sought-after year" for the Corvette.
The Outpost searched online for 1976 Corvettes, and of the dozens we found for sale on such sites as AutoTrader.com, ClassicCars.com, CarsForSale.com and eBay, the cheapest was this rusted-out shell with no engine, no headlights and no rear bumper, listed at $4,795.
Hawkins also owned a Harley-Davidson motorcycle, which was sold to a man named Keith Daniels for $3,250.
We asked both Stewart and Honsal for details on how the Public Administrator's Office handles these sales — whether or not they're publicly noticed and/or submitted to an open public bidding process. Stewart said most items are sold to a licensed, bonded sales rep — often Ken Anglin, owner of Anglin Second Hand. Indeed, most of the receipts obtained by the Outpost are for sales to either Anglin or Carl Johnson Co.
As for other items?
"Sometimes Craigslist," Stewart said. "Sometimes, when you've been doing this job for a while, you get to know certain people are car buffs or a car club, so you pick up a phone and call: 'Hey, I've got a car you guys might want to come and look at.' Sometimes it's word-of-mouth."
A court referee is supposed to ensure that the Public Administrator receives "reasonable value" for the items he liquidates, Stewart said. The person currently serving in that position is Mike Retzloff, a licensed real estate appraiser. Stewart said it's Retzloff's role to prevent special deals to employees and friends.
In an interview last week Honsal said, "I don't know of any bidding that occurs." He declined to go into further detail on the sales procedures, saying those questions will be part of the ongoing investigation.
Public Administrators in California do not keep the proceeds they collect in their role as executor of estates, though they do collect administration fees based on the value of the estate, as laid out in the state's probate code. Those fees range from a four percent for the first $100,000 in assets down to one percent for any assets above $800,000 in value.
If the court agrees with the Public Administrator's finding that a deceased person has no known heirs, then the money gets "escheated" (i.e. sent) to the state. That's something Stewart tries to avoid.
"It drives me crazy to send money to the state that I know they're just gonna waste anyway," he said.
Regarding the Hawkins estate specifically, Stewart said, "Out of all estates I've done, Fred is about as close to being by-the-book process as I've ever done."
Below we've posted some of the notable sales documented in the records we've received, divided by sales to employees and sales to friends of the Sheriff's Office:
EMPLOYEES:
Trevor Enright, a deputy coroner/public administrator with the Humboldt County Sheriff's Office, purchased:
a 2001 Toyota 4-Runner from the estate of Christine Williams for $4,250;
a "stereo/tool" from the estate of Christine Williams for $230; and
a computer from the estate of Coy Phelps for $115.
Chad Zeck, a Humboldt County sheriff's deputy, purchased:
Fred Hawkins' 70-inch flatscreen TV for $800.
Foy Melendy, a Humboldt County sheriff's deputy, purchased:
Fred Hawkins' 1976 Corvette for $1,500.
Judy Price, a senior legal office assistant working in the coroner's office, purchased:
a Ford F150 from the estate of Thomas Balchik for $4,500.
Eric Morris, a Humboldt County sheriff's deputy:
paid $500 in March for a deposit on a Chevrolet El Camino from the estate of Valera Vierra. However, that deposit was later refunded. According to receipts, the sale was canceled and the car was later sold to a Bruce Cox for $1,000.
FRIENDS:
Roy Horton, a recently retired sheriff's deputy, got paid $500 for performing labor at the estate of James Hickey.
His wife, Renee Babros-Horton, purchased the following items, each time listing her name only as "Renee Babros":
a .25-caliber Browning pistol from the estate of David A. Jackson for $50;
an iPad from the estate of David A. Jackson for $20; and
two flat-screen TVs from the estate of Dewey Vrzina for $150. (For some unknown reason, the $150 from this sale was listed as a debit rather than a credit in the accounting ledger.)
Randy Garcia, a retired Humboldt County sheriff's deputy, purchased:
a guitar and a fishing pole from the estate of Eric Shull for $125.
Michael Landry, a firefighter with Humboldt Bay Fire, purchased:
a washer/dryer from the estate of David A. Jackson for $500.
Frank Jager, former county coroner and current Eureka mayor, purchased:
a 2001 Chevy S10 from the estate of Dewey Vrzina for $1,000.
Sarah Jager, Frank's wife, purchased:
a washer/dryer from estate of Christine Williams for $200.
Reached by phone earlier today, Frank Jager said he told Sheriff Honsal that he wouldn't comment until after the investigation is complete. "I don't think we should be trying things in the media," he said.
Asked if he would return the Chevy pickup truck or the washer/dryer purchased by his wife he said, "I'll comment after the investigation."
Click here if you'd like to pore over the latest documents we received from the county. Maybe readers can help us decipher some of the handwriting on the receipts. We had trouble reading a few. For example, on page nine there's a receipt for the sale of a 1989 BMW and a 1986 Volkswagen for $800. The first name there is Dorothy, but the last name has us stumped.
At the bottom of p. 28, on receipt No. 050491, we can't make out the name of the person who bought a sword for $150.
And receipt No. 278602, reproduced on page 21, is made out to someone with the last name Christian, first name illegible.
County staff has agreed to look into it, but maybe our readers can help us first.