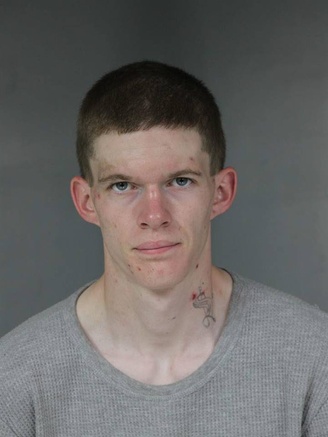 The Eureka Police Department arrested 20-year-old Benjamin Dimmick of Eureka for reportedly possessing a loaded handgun, and running form officers on Saturday afternoon.
EPD Public Information Officer Brittany Powell told the Outpost today that Dimmick fled from police after they attempted to make contact with him near the intersection of Harris and Lowell Streets around noon.
Dimmick had an outstanding felony warrant for possessing a concealed knife, and officers reportedly had information that he was in possession of a firearm when he was located on Saturday.
Officers chased Dimmick on foot for a short distance and were able to make an arrest after tasering him at the scene. Once in custody, officers discovered an empty holster on the suspect's ankle, and a firearm that officers believed he ditched during the pursuit.
Dimmick was taken to the hospital following the arrest and was eventually booked into the Humboldt County Correctional Facility.
Dimmick was booked for possessing a firearm as a felon, possessing a loaded firearm, resisting arrest, violation of probation, and the previous warrant charge for possessing a concealed dirk or dagger.