PREVIOUSLY: Ferndale Mother Arrested For Attempted Homicide After 'Trying to Remove the Demons' from Her 11-Year-Old Child
A Ferndale woman charged with a brutal attack on her young daughter pleaded not guilty today to charges of attempted murder, child abuse and mayhem.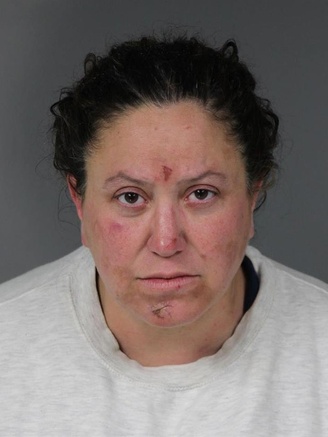 Kimberly Ann Felder, 45, entered Judge Marilyn Miles' courtroom with her head down and her hair pulled over her face. She moaned and cried as Miles advised her of the charges against her. Felder's hands were cuffed behind her back, and she was flanked by four officers.

Miles asked Felder if she could afford to hire an attorney, and she replied, "My family would."
"But are you able to afford one yourself?"
"No."
Miles appointed Deputy Conflict Counsel Marek Reavis to represent Felder, and set her bail at $600,000. Reavis entered not guilty pleas on her behalf to charges of attempted murder with the special allegation of inflicting great bodily injury, corporal injury to a child, assault with a deadly weapon, mayhem and child abuse.
When Reavis knelt down to speak to Felder, she perked up and began smiling. She apparently told him she was thirsty, because he brought her a cup of water, gently pushing her hair out of her face so she could take a sip.
Reavis did not waive time for a speedy preliminary hearing, so it was scheduled for July 3.
Felder was arrested Friday morning after someone called to report she was attempting to cast demons out of her 11-year-old daughter on Centerville Beach. According to the Sheriff's Department the girl had been stripped naked and Felder was hitting, biting and choking her while shoving sand into her eyes and mouth. All of this was reportedly being witnessed by a crowd of about a dozen people.
The Sheriff's Department reports that when "local citizen" John Marciel arrived, he quickly stepped in and tried to stop the attack. Marciel struggled with Felder, who still reportedly managed to hit her daughter over the head with a piece of driftwood. A deputy arrived and restrained Felder, while Marciel tended to the injured girl.
The Sheriff's Department says the child suffered "multiple injuries" in the attack, including serious damage to her right ear. This may be the reason for the mayhem charge. One of the forms of mayhem is slitting a person's ear.
The child was taken to a hospital and treated for her wounds.
Felder had been scheduled for arraignment at 1:30 this afternoon, but she apparently was in no shape to be brought down from the jail. The arraignment was held at 4 p.m.
Deputy District Attorney Carolyn Schaffer was in court today for the prosecution.