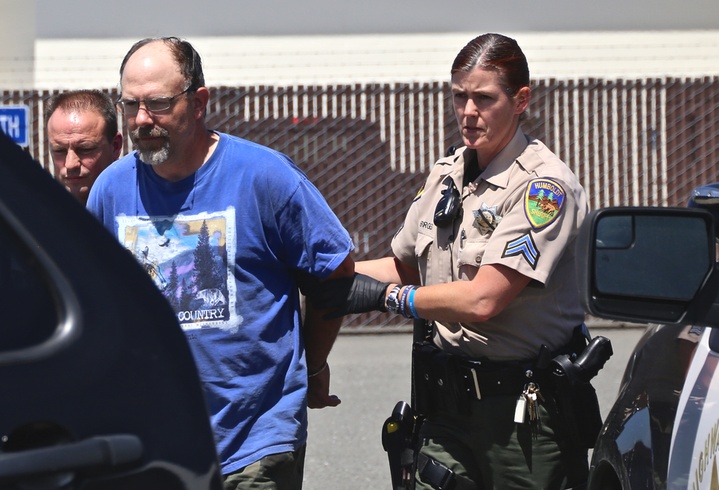 Police from numerous local agencies — the Sheriff's Office, the California Highway Patrol and the Eureka Police Department — have arrested a suspect in what one officer calls a "week-long crime spree" spread out over the county, and they're now questioning him near the old KOA Campground between Eureka and Arcata.

The detention of the man follows a hectic day of police sightings of the man in and around Eureka. This afternoon police attempted to inconspicuously set up a net around the man in the Henderson Center area, which he was able to escape.
There was discussion of setting spike strips out along various northern entrances to the city, but the California Highway Patrol ended up stopping the man without incident across from Bracut at around 2:15 p.m. Officers from the EPD and the Sheriff's Office are still with the man at the scene, investigating.
Sergeant Justin Braud of the Sheriff's Office tells the Outpost, at the scene, that the suspect — identified as a James Pawlyk, 50 years of age — had been a person of interest in numerous crimes over the last week, from Willow Creek to Kneeland to Eureka. The Sheriff's Office has officially taken him into custody on charges of assault with a deadly weapon and vandalism.
Brittany Powell of the Eureka Police Department tells us that the description of Pawlyk and his vehicle match those associated with a series of recent crimes in Eureka. Most recently — just before the final dragnet was going into place — a person matching his description smashed several car windows with a baseball bat on the 2800 block of D Street.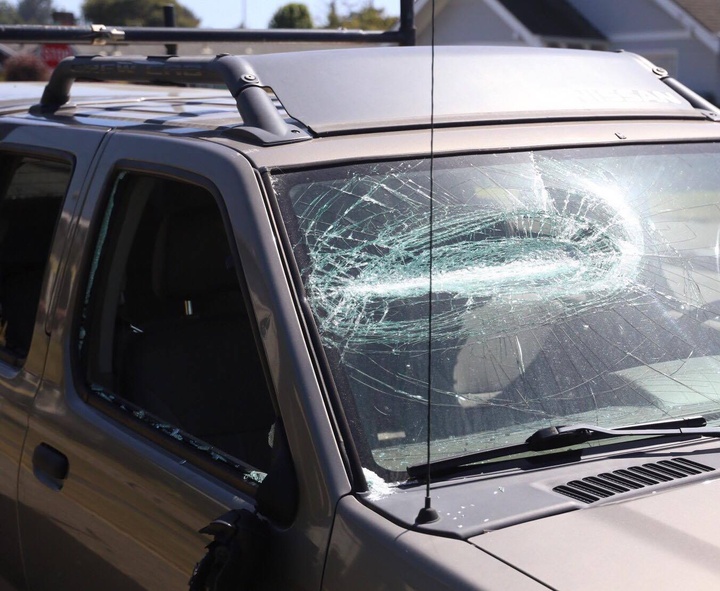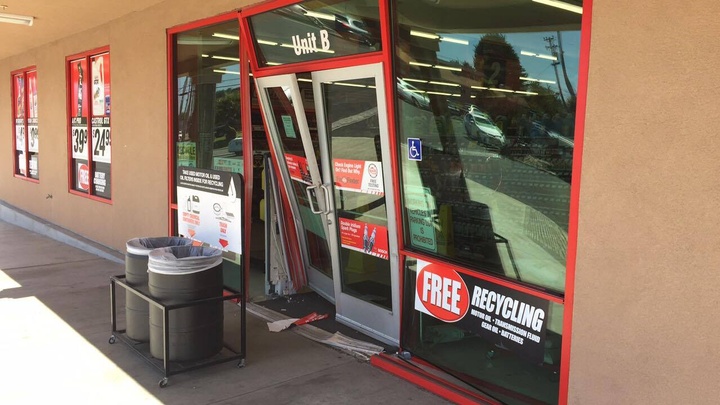 His description also matches a strange series of incidents yesterday that were reported to police, and widely reported on social media. A person matching Pawlyk's description is said to have threatened several people at local businesses with a knife, and also attempted to break windows with paving stones. One of those businesses was the AutoZone store on Harris Street; this morning, that businesses's storefront was ruined after a vehicle had backed into it sometime last night.
Firsthand reports and photos posted to the "Eureka, Ca.: Neighborhood Watch" Facebook group — see here and here — show a man and describe a man resembling Pawlyk shouting paranoid statements at people, pulling knives on them and attempting to break windows at businesses around Eureka yesterday.
In late 2015, the Redding Record-Searchlight's Facebook page noted that Pawlyk has a long history of run-ins with Shasta County police, and has been arrested for threatening his family, possessing tear gas and drowning cats.
The Outpost will update when we know more.
Click video to play. Problems on iPhone? Turn your phone sideways.