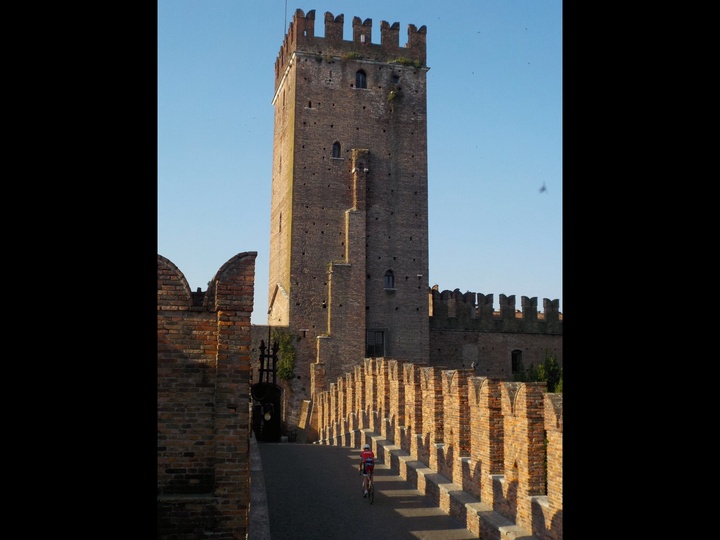 Our Milan-Newark flight was scheduled to leave at 10.40 am Friday a week ago. Even with the partial Italian train strike, we thought we'd have plenty of time at the airport — the plan was to take the first express train of the day (not hit by strikes) from Verona (where we're staying) to Milan Central and another non-strike train to the airport (an hour out of town). Except we got a note from United Thursday evening saying they'd moved the flight up by 40 minutes, to 10 am.
This wasn't good. We were already on the earliest Milan-bound train. But still do-able, just — we'd get to the United check-in counter 30 minutes before the flight was due to leave … yeah, we could do it, with a little hustling. Louisa goes on ahead, Barry follows schlepping the bags.
I huff and puff my way to United check-in — it's a long way from the airport train station — to be greeted by news from my beloved: "No one's here!" Shit! A huge United counter, empty as can be. No boarding pass machines. "Try United ticketing," advises someone.
Same process, L runs, B follows on — nope, no United ticketing counter.
"Let's go to the gate anyway," she says. "But I haven't got a boarding pass, not even an electronic one!" (She, wise as she is, has, despite the on-line statement that only paper passes would be accepted.) "Well, OK…"
I arrive at security, to find that she's somehow sweet-talked her way to the head of the long line. And found an even sweeter security lady to explain our predicament to. "Where's your boarding pass?" I explained I didn't have one, there was no one at United, it's now 15 minutes before the gate closes. All I have is an email on my iPad from United confirming my ticket. "Let me see."
Next thing, this angel from on high is calling the gate, checking my name and … "Go on through." (Eat that, TSA!)
At the gate, we're the last ones. "You Evans?" "That's me." "Security said you were on your way. Here's your boarding pass, hurry along please."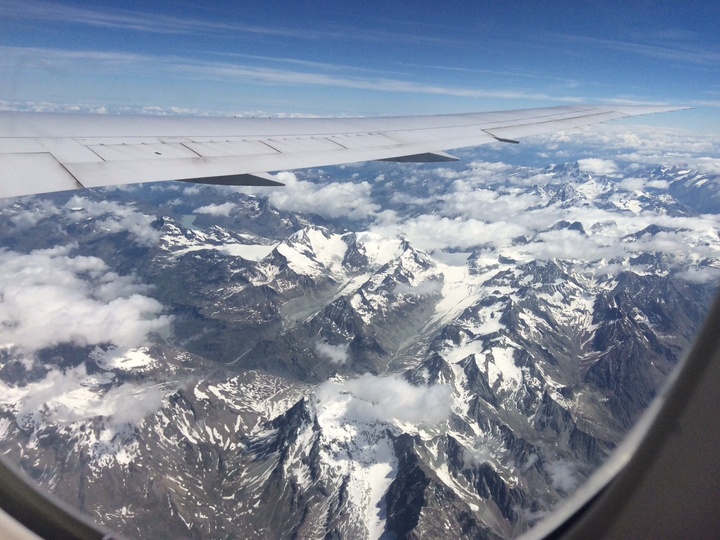 And so it was, 10-hour flight, 1-hour immigration line (true) later, and easy rental car check-out, that we found ourselves creeping along, part of the Friday afternoon traffic jam heading up to and west along I-80, New Jersey. In a torrential downpour. We were en route to the Delaware Water Gap, near where Louisa's family has been coming — to an Appalachian Mountain Club center with cabins — every two years since her dad turned 90. (He's now 96 and still going strong.)

So there we were, Mohican Outdoor Center, 25 of us, Friday evening thru Monday morning, yakking and drinking and hiking and swimming and having a fine time together. Did I mention yakking? Until it was time to head back — uneventfully — to Newark, endure the four-hour flight delay (comfortably, in a United Club), sleep (mostly) on the red-eye back to Milan, figure out the two trains to Verona and walk the mile-and-a-half back to our AirBnB apartment here. Temperature: 97F.
All good.