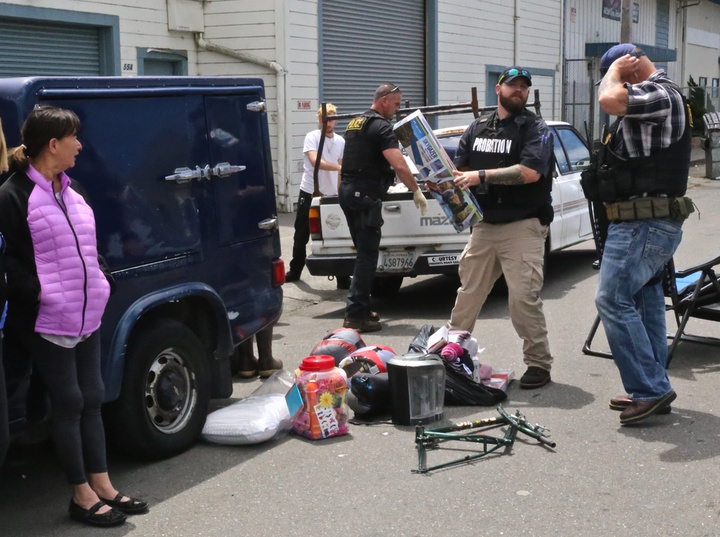 Emotions were high at the corner of Third and Commercial streets today as Eureka Police officers recovered items that had been stolen from local hero and homeless activist Betty Chinn. Officers from EPD's Problem Oriented Policing unit loaded the items, which had been recovered from homeless people gathered near that intersection, into Chinn's Blue Angel truck as Chinn, distraught, looked on.
Sometime last night a nearby warehouse containing supplies Chinn's organization intended to distribute to the homeless was broken into and pillaged. Chinn sobbed as she described being violated by the very community she has dedicated nearly four decades to helping.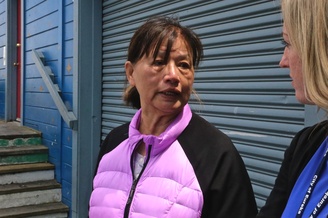 "I feel a betrayal. I love them, I care for them, I shower them and feed them. And they do that to me?" she said. "Why do they hate me so much?"
Chinn said she received a call earlier today from a member of the homeless community who told her they'd seen people bragging about stealing from Chinn's storage space while distributing some of the items to those who frequent the sidewalk across from St. Vincent de Paul Free Meal.
The thieves didn't have to transport the items far. Chinn's small warehouse, donated by Mercer-Fraser Co., sits on the same block.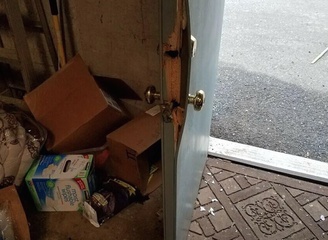 A photo Chinn shared with us of the door suggests it was forced open.
While a significant portion of the items stolen were recovered, Chinn thought a lot was still missing; she hadn't had time to fully catalogue what had been taken. Among the items stolen were toys that were going to be distributed to local homeless youth and 20 sets of luggage that contained clothing and supplies Betty had packed for low income high school graduates who she was helping send to college back east.
In addition to the theft, Chinn said that a number of dishes were destroyed and the warehouse reeked of urine and feces.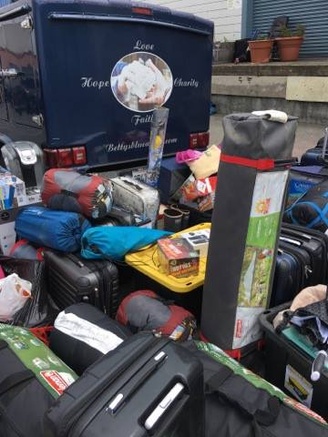 "They pooped in a microwave oven," Chinn said through tears. One homeless woman took the opportunity to yell at Chinn claiming that Chinn doesn't "help that many people." Chinn did not respond. She told us that many of the people who remain homeless in Eureka have chosen to be so.
"If they wanted to change they could change," Chinn said. "They don't want to change. Myself, I would say — and I maybe am going to make a lot of people angry — this is a cancer for the City of Eureka. This is a cancer. They've got to do something about this."
Eureka Police Captain Steve Watson was on scene assisting with the recovery of the stolen items and speaking with the homeless that remained at the scene.
"This is the problem we're dealing with down here," Watson said. "Some of the toughest, the worst of the worst are left. They don't respect anyone or any rules."
Watson expressed anger over the fact that numerous people on scene knew that the items had been stolen from Chinn but no one stepped up and tried to stop it, nor did they call police.
"There's going to be repercussions," Watson said.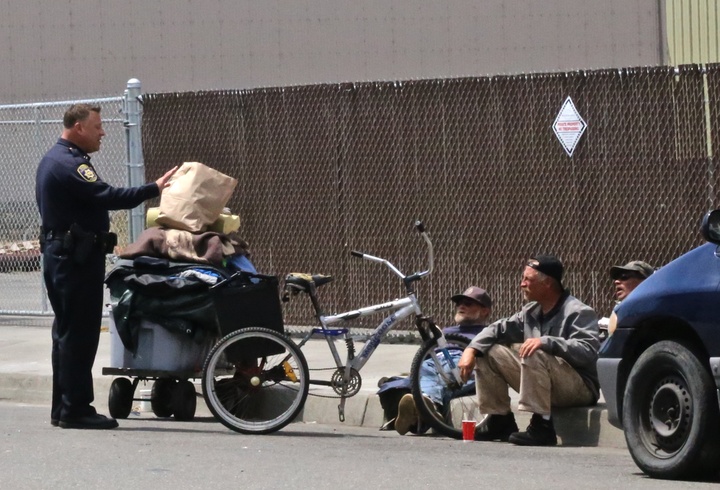 While LoCO was on the scene, Watson made several phone calls trying to rally members of the community to come down and help clean up Chinn's warehouse. He remained calm but livid as he discussed the break-in.
"It's just frustrating," Watson said. "There's no one who's done more in the world for the homeless than Betty Chinn and for them to do that to her is disgusting."
Watson said EPD officers made two arrests today for possession of stolen property. Their identities will be included as part of an EPD press release he expected would be sent out this evening.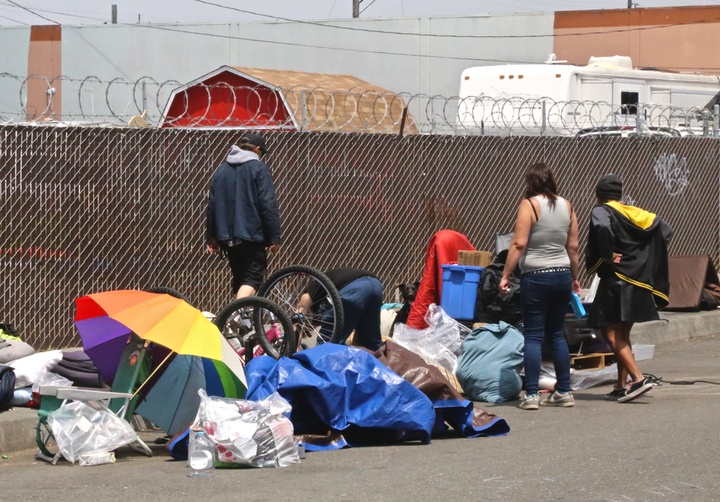 ###
Press release from the Eureka Police Department: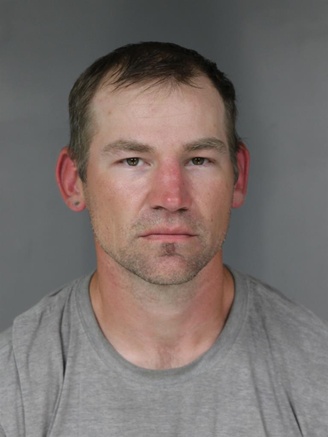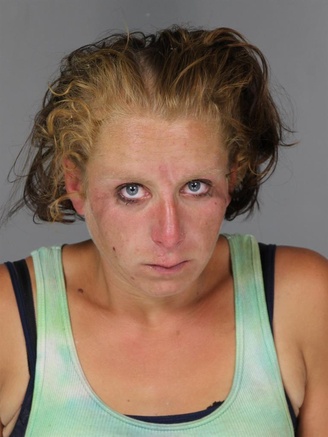 On June 28, 2017, at about 6:15 a.m., officers with the Eureka Police Department responded to the 70 block of West 2nd Street for the report of a burglary to a large storage building. Dispatchers received second hand information that transients were taking property from the building which stores goods belonging to the Betty Kwan Chinn Center.

Chinn responded and reported that the building had been completely ransacked, defecated in, and a large amount of property had been stolen. The stolen items included supplies and goods collected for about twenty college bound, low-income students.

At about 1:30 p.m., the Problem Oriented Policing Unit (POP) was patrolling the area of West 3rd and Commercial Streets when they noticed a large amount of property on the sidewalk near a group of transients. Chinn responded and identified the property as hers but said there was a large amount of property still outstanding.

27-year-old Brittany Johnson and 49-year-old Daniel Gurley were sitting with the property when officers arrived. They were transported and booked into the Humboldt County Correctional Facility for possession of stolen property. Gurley had an additional charge for violation of probation.

This is an ongoing investigation. Anyone with information on the whereabouts of the outstanding property or identity of any additional suspects is asked to contact the Eureka Police Department.