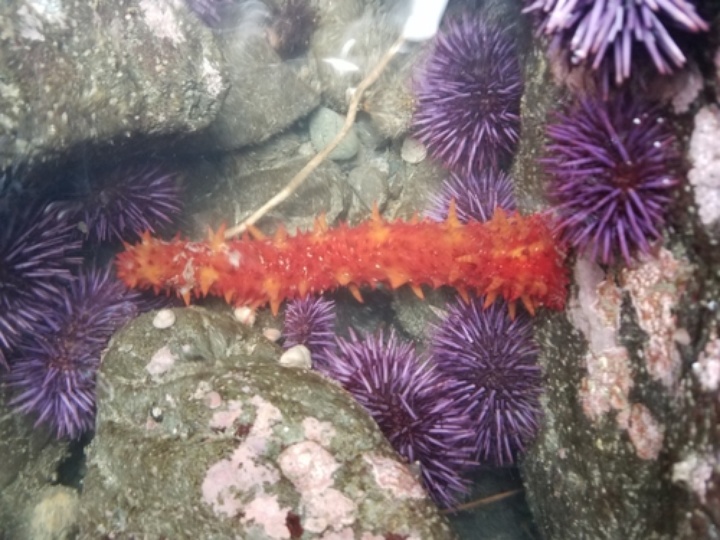 Last week's YWIO announced the effort to provide a snapshot of biodiversity throughout the entire California Coast during the week of June 23rd- July 2nd. That effort is in now in full swing, and Humboldt County is on the map! Taking advantage of the negative two-foot low tide, the Trinidad Land Trust, Friends of the Dunes, Humboldt MPA Collaborative and North Coast Environmental Center hosted a rocky intertidal Bioblitz at Baker Beach, on Sunday June 25th.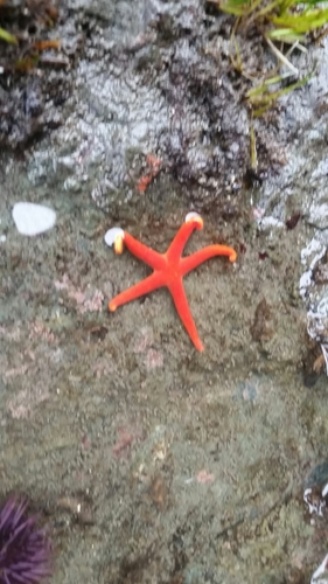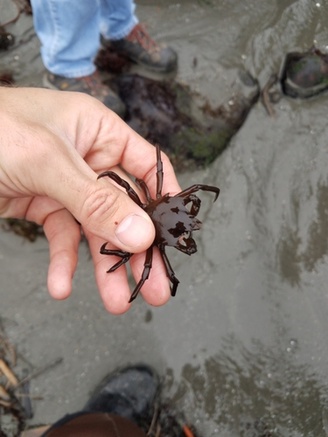 Participants trekked down to the beach at dawn and spent the morning carefully crawling aroundthe intertidal rocks in search of any and all living things. The team of observers recorded over 96 observations and 58 species.
The extreme low tide allowed for areas normally underwater to be explored, and reveled a few intertidal treasures. Perhaps most exciting was the sighting of several Nudibranchs! Their scientific name, Nudibranchia, means 'naked gills,' and describes their shell-less jelly body. Nudibranchs come in wild shapes and colors, often with feathery gills and horns on their backs. They are carnivores who's diet consists of algae, sponges, anemones, corals, barnacles, and even other nudibranchs.
Another noteworthy find was a giant California sea cucumber (Parastichopus californicus). This creature could be mistaken for a sea dragon, with it's spiny red body and mouth surrounded by retractable tentacles. This species can get up to almost two feet in length, two inches in width and can move up to 13 feet per day!
Some other more common species observed included giant green anemones (Anthopleura xanthogrammica), hermit crabs (Pagurus hirsutiusculus), Gumboot Chitons (Cryptochiton stelleri), Pacific Purple Sea Urchins (Strongylocentrotus purpuratus).
"I liked how this event brought together marine scientists, environmental educators, students and novices to share their finds like a treasure hunt and learn something about each other and about the plants and animals that live there," stated attendee Bill Rodstrom. "From my experience, the more we know about a place and the more meaningful connection that we experience with it, the more we will want to explore and protect that place as much as possible.

Click HERE to view the entire species list and photo gallery.
Want to be a part of this effort? There is still time to take more pretty pictures in the name of science!
Learn more about iNaturalist and how to Get Started with an account and make observations.
Grab a friend or two and head to your favorite coastal spot. Check out the NOAA tide table to find out when the low tide will be near you.
Take as many pictures of plants and animals as you can and upload to iNaturalist. If you don't know what something is, upload as 'unknown' and an iNaturalist expert will help you!
Spread the word! Use hashtag on social media #SnapshotCalCoast or tweet at @SnapshotCACoast.
###
Stop Stealing the Sand!
You might be surprised to learn the last sand mine in the U.S. is located right here in California. You might be more surprised to learn that it has been illegally stripping the Monterey coast of sand for decades causing serious coastal erosion. Fortunately, there is good news. Due to the hard work of a coalition of activists including Surfrider Foundation and Save Our Shores, Cemex, the last sand mine in the U.S. is set to be shut down, pending the California Coastal Commissions approval of a proposed settlement agreement at their July meeting.
Since 1906, Cemex has been dredging 270,000 cubic yards of sand per year, equivalent to a large dump truck load every half hour, 24 hours a day. Even though such operations were banned on the California Coast 27 years ago, the company has been taking advantage of a loop hole by placing its dredge in an artificial lagoon, just above the mean high tide line, and outside the jurisdiction of the Lands Commission and U.S. Army Corps of Engineers.
Last March, after years of investigating the mines operations, and concluding it was causing accelerated erosion of the Monterey coast, the California Coastal Commission notified Cemex that it would issue a cease-and-desist order unless the company closed itself. On Monday, June 26, the Coastal Commission announced they have reached an agreement with Cemex to shut down the mine.
"We anticipated this to go on a lot longer, so it's a huge victory," Jennifer Savage, California policy manager for the nonprofit Surfrider Foundation, told the SF Gate. "This has been one of the most egregious violations on the California coast, and to see all of that hard work prevail against a multimillion-dollar company that likes to litigate is really affirming that the little guys, the public, can win."
The agreement would allow Cemex to continue mining for three years at a reduced rate, not exceeding 177,000 cubic yards annually. After the three years, the mine would have to cease operations completely. Cemex would then have an additional three years to remove equipment, sell off their stockpiles of sand, and restore the site. The agreement also requires the mine be sold within six years to an approved nonprofit or government agency for the purposes of conservation and public access.
###
Delia Bense-Kang serves as the Northcoast Environmental Center's Marine Protected Area Outreach Coordinator and chairs Surfrider Foundation's Humboldt Chapter.