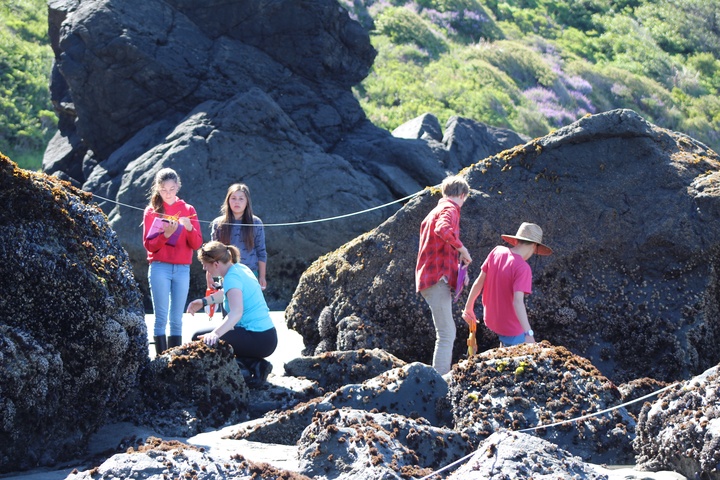 It's never too early to become a citizen scientist, as a special group of Trinidad Elementary School students know. Thanks to Humboldt State University Marine Biologist Jana Litt, and third grade teacher Stephanie Strasser Goldstein, a group of students were given the change to participate in a citizen science project with the HSU marine lab to monitor sea star wasting disease on Trinidad State Beach.
Sea Stars along the North American Pacific coast are dying in great numbers from a mysterious wasting syndrome, which marine scientists in California and worldwide are studying. In the spring of 2013, outbreaks were observed in Humboldt County by Litt and a team of HSU undergraduate marine biologists. "Sea Star wasting is potentially caused by a virus called the densovirus discovered in 2014," stated Litt. "It manifests by lesion formations which eventually perforate the body wall causing loss of tissue and eventually death. Stars can lose their arms, called atomization, but if they are sick with the disease they don't regenerate, which leads to death." It's important to note humans cannot get the virus, but we can potentially contribute to the spreading by disturbing the intertidal zone.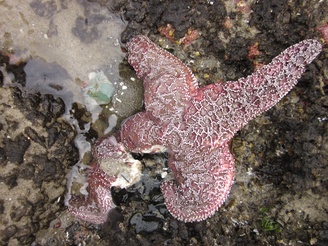 After giving presentations about sea star wasting disease to Trinidad School students, Litt was impressed by the amount of interest and concern they had, and thought it would be the perfect opportunity for a hands-on learning experience. "This is their backyard, they are the experts. These kids are fishing and surfing and tidepooling before they can walk. They have been around and noticed these changes," said Litt.

Third grade teacher Stephanie Strasser Goldstein agreed this would be a great opportunity for the kids, and the two worked together to develop a project. This wasn't your average class project. Students had to apply by writing an essay on why they wanted to participate in the program, and what was important to them about the ocean ecosystem and ocean health. Some of the kids were so motivated they turned in essays six pages long.
The hands-on monitoring took place the mornings of May 30th and 31st during some of the lowest tides of the year. Students set up transect lines at two sites on Trinidad State Beach. "We recorded size, color, whether they're adults or juveniles, what stage of the disease if at all, and where they're located," explained Litt.
Due to its success this first year, Litt and Strasser plan to run and build the program in the years to come. "It was absolutely incredible watching the lightbulbs go on. They are such fast learners, and they are so interested in this. I am very impressed and very lucky to be working with such a incredible group of young scientists," said Litt.
Learn more and celebrate this project at Ocean Night this Thursday, June 8.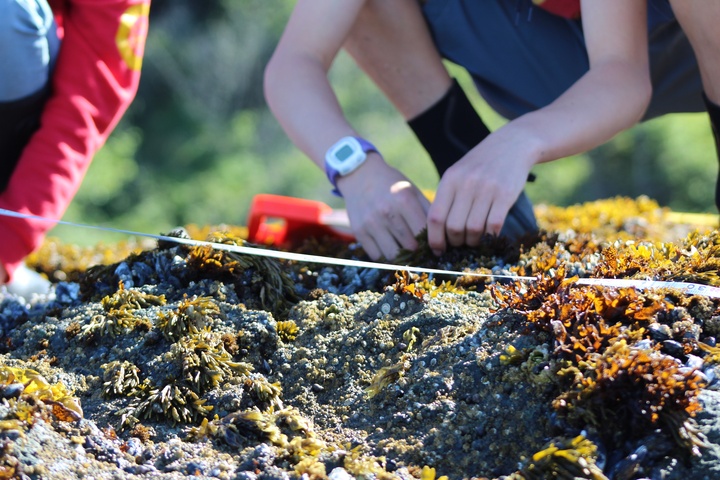 ###

Perfect timing — June 8th also happens to be World Oceans Day!
Presentations at Ocean Night will include this and more of Trinidad kids' projects, such as the Salmon Trash Art project to raise awareness about the Klamath's salmon, and a student film about Trinidad's Coastal National Monument. We will also be honoring the surf club groms!
The featured surf film is Castles in the Sky:
You can also tune into this week's episode of Coastal Currents, Thursday at 2:30 p.m. on KHUM, for an interview of four of the students who participated in the monitoring program.
Listen to last weeks Costal Currents interview with Jana Litt here.
If you are interested in volunteering or for more information email seastarwastingdisease@gmail.
###
Remember, summer is the perfect time to go tidepooling. While people are encouraged to go out and enjoy nature, it's important to keep in mind any disturbance can be detrimental. Make sure you don't remove or add anything to the tidepools.
###
Delia Bense-Kang serves as the Northcoast Environmental Center's Marine Protected Area Outreach Coordinator and chairs Surfrider Foundation's Humboldt Chapter.