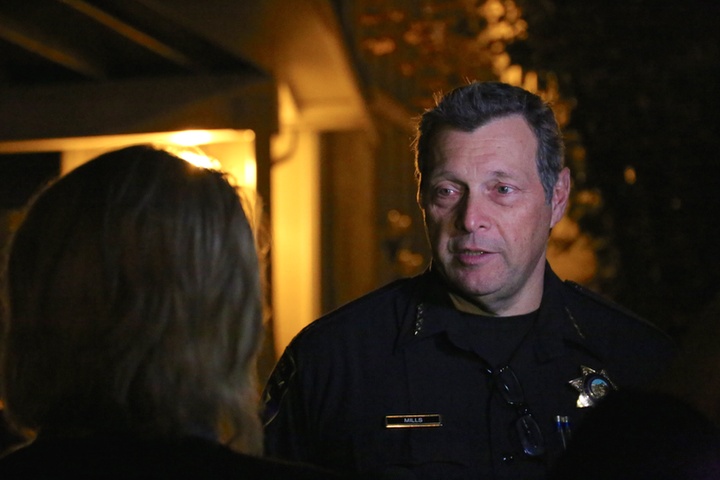 Eureka Police Chief Andy Mills has accepted a job as the chief of police of the city of Santa Cruz, the Outpost has learned.
Mills took over the Eureka Police Department in late 2013, assuming command from interim chief Murl Harpham at a time when the city hadn't had a permanent police chief in over two years. Previously a division commander for the San Diego Police Department, Mills set about reorganizing and reorienting the EPD, creating several new positions, doing away with others, and promoting a cadre of sergeants and captains who shared his vision of the police department as a community service-oriented force.
During that time, the Eureka Police Department handled or was involved in numerous large-scale cases — including the murder of Father Eric Freed, the police shooting of Tommy McClain and the murder of 14-year-old Jesus Garcia — and was also a leading force working toward initiatives such as the eviction of the homeless encampment in the Palco Marsh.
Mills told the Outpost this afternoon that accepting the Santa Cruz job — which he said came to him via a professional recruiter, unbidden — was not an easy decision for he and his wife, Cathy, to make.
"This is a good city with great people, and it's a bittersweet decision for us, personally, but there are a lot of personal and professional factors in play," he said. In particular, a move to Santa Cruz would allow them to be closer to their grandchildren, who were born after the couple came to Humboldt County.
Mills said he told Eureka City Manager Gregg Sparks of his decision earlier today, and has not yet officially resigned from the EPD. He said that his hiring is pending a standard police background check, a process that will likely take weeks.
Though he was downbeat this afternoon — when talking on the phone, he paused a few times mid-sentence to collect himself — Mills said that he was confident that he was leaving the Eureka Police Department in good hands.
"I feel like I've moved the needle here in Eureka," Mills said "I've worked hard, and there are others here to push it forward."