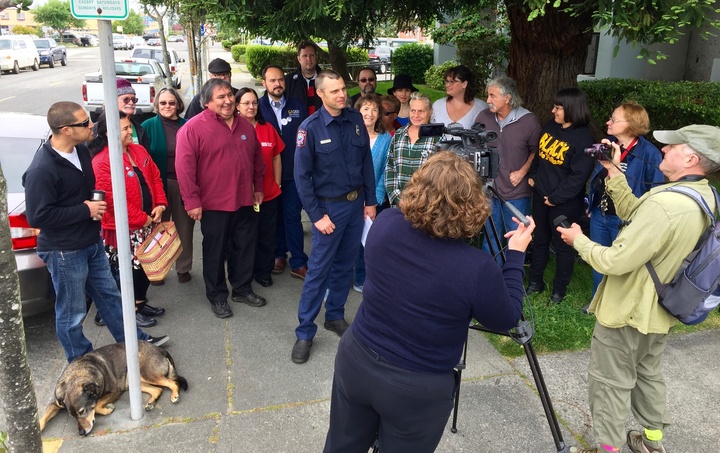 PREVIOUSLY: Local Firefighter Files Grievance After Being Told to Remove 'Black Lives Matter' Lapel Pin From His Uniform
# # #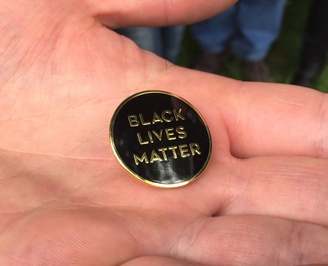 Today's grievance hearing before the Humboldt Bay Fire Joint Powers Authority Board of Directors lasted for nearly five hours and featured weighty public commentary, numerous witnesses and opposing attorneys arguing over such elusive concepts as the definition of the word "political" and the true nature of the Black Lives Matter movement. And yet it took the board barely an hour to reach a unanimous ruling upholding Fire Chief Bill Gillespie's order, back in March, telling one of his firemen to remove a Black Lives Matter lapel pin from his uniform.

Matt McFarland, an engineer with Humboldt Bay Fire, filed a grievance with his union over that order, arguing that the message of Black Lives Matter is one of inclusion and a commitment to justice and should thus be allowed under his agency's uniform policy, which allows lapel pins provided they are "fire service related and in good taste." But Gillespie ordered him to remove it, reasoning that the pin was not related to firefighting and was inherently political.
Today's evidentiary hearing, which was the final step in the department's official grievance process, pitted McFarland and his union-appointed attorney, Jeff Edwards, against Gillespie and Humboldt Bay Fire's attorney, Kendall Swanson.
Held in Eureka City Council chambers, with roughly 30 people in attendance, the hearing began with a dozen people coming forward to make public comments. The vast majority — 10 of the 12 — spoke in favor of McFarland and the Black Lives Matter movement, though one of McFarland's fellow firefighters, Jason Campio, disparaged the pin as "complete garbage" and an example of "virtue signaling" from a "social justice warrior."
It's arguably worth mentioning that none of the people directly involved in today's hearings is black. The one black member of the public who addressed the board, Kim Trevillion of Eureka, spoke passionately about the importance of the Black Lives Matter movement and its significance here in Humboldt County.
Edwards, the attorney representing McFarland, called four witnesses, including Humboldt Bay Firefighter Yolla Montalbin, Eureka resident Nancy Roberts, a local non-practicing attorney named Brenna Silbory and McFarland himself. Standing at the podium where people usually address the City Council, all four, in turn, testified that Black Lives Matter is a social movement rather than a political one, that it's an extension of the American civil rights movement and thus should not be considered controversial.
Silbory gave a lengthy prepared statement outlining the history of racial injustice in this country and the legacy of police abuse of black people, from Rodney King through the present day. She argued that many minorities see "an invisible pin" on law enforcement uniforms, one that implies they're not entitled to the same justice afforded to whites. She said it's time to "stop arguing about whether people's fears are legitimate" and confront the entrenched distrust of law enforcement among minority populations.
McFarland testified that he wore the pin to communicate his accessibility to all people, saying he wants "everyone to feel explicitly comfortable" approaching him in the field. The message of the movement is that black lives matter too, he said, adding that it's not an anti-police message.
In her cross-examinations, Swanson attempted to get witnesses to acknowledge that Black Lives Matter is a political organization, pointing out that the Black Lives Matter website says as much. She asked McFarland if he was aware that some people think of Black Lives Matter as a hate group. He said he'd welcome the opportunity to discuss any misconceptions about the movement.
After a break for lunch (followed by a delay due to a power outage), Swanson presented her case, calling both (soon-to-be-departing) Eureka Police Chief Andy Mills and Humboldt Bay Fire Chief Bill Gillespie as witnesses.
Mills, who was responsible for bringing the pin to Gillespie's attention, said he personally supports the Black Lives Matter movement but believes the pin is inappropriate for a public employee's uniform because "it becomes the government agency supporting" the cause.
He defended his own right to wear a "Police Lives Matter" bracelet, as he did to the Outpost on Tuesday, by saying it doesn't represent any specific group or political movement and, besides, as chief he has the authority to grant himself permission to wear it.
"We are as apolitical as possible," Mills said.
During cross-examination, Edwards urged Mills to acknowledge that the terms "Police Lives Matter" and "Blue Lives Matter" are direct responses to Black Lives Matter, and he asked Mills to define exactly what "political" means. Is the Civil Rights Act political? What about Martin Luther King? What's the distinction between marching in uniform on MLK Day and wearing the pin?
Mills stuck to his guns, even if it was unclear exactly where he draws the line between political and non-political issues. Allowing a Black Lives Matter pin, he said, would open a "Pandora's door" to all sorts of other polarizing pins, like ones supporting the NRA or the pro-life movement.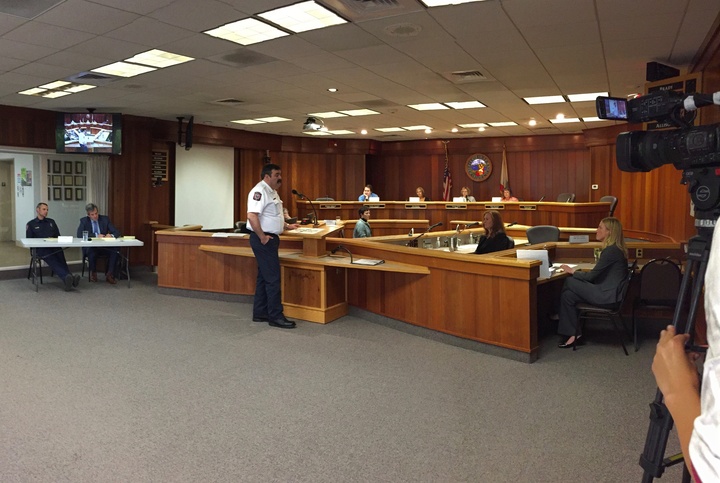 Gillespie, for his part, spent much of his time at the podium reading from his agency's official policies regarding uniforms and recounting the steps in the grievance process that brought things to this point. He said the Black Lives Matter pin has the potential to offend some in the community and he doesn't want to jeopardize his agency's relationship with other agencies. Allowing the pin, he said, would throw his department's ability to remain neutral out the window.
In her closing argument, Swanson repeatedly asserted that the pin is inherently political, and she said Gillespie's decision "was made in order to be consistent and maintain neutrality."
Edwards, on the other hand, said there had been zero evidence presented showing that anyone besides Mills actually objected to the pin, and he said California's laws regarding political expression by public employees only prohibit supporting candidates or initiatives and have nothing to do with social movements. The law "isn't about stopping what's controversial," he said, and he argued that Gillespie's order to remove the pin was "rife with viewpoint discrimination."
In its ruling, sent out shortly after 4 p.m., the Humboldt Bay Fire Joint Powers Authority Board of Directors said Black Lives Matter is indeed a political in nature and thus "Chief Gillespie's order that Mr. McFarland not wear the 'Black Lives Matter' pin while on duty and in uniform was not a violation of the 'Uniform Requirements' policy."
The board also noted that its decision was "based on policy, not on its agreement or disagreement with the Black Lives Matter movement."
Read the full ruling by clicking the link below.
DOCUMENT: Final Decision Affirming Action of Fire Chief Following Grievance Hearing