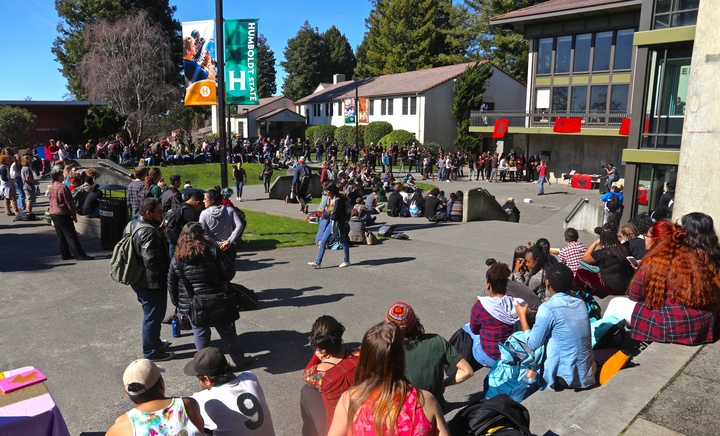 UPDATE, 3/1: Hundreds gathered on the Humboldt State University's Quad Wednesday afternoon to voice their concerns over a litany of student grievances, but mostly the proposed tuition hike currently being discussed by the California State University's Board of Trustees. As part of a walkout quickly organized by Associated Students, numerous student speakers took up mic and shared their struggles, often choosing to direct their ire at state officials. They say the burden a tuition increase would impose are not being considered.
"We are opposing this," said Jonah Platt, President of Associated Students and event organizer. Platt says that the State of California's decision to not provide the CSU system with the funding it requested is trickling down to those who can least afford it. The school's still want to provide services to students.
"The problem is that they're trying to get that money from the students," "That doesn't support us. That doesn't help us."
Hear more of LoCO's chat with Platt below.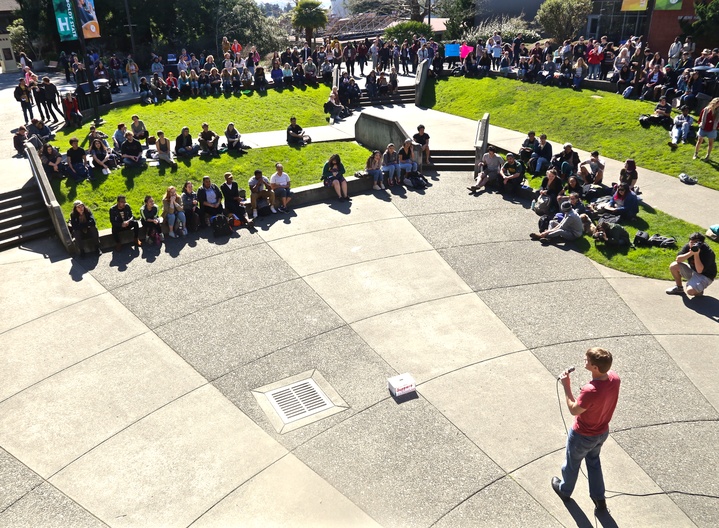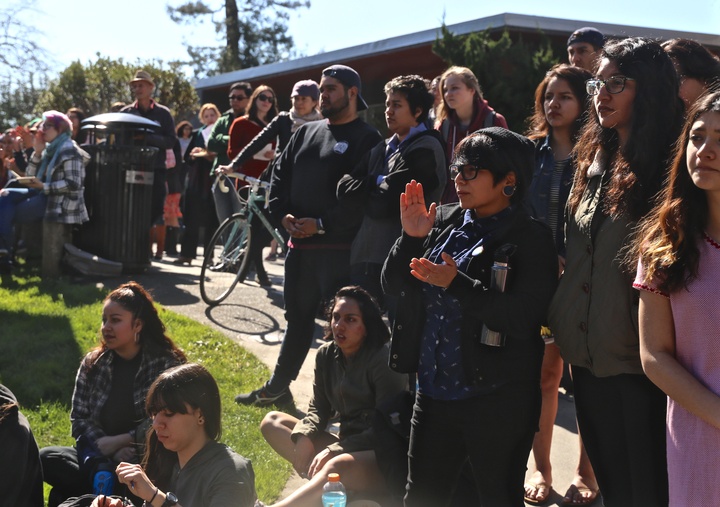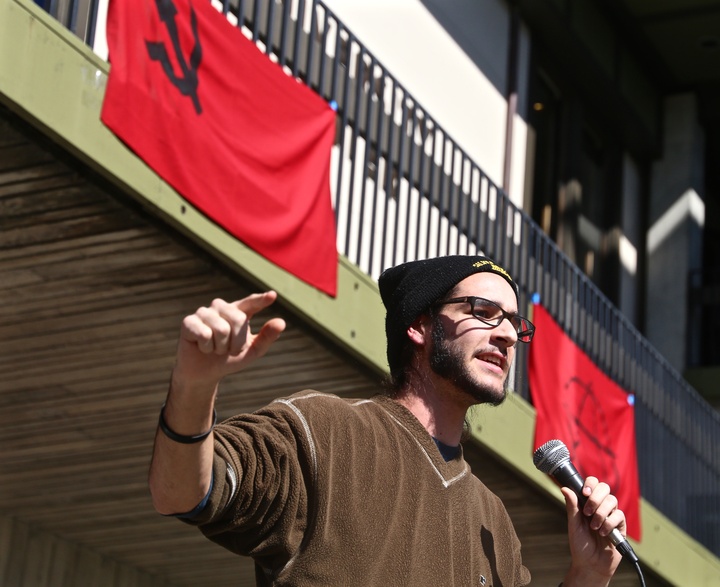 ###
Original Post: Eh, who isn't ready for a little learning break/direct action in the middle of the day, amirite?
Yesterday morning the Outpost was forwarded an email sent to the HSU student body by Associated Students — an on-campus group whose stated goal is to "seek institutional changes that serve to enhance the student environment — calling for a campus-wide walkout and rally on the UC Quad at noon on Wednesday, Mar. 1.
What are we protesting? A tuition hike currently being debated by the California State University System's Board of Trustees. A vote is expected in March. Meanwhile, California legislators have introduced a bill, dubbed the "Student Protection Act," with the aim of preventing a tuition increase. According to Associated Students' email, students would be charged on average of $340 annually in additional fees should the increase be enacted.
The proposed tuition raise comes at a time when the cost of living in Humboldt is making higher education pursuits difficult for students. A group from HSU's Investigative Reporting class recently published an article that found that HSU's goal of increasing enrollment combined with a lack of appropriate housing options locally has left many students homeless.
Read Associated Students' email promoting the walkout in full below:
Hello,




This email is being sent to you by Associated Students at Humboldt State University, your student-body representatives. We are fighting for a safe, free, inclusive, and quality higher public education in California.


We wish to make you aware of an important event in the movement towards better quality higher education in our state. HSU's M.E.Ch.A. Chapter, HSU Green, I.N.R.S.E.P., DDY, Humboldt Unity Coalition Front, and Associated Students of HSU have planned a student walkout on March 1st at 12 p.m. in the UC Quad to fight the incoming tuition increase (average increase of $340 for all CSU students). This action is aligned with the stance taken by the California State Student Association (CSSA), your student representatives of the CSU.

In present day, California spends 41% less per CSU student than it did in 1985. Concurrently, the CSU student demographic has switched from a dominantly white institution to an institution composed of mostly students of color (CFA, 2017). This suggests that as the students in the CSU system are becoming more ethnically diverse, funding is becoming increasingly sparse.

We ask you to take a stand for your education, for the education of your community, and for the education of generations to come. We all deserve affordable, quality, safe, and inclusive higher public education. Join us on March 1st at 12p.m. in the HSU UC Quad and walkout of your classes to stand up for higher public education.