In honor of International Women's Day, here's a few women who are making waves across the blue planet. From riding giants to leading deep sea expeditions, these women are breaking down barriers and setting records in their field. Their incredible work and athleticism inspire us all to protect and enjoy the ocean every day.
Dr. Sylvia Earle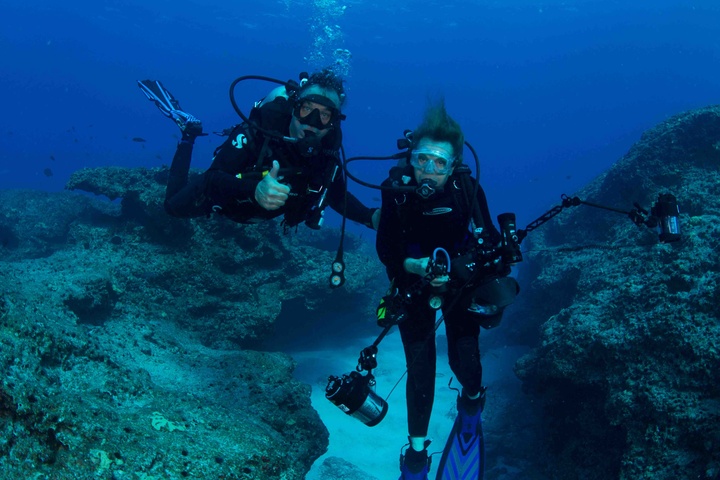 Fondly referred to as "Her Deepness" by the New Yorker, "Living Legend" by the Library of Congress and a "Hero for the Planet" by Time Magazine, Dr. Earle is an oceanographer, explorer, author, lecturer and one of the biggest names in her field. Dr. Earle has logged more than 7,000 hours underwater, and led more than a hundred expeditions, including the first team of women aquanauts during the Tekite Project in 1970. She as also set a record for solo diving in 1,000-meter depth. She is the President and Chairman of Mission Blue and the Sylvia Earle Alliance (SEAlliance), a National Geographic Society Explorer in Residence and formerly Chief Scientist of NOAA.
Dayla Soul
Dayla Soul is the filmmaker and director of It Ain't Pretty, the first full-length documentary on women's big wave surfing. Originally not a filmmaker by trade, Soul started out with the idea of putting together footage of Ocean Beach women surfers as a fun project. Along the way, her idea grew into something much bigger. She launched a Kickstarter campaign, hired a crew, and bought equipment to make a professional film. It Ain't Pretty provides a look into the challenges and triumphs of female big wave surfers, the portrayal of women in surf media. She uses surfing as a metaphor for the willpower to perservere. The film has been showcased around the world and is now available on iTunes.
Dayla Soul was a featured guest on Coastal Currents. Listen to the podcast interview HERE.
Committee for Equity in Women's Surfing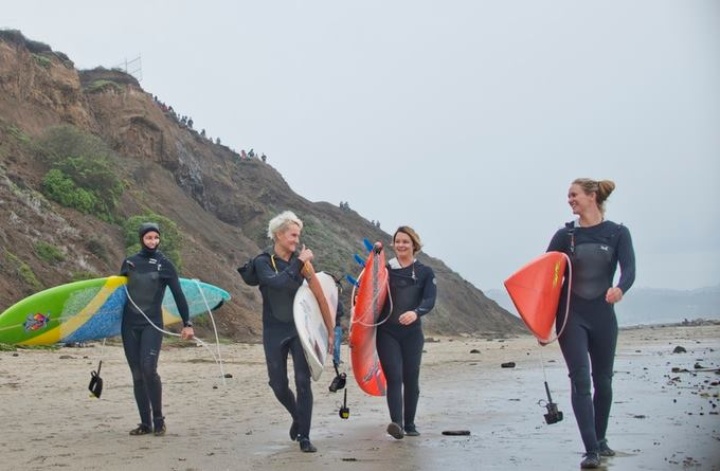 The Committee for Equity in Women's Surfing was founded by four of the biggest names in women's big wave surfing — Bianca Valenti, Paige Alms, Keala Kennelly and Andrea Moller — to support the inclusion of women athletes in the Mavericks surf contests. Last November, these women along with countless others including San Mateo Harbor Commissioner Sabrina Brennan, members of Surfrider Foundation, Brown Girl Surf and the Coastal Protection Network, were able to achieve the inclusion of a women's heat in the 2016-17 Mavericks surf contest. Unfortunately, that heat and this seasons contest is in jeopardy, as the two main organizing entities, Cartel Management Inc. and Titans of Mavericks LLC, have filed for bankruptcy.
Roz Savage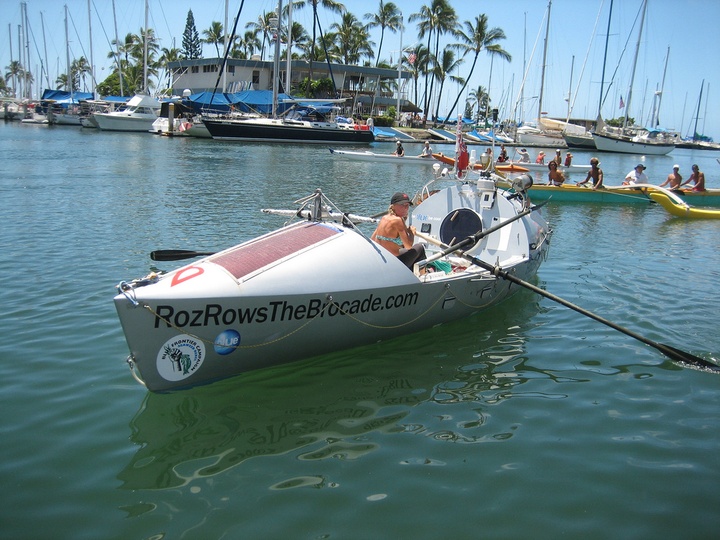 Roz Savage is the first woman to have rowed solo across three oceans - the Atlantic, Pacific and Indian. Named "Adventurer of the Year," by National Geographic in 2010, she has rowed over 15,000 miles, taken around 5 million oar-strokes, and spent cumulatively over 500 days of her life at sea in a 23-foot rowboat. In 2005, during her Atlantic crossing, she fought storms that broke her oars and her satellite phone, leaving her completely isolated. After 103 days alone at sea, she rowed into English Harbor, Antigua, becoming the first woman to complete the Atlantic Rowing Race solo. Roz is also an Athlete Ambassador for 350.org, author, speaker, and coach.
Leah Dawson
Leah Dawson is a professional surfer and filmmaker with a strong influential voice in women's surf culture.
"My biggest compliment is not that I surf like a man, but that I surf like a woman," says Leah. "If someone watches me ride a wave, I want them at the end of it to know that I'm in love with the ocean." - (Leah Dawson Might Save Women's Surfing, The Inertia).
Francesca Koe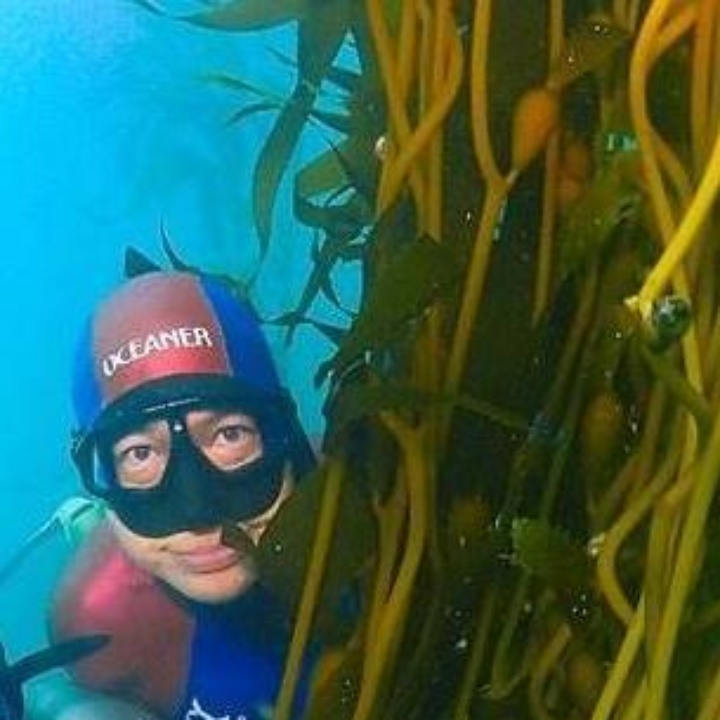 Francesca Koe is an active water-woman and advocate for conservation and ocean stewardship. She is a Scuba Instructor, competitive freediver, and currently serves as the President of the Greater Farallones Association, the VP of Team USA / US Freediving, and editor-in-chief of DeeperBlue.com. Koe played a pivotal role in establishing Marine Protected Areas off the North Central coast of California.

Diana Nyad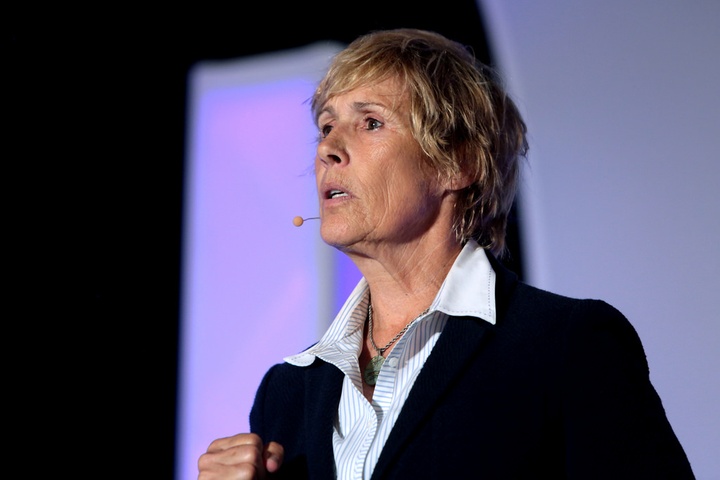 In 2013, at the age of sixty-four, Diana Nyad became the first person to swim from Cuba to Florida without the aid of a shark cage, swimming 111 miles in 53 hours from Havana to Key West. Her other open-water achievements that have gained national attention include a record-breaking swim around Manhattan, and a swim from North Bimini, The Bahamas, to Juno Beach, Florida. In addition to being a national fitness icon, Nyad is also a journalist, motivational speaker and author of several books including her memoir, Find a Way.
###
Shout out to all the local ocean women! To name a few…
Jennifer Savage, California Policy Manager, Surfrider Foundation
Jennifer Kalt, Director, Humboldt Baykeeper
Kim McFarland, Executive Director, Friends of the Dunes
Dr. Laurie Richmond , Assistant Professor, Department of Environmental Science & Management, Interim Director, Indian Natural Resource, Science & Engineering Program (INRSEP)
Elizabeth Pope, Interim Marine Advisor-Acting Senior Environmental Specialist at California Fish and Game Commission
Leisyka Parrott, Interpretive Specialist, BLM
###

Delia Bense-Kang serves as the Northcoast Environmental Center's Marine Protected Area Outreach Coordinator and chairs Surfrider Foundation's Humboldt Chapter.