PREVIOUSLY: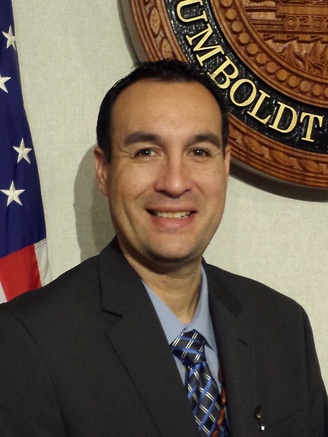 Update, 4 p.m.: Sundberg says he's "humbled" by his appointment to the Coastal Commission.
"I'm just happy that they called and asked me to serve," he said. "I look forward to the opportunity."
Regarding last year's contentious and politically divisive vote to oust Executive Director Charles Lester, Sundberg said he's happy that chapter is behind the commission, and with several other new commissioners now in place he looks forward to "a fresh start."
As for his own priorities on the commission, Sundberg said, "I'd like to see some ways to streamline [the review and approval process] so projects don't take so long."
Delays caused by the commission's environmental review process can be "really expensive," he said.
As the first Native American on the commission, Sundberg said he sees "an opportunity to have tribes' voices heard a bit more."
###
Original post:
Governor Jerry Brown has appointed Ryan Sundberg, Humboldt County's Fifth District Supervisor, to a seat on the California Coastal Commission.
Back in January the Board of Supervisors unanimously recommended him for the seat on the state agency, which oversees land use and public access in California's coastal zone. With the appointment, Sundberg becomes the first Native American to sit on the commission.
See our January story for background on the heated political circumstances surrounding the commission over the past few years.
Here's the announcement from Governor Jerry Brown's office:
Ryan Sundberg, 41, of McKinleyville, has been appointed to the California Coastal Commission. Sundberg has served as a member of the Humboldt County Board of Supervisors since 2010. He was a tribal council member at the Trinidad Rancheria from 1994 to 2010 and an insurance agent at Farmers Insurance from 2003 to 2010. This position does not require Senate confirmation and the compensation is $100 per diem. Sundberg is registered without party preference.