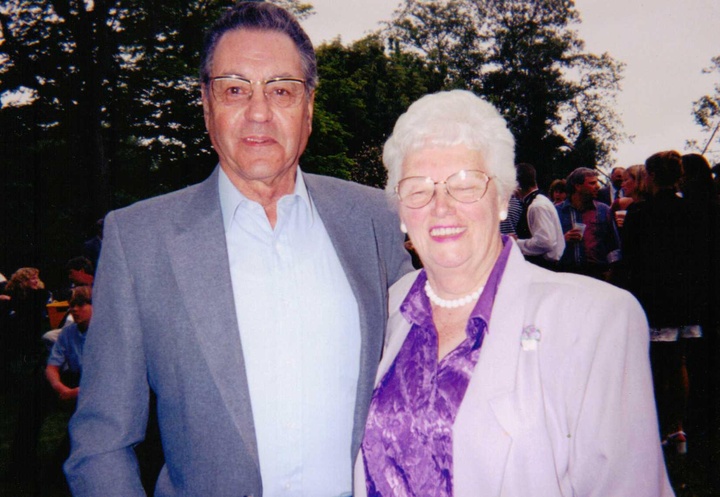 Tony was born Sept. 12 1920 to John and Maria Martin in the family farmhouse on Grant Union Road in Ferndale. Tony was the seventh born of nine Martin children, all of whom grew up as farm kids, milking cows by hand.

Tony attended Grant Union Grammar School. He worked for many different dairies after leaving the family ranch. At some point in his teenage years he discovered boxing. He was a Golden Gloves Boxer for several years. He also bartended at the Village Inn various times over the years.
Nov. 28, 1944 he married the love of his life, Marguerite Claire Newman. As much as he loved Grandma, he was almost late for their wedding because he had to finish waxing his car!! This union led to so many years of great times and friends. Life was great — the following year came their first blessing, their son Frederick Antone. They lived on their ranch on Kelly Lane off Coffee Creek Road in Ferndale.
Grampa started working at Pacific Lumber Company in Scotia in 1962 and the family moved into town in Ferndale. During this time Grandma had the dress store on Main Street. In 1971 they moved to Fortuna, where they stayed.
In 1970 they were blessed with the daughter they never had when Fred married Judy Kay O'Connell. The blessings continued with the birth of three granddaughters Heather, Jessica and Nicole. The proud Grampa that he was, he was involved in just about every facet of "his girls'" lives, from tee ball to teaching them how to drive. The blessings continued when two great-granddaughters, Kendra and Lexi, were born to Nikki and husband, Mark Miranda.
In 1984 he retired from PL. He and Marguerite then traveled all over the United States with the Good Sam RV group they belonged to. So many wonderful and lifelong friends and memories were made throughout his long 96 years of living life to the fullest!
Tony was preceded in death by his parents John and Maria, sisters and their spouses- Mary (Manuel) Toste, Emily (Manuel) Lema, Gertrude (Van) Smith, Evelyn (Ed) Giacomini and brothers John and Joseph.
Tony is survived by his wife of 72 years, Marguerite, their son and daughter-in-law Fred and Judy, his granddaughters Heather (James), Jessica (Kris), Nikki (Mark) and their girls Kendra and Lexi Miranda and numerous nieces, nephews and cousins, all of whom were so special to him. Also, his second family Ray and Cathy Schulz — Ray was like a son to him.
There will be a celebration of life Thursday, March 23 from 1-4 p.m. at the Ferndale Veterans Memorial Building. All friends and family are invited to share in this celebration. Please bring your favorite stories and memories of Tony.
The Family of Tony Martin would like to extend our sincere thanks and gratitude to all of those who have been there for our family before and since the passing of Tony. Thank you for the phone calls, flowers, food and cards. Those who came to share stories at the memorial. Our cooks Mark, Mike, Luke, Lenny and Josh. Our kitchen helpers John, Ginger and Cindy. Special thank you to those who are always checking in; Rodney, Dan, Nancy, Melissa, Cindy, Ray and Cathy.
With love,
Marguerite, Fred, Judy, Heather(James), Jessica(Kris), Nikki(Mark) Kendra and Lexi.
###

The obituary above was submitted by Tony Martin's family. The Lost Coast Outpost runs obituaries of Humboldt County residents at no charge. See guidelines here.