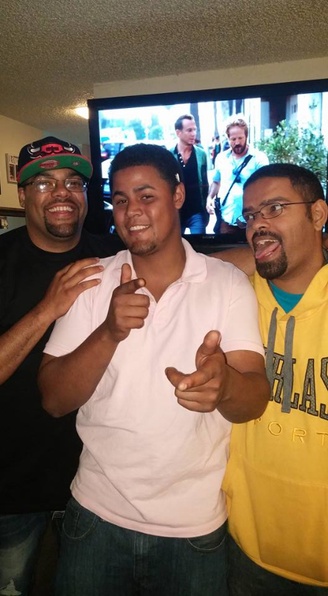 Glen Anthony Roe Jr. was born April 5, 1991 in Arcata at Mad River Hospital to Glen A. Roe Sr. and Cynthia E. Oquist. Glen died March 23, 2017 in a car Accident.

Glen – better known as "Boo" — was a life long resident of Orick, and attended Orick Elementary School until he graduated from 8th grade. Boo played basketball for Orick Elementary school and always trying to outshine his older brothers, Paris Oquist and Rocky Vicente. He bragged to anyone that would listen "I am way better than P and Rock." However, we all knew the truth.
Glen always had a larger-than-life attitude and always had a smile on his face and was always willing to help you even if he didn't know you. One of my best memories of my brother was when we all lived out at the Camps in Orick across from the fish hatchery and there was this huge log we used to climb up on and moon the traffic going by. Mind you, we were only kids and didn't know better. We had some good times growing up in Orick – yes, it was a small town, but everyone had a connection and that's worth something.
After graduating from Orick school Boo went on to attend McKinleyville High School, Boo graduated high school and moved to Chico with his girlfriend Sam Cole. Boo went on to get his ASE certification, which Boo he really proud of. One of his pastimes was working on cars — he loved to work on cars and could tell you just about anything you needed to know about them.
Boo always had a smile on his face and was always quick to try and help you with anything you needed. When we were kids, he loved stuffed potatoes – or, as they're known in my family, "Boo taters" — and that is how he got another one of his nicknames, "Taters."
Boo is preceded in death by his mother Cynthia E. Oquist, grandmother Joan Y. Oquist, grandfather George E. Oquist, older brother Michael Oquist, and aunt Lorie A. Oquist. Boo leaves behind his father, Glen A. Roe Sr., of Orville, older brother Isaic Ruiz of Orville, aunt Denice Roe of Orville, cousin Nichole Roe of Orville, brother Paris Oquist of Eureka, Rochele Vicente of Eureka, brother Zack Oquist of Orick, brother Joshua Oquist of Crescent City and aunt Carol Oquist and uncle Kevin Weir of McKinleyville.
I would like to send a special thank you from the Oquist family to Eddie Baker of Orick, Martha Peals of the Palms Cafe in Orick, Judy Hagood in Orick, Shoreline Deli and Market in Orick, the Secor family and the Orick community as a whole, what you guys have done for my family, I can never repay — just know I am forever grateful, and on behalf of the Oquist and Roe Family we thank you all from the bottoms of your hearts. And for those I didn't mention, you know who you are. Thank you.
###

The obituary above was submitted by Glen Roe's family. The Lost Coast Outpost runs obituaries of Humboldt County residents at no charge. See guidelines here.