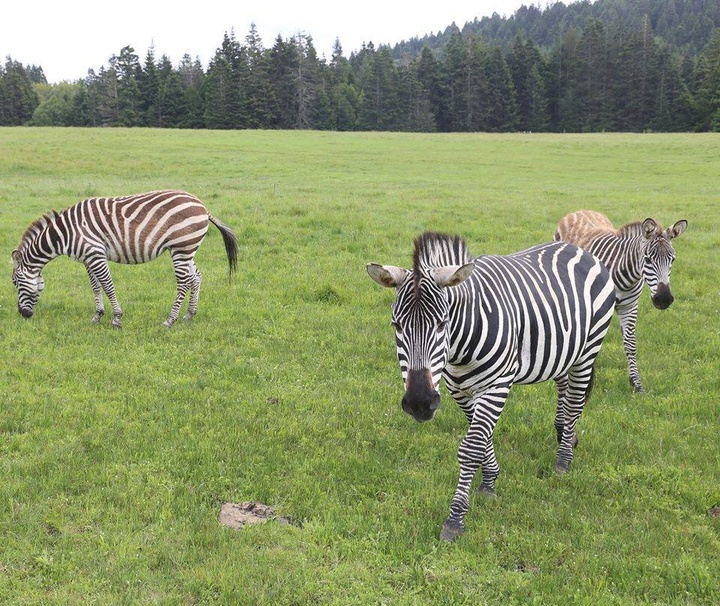 The caretaker of a trio of photogenic zebras — stars of the already stunning drive along the Lost Coast to Petrolia — is offering a $5,000 reward to anyone who can provide law enforcement with information that leads to the arrest of the individual(s) who killed one of the animals over the weekend.

Josh Griego has cared for the zebras — Randy, Josephine and their offspring "LC" (short for "Lost Coast") — at a ranch on Mattole Road for about five years. He estimates that zebras have dwelled there for nearly a decade.
Saturday morning Griego received a call from a neighbor who said they'd seen one of the zebras lying down in a hay field about 25 yards from the road.
At first Griego says he was excited because he thought Josephine might be giving birth — while he's not sure, he's wondered for awhile if she might be pregnant. Instead, when he went to check on the animals he found Randy, dead and somewhat bloated, with a single bullet wound in his side.
Searching the roadway near the field Griego says he found a single .223 Rem casing. Some other locals he talked to said they thought they'd heard shooting in Petrolia early Saturday morning.
An officer from the California Department of Fish and Wildlife responded to the scene and used a metal detector to attempt to locate a shell but he was unsuccessful. Griego suspects the shot went straight through the animal.
Griego said he has no idea who might be responsible for Randy's death, noting that he doesn't "have any grievances with anyone in the community."
"It was probably some tweaker or someone who was drunk," he suspects. "It's definitely really sad."
Anyone interested in the reward with information about who might have shot Randy the Zebra is encouraged to call the Humboldt County Sheriff's Office at 707-445-7251. HCSO press release below:
On Saturday, May 13, 2017 at about 1452 hours, the Humboldt County Sheriff's Office received a report that a zebra had been fatally shot on Mattole Road, Petrolia. Per the owner, the zebra was found deceased in a hay field about 20 yards from the roadway with what appeared to be a single gunshot wound. The deceased zebra was described as an adult male named Randy. This case is currently under investigation.

Anyone with information for the Sheriff's Office regarding this case or related criminal activity is encouraged to call the Sheriff's Office at 707-445-7251 or the Sheriff's Office Crime Tip line at 707-268-2539.
PREVIOUSLY: Someone Shot and Killed One of the Lost Coast Zebras