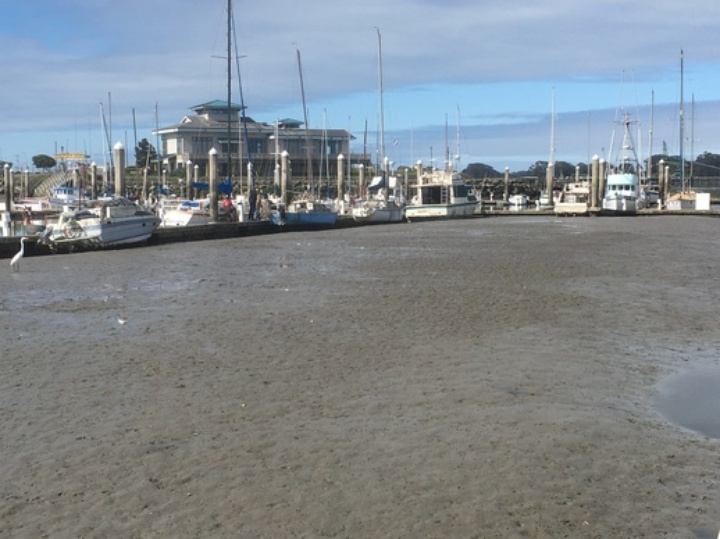 PREVIOUSLY:

###
Supervisor Ryan Sundberg wasn't trying to go over the head of regional EPA officials when he sent an email to a D.C. bigwig last week; he'd been asked to send it, he told the Outpost yesterday evening.
As we reported Tuesday, Sundberg had reached out to Jack Bowles, director of state and local relations at EPA headquarters, filling him in on the silt-bogged bureaucratic clusterfuck that's currently bedeviling our local marinas. (See previous stories above.)
Sundberg, it turns out, is a member of the agency's Local Government Advisory Committee, a group comprised of local officials, state representatives, environmental and labor interests from around the country. During a conference call he'd been asked about issues affecting our region. Sundberg mentioned our dredging debacle, and Bowles requested more info. Hence the email.
Yesterday, an EPA official from the San Francisco regional office responded to Sundberg with an email reiterating the agency's opposition to dumping dredge spoils on a Samoa Peninsula beach. The stuff dredged up from the bay is roughly 70 percent fine sediment, called "fines."
The official, whose name is Jason Brush, says the EPA, the Army Corps of Engineers and the California Coastal Commission all decided, back in 1998, that allowing beach disposal was a mistake, and it wouldn't be allowed after the permit issued that year expired in 2007.
"Placement of fines on the beach or nearshore is not legally eligible for a Clean Water Act permit, and the agencies do not now wish to compound a prior error when alternatives are immediately available and the permitees [the City of Eureka and the Humboldt County Harbor, Recreation and Conservation District] have now had ample time to plan."
In his email, Brush suggests three alternatives methods of dredge disposal.
First is the Humboldt Open Ocean Dredging Site (HOODS), the official EPA-designated disposal site established in 1995. It's a square-shaped area located three miles offshore created explicitly for disposal of ocean dredged materials from Humboldt Bay and the larger North Coast.
"Although this would cost more initially, [the Harbor District] could then use their own small equipment for subsequent, more frequent dredging, using their limited upland capacity, and avoiding the trucking impacts of concern," Brush writes.
His second suggestion is that the Harbor District use its own small dredge to clear the "highest priority areas" in the marinas, buying time to hire a contract dredger for the rest of the job.
"Finally," Brush writes, "the Harbor [District] could also build a new larger capacity upland containment area which could be filled using their own equipment."
Miles Slattery, Eureka's director of parks and recreation, said the City has considered those alternatives — and many more — and they're all either infeasible or more environmentally impactful than beach dredging. Other agencies have even told the City as much, he said.
He pointed to a 1997 report from the California Coastal Commission, which found that the overall environmental impacts of using the HOODS disposal site would be greater than beach disposal.
That would be even more true today, Slattery reasoned, since studies of the sediment show that it's much cleaner than it was two decades ago.
"I can tell you right now there's absolutely no impact to human health [from] being around this material," he said, though he went on to acknowledge that there's "definitely an aesthetics issue and a smell issue."
But besides the environmental issues, barging dredged material to the HOODS site would be prohibitively expensive, Slattery said. Regarding the likelihood of the City and Harbor District using that site for its current dredging needs, Slattery said it's "not probable."
As for the option of taking a piecemeal approach, dredging 30,000 cubic yards per year over several years, then dewatering the material and depositing the spoils at the Samoa Lagoons upland site, that method would require as many as 20,000 truckloads, with the associated greenhouse gas emissions.
Slattery said the City and the Harbor District have been working on this issue for years, seeking permits for upland disposal sites, pursuing grants for beneficial reuse opportunities and more. But the various options keep falling apart, for one reason or another.
During a recent conference call with regulatory agencies, for example, officials with the Coastal Commission nixed an upland disposal site that the City and Harbor District had been exploring for years. Called the Superbowl, it's a bermed-in area by the Samoa airstrip that would have a large capacity for dredge spoils.
But the Coastal Commission took that site off the table after finding that it was a wetland habitat home to sensitive plant species.
"We're trying to make everybody happy and it's not very easy to do that," Slattery said.
The EPA scheduled a conference call with Slattery for 4 p.m. today. He told the Outpost he didn't expect any major breakthroughs from the conversation.
Below is the email sent to Supervisor Ryan Sundberg from Jason Brush, acting assistant director for the EPA Region 9's water division:

From: Brush, Jason <Brush.Jason@epa.gov>
Sent: Tuesday, May 16, 2017 1:02:29 PM
To: Sundberg, Ryan
Cc: Maier, Brent
Subject: Humboldt Bay Dredging

Dear Mr. Sundberg

Thank you for your outreach to EPA on this matter. I believe Brent Maier confirmed this with you, but I wanted to reach out to you personally to let you know we are following up with Mr. Slattery, as you suggested, tomorrow afternoon at 4pm. Please do let me know if you would like to join; you would be most welcome.

I want to assure you that EPA recognizes the significant need for dredging in the harbor. To be very clear, we have in no way prohibited dredging, and our efforts have focused on fostering dialog around a range and/or combination of disposal options for HBHRCD. We appreciate the City and HBHRCD's "hybrid" suggestion, and strongly support the beneficial reuse of material that is ecologically appropriate to its setting (i.e. marsh restoration for fine grains, beach nourishment for sand).

There are three suggestions that could be implemented immediately which do not involve the further placement of fines on the beach. First, if the priority is to dredge all the needed volume at once, that can quickly be approved for disposal at the EPA-designated ocean disposal site not far off shore. Although this would cost more initially, they could then use their own small equipment for subsequent, more frequent dredging, using their limited upland capacity, and avoiding the trucking impacts of concern.

Alternatively, the Harbor could strategically dredge their highest priority areas now with their own small hydraulic dredge, up to the maximum available capacity in their upland sites. This would buy a bit more time to get a contract dredger on the job for ocean disposal of larger volumes in lower priority areas. This option also could happen immediately. Finally, the Harbor could also build a new larger capacity upland containment area which could be filled using their own equipment.

I also want to be clear that the 2007 discharges you refer to were not a new emergency permit, but the final episode under the 1998 permit. The Corps, the State (Coastal Commission), and EPA agreed shortly after issuance that it was in error (under the wrong statutory authority and guidelines), but wanted to give HBHRCD time to plan alternatives. Placement of fines on the beach or nearshore is not legally eligible for a Clean Water Act permit, and the agencies do not now wish to compound a prior error when alternatives are immediately available and the permitees have now had ample time to plan.

Finally, there are important differences between Humboldt and Santa Cruz, the analogous site you mentioned in your request. First, the law covers them differently because of their geographic position relative to state and federal jurisdiction. Second, the Humboldt monitoring demonstrating beach effects lasting 4 months is not insignificant, and compares with Santa Cruz's results showing no detectable effect the following day (in part because they only discharge 10,000 cubic yards of fines, or <3% of their overall volume total).

In sum, ongoing beach/nearshore disposal appropriately falls under the Ocean Dumping Act (a different Corps permit), and would legally require an EPA ocean disposal site designation action (similar to what we did in 1995 for the off-shore site available now). The significant expense and human resources required to make such a designation is not justifiable given the site immediately off shore and available, and the time that has been available for the Harbor to plan alternatives. We are happy to continue working with the HBHRCD on developing a legally permittable, practicable alternative, or combination of actions, to address the clear need for dredging in the harbor.

Respectfully,

Jason A. Brush
Acting Assistant Director, Water Division
U.S. Environmental Protection Agency, Region 9
75 Hawthorne Street (WTR-2)
San Francisco, CA 94105