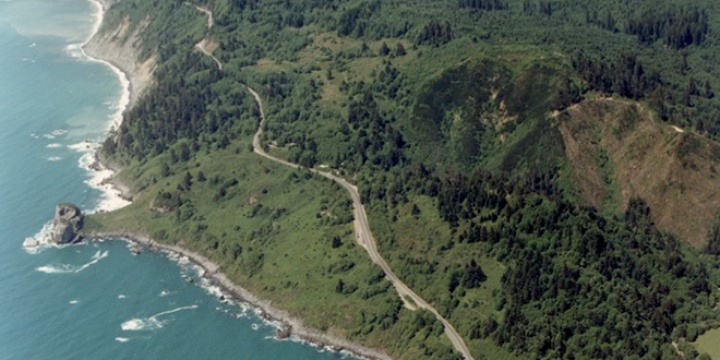 Well, that's something! The California Transportation Commission sends word that they're gonna throw a seemingly large chunk of cash at Last Chance Grade, that gravity-afflicted span of Highway 101 in Southern Del Norte County.
$5 million, they're ponying up. That's great, right?
Keep in mind, of course, that this money will go toward various technical and environmental studies. A recent North Coast Journal story looking at the project estimated that the studies could take around five years to complete and cost nearly $50 million.
Then there's the actual construction. There are a handful of proposed alternate routes being considered, with price tags ranging from around $300 million to upwards of $1 billion. So, yeah, we've got aways to go with this thing.
Anywho, the office of your congressman Jared Huffman jumps at the chance to break the good news in the press release below:
Congressman Jared Huffman (D-San Rafael) today announced that the California Transportation Commission (CTC) has awarded $5 million in funding for Last Chance Grade, the slide-prone stretch of U.S. Highway 101 between Klamath and Crescent City.

"Resolving the issues at Last Chance Grade is vital both for my constituents' safety and to keep California's far North Coast connected to the greater region," said Rep. Huffman."I thank the California Transportation Commission for recognizing the importance of finding a long-term and durable solution for Last Chance Grade and for providing the much-needed support to move this process forward."

"Due in part to the support of the community, lawmakers, and stakeholder groups, Caltrans is now a step closer in the development of a long-term solution at Last Chance Grade," said Caltrans District 1 Director, Matt Brady. "While this amount is not enough to complete all of the studies required, it is positive movement towards developing a project that meets everyone's needs."

Earlier this month, Rep. Huffman was joined by Assemblyman Jim Wood and Senator Mike McGuire in sending a letter to the CTC supporting Caltrans' request for funding.

This letter was accompanied by dozens of additional support letters from local governments, tribes, environmental groups, landowners, businesses and transportation interests who rely on the integrity of this stretch of the highway.

The funding will allow Caltrans to begin conducting the necessary environmental and geotechnical investigations of potential alignments of the highway around Last Chance Grade. This is a critical step to protecting the safety and economy of Del Norte County and the people and commerce that travel U.S. Highway 101.

Read more on Congressman Huffman's work on Last Chance Grade here.
State Senator Mike McGuire also gets in on the action:
The California Transportation Commission voted today to approve $5 million for initial environmental work related to the permanent solution for Last Chance Grade. Senator McGuire, Assemblymember Wood and Congressman Huffman have been fighting for these funds for the past many months.

"Advancing a permanent solution – moving the Last Chance Grade off of the coast and constructing an inland route – is a top priority to all of us," Senator McGuire said. "This has been a team effort with Congressman Huffman, Assemblymember Wood and Caltrans to advance these funds which will kick off the process to evaluate alternative proposed routes for Last Chance Grade and we are excited that after decades of work, we are finally taking steps to make a permanent fix."

Assemblymember Wood, Senator McGuire and Congressman Huffman have been working closely with Del Norte County Supervisors, Crescent City leaders and state transportation officials, and earlier this year hosted on-site meetings at the Last Chance Grade after portions of the highway collapsed, closing and damaging the road.

"It's unacceptable that it has taken decades to get Del Norte County residents a safe and reliable highway, and it's our top priority to get this permanent solution moving," Senator McGuire said.