The jury trial for Jon David Goldberg, accused of shooting his wife's boyfriend to death on Sept. 26, has been postponed until October.
This morning Judge Christopher Wilson set Goldberg's trial for Oct. 2. The trial had been scheduled to begin in June, but Goldberg now has a separate case alleging that he brandished a gun and fired shots near his wife. That assault allegedly happened a few hours before her boyfriend, Timothy Smith, was killed in the front yard of his Fortuna home.
The District Attorney's Office wants those cases joined, while defense attorney Casey Russo is filing a motion to have the new charges dismissed. Arguments on both motions are set for June 12.
Goldberg's wife Rachel Goldberg refused to testify against him during his preliminary hearing last month. Instead he was held to answer based on testimony from Rachel's friend Frieda Smith, who said Rachel told her Jon Goldberg had fired a gun "all around her."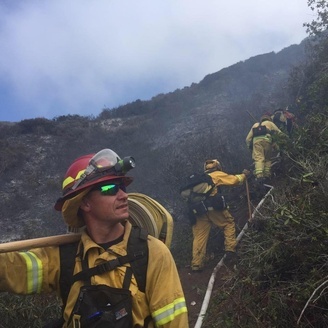 Smith also said she had seen Rachel with bruised arms on several occasions, and that Rachel said she and Jon had been fighting. He initially was accused of misdemeanor battery, but the prosecution has dropped that charge.
Russo had argued during the preliminary hearing that the statute of limitations had expired on the battery charge.
Goldberg, 37, remains in custody on charges of murder and personal use of a firearm. The 42-year-old Smith, a well-known volunteer fire captain in Fortuna, was shot five times outside his home on Rohnerville Road.
Smith was killed just hours after his wife, Jessica Springer, found several nude photos of Rachel Goldberg on his cellphone. Springer called Rachel and demanded she tell her husband about the affair, which she did.
Jon Goldberg is being held on $1 million bail.
PREVIOUSLY: