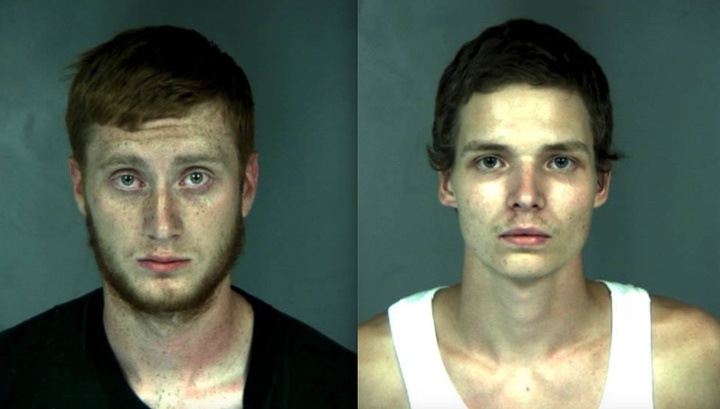 Two young Arcata men have been sentenced to state prison for opening fire on a house in Arcata on July 29.

Benjamin Isaiah Heidmann, 19, will serve a sentence of 13 years, and his co-defendant Konnor Lee Wright, 21, was sentenced to seven years. Both were initially charged with attempted murder but pleaded guilty to assault with a firearm, shooting at an inhabited dwelling and personally using a firearm.
The attempted murder charge was dropped as part of the plea agreement.
Heidmann has already been taken to prison, while Wright remains in Humboldt County Correctional Facility awaiting transport.
Arcata police arrested the men in the early morning hours of July 29, shortly after multiple rounds were fired at a house on Stewart Avenue in Arcata. According to the arrest report, an officer pulled over the men's vehicle because it matched the description of a car seen leaving the crime scene. The officer spotted the barrel of an assault rifle protruding from a bag in the backseat.
During a subsequent search of the car, the officer found an assault rifle, a .22-caliber rifle, a bullet-proof vest, high-capacity magazines loaded with ammunition, shell casings and methamphetamine.
"During interviews it was established that the two occupants of the vehicle had used the weapons and conspired to murder the victim (Daniel Anthony Siegl) located at the residence," the officer wrote in his report.
Wright apparently received a lighter sentence because, according to court documents, he had agreed to testify against Heidmann at trial. There was no trial, however, because Heidmann also decided to admit the lesser charges.
Heidmann's conviction counts as two strikes under the California "Three Strkes You're Out" law. That means he could be sentenced to life in prison if he commits a third "serious and violent'' felony. Wright received one strike.
Both men received credit for time served, as well as "good conduct" time. The total credit amounts to over a year in custody.
PREVIOUSLY: Two Arrested for Attempted Murder After Shooting Up Arcata Home This Morning