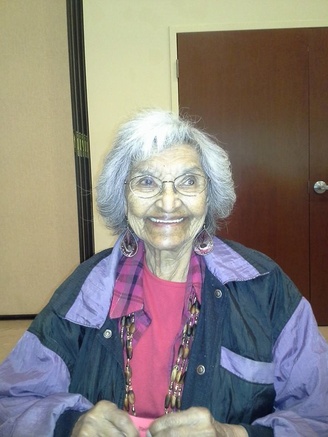 Bernice was born December 17, 1919 and passed away on May 22, 2017 at her home in Notchko. Bernice was a wife, mother, sister, auntie, grandmother, great-grandmother, and great-great-grandmother.

Bernice was born in Johnsons to Charles and Sadie McCovey. She was 1 of 13 children where she grew up in Notchko. Bernice then attended Sherman Indian School. Once she completed School at Sherman, Bernice held various jobs as a young adult from being a waitress to working in naval ship yards. Working in the naval ship yards relocated Bernice to Coos Bay, Ore. where she met the love of her life, Howard Roubidoux. The two then got married in 1944.
Bernice and Howard relocated back to California where they had their first child, Charlene. From there, they moved to Missouri where where they had four more children — Mary, Kenneth, Ronald, and Darlene. The family moved one more time, their last time, back to California where they had their last child, Ricky.
At the time of her passing Bernice was the oldest living member of the Yurok Tribe, known for her infectious smile which could brighten up anybody's day. Bernices' favorite hobbies would be playing wahoo and yahtzee. She especially enjoyed skunking her kids. Bernice was known for staying up all night playing, making coffee and bringing goodies out to keep everyone awake. She wouldn't let anyone go to bed before winning at least one game. She also enjoyed crocheting and made beautiful hats. She was also a basket weaver. Bernice had a sweet tooth and she loved goodies. She always had a stash of Brach's candy which she kept "hidden" under the bed.
Bernice loved to attend cultural dances & she would stay awake all night. She loved family gatherings and visiting in general.She loved spending time with her immediate family, especially her grandkids. Bernice got the biggest kick out of taking selfies and was always ready to pose for a picture.
The family would like to extend a special thank you to Dr. Sawar Young-Tripp for the care she provided Bernice the past couple of years.
Bernice was preceded in death by: her beloved husband Howard Roubidoux, her children: Charlene Betsille & Ronald Roubidoux, her grandchild Jolene Betsillie, her parents: Charles & Sadie McCovey, her siblings: Marion McCovey, Stanley McCovey, Allen McCovey, Sr., Darrel McCovey, Howard McCovey, Charles McCovey, Leonard McCovey, Florence Burns, Delores Reed & Ramona Trimble.
Bernice is survived by her children: Mary O'Rourke (Brett), Kenneth Roubidoux, Darlene Roubidoux (Frank) and Ricky Roubidoux, Sr. Her grandchildren: Raenell Betsillie, Greg O'Rourke (Elizabeth), Erica O'Rourke (Shane), Dena O'Rourke, Justin Roubidoux (Corina), Mary Roubidoux (James), Dwayne Duncan, Nina Duncan, Danielle Duncan, Judy Duncan (Guy), Charlene (Steven), Kenny (Felicia), Travis Duncan, Rick Roubidoux, Jr. (Raquel), Ronald Roubidoux (Nikkiah), Adam Roubidoux (Christina) and Camellia Roubidoux (Danny). Her great-grandchildren: Jackie Jo Miller, Andrew Miller, Jacob Miller, Danica Daniels, Ascencio Daniels, Chu-cheesh O'Rourke, Charlene Juan, Shelbie Ferguson, Mary Ferguson, Tyberious Henderson, Jarich Henderson, Howard Henderson, Leonard Roubidoux, Rochelle Roubidoux, Robert Roubidoux, Hugo (Alyssa), Selena, Julia Norman, James Norman, Jack Norman, Daniel Duncan, Darlene Duncan, Dylan Neal, Veronica Neal, Cheyenne Duncan-Welch, Steven Hicks, Jr., Aaliyah Hicks, Nacho, Manny, LaVerne Duncan, Hawk Duncan, Juliana Duncan, Adam Roubidoux, and Natalia Roubidoux Cortez. Her great-great-grandchildren: Ellie Su Lawrence, Devin Miller & Alyssa.
Pallbearers: Greg O'Rourke, Justin Roubidoux, Dwayne Duncan, Kenneth Duncan, Travis Duncan, Rick Roubidoux Jr., Ronald Roubidoux, and Adam Roubidoux.
Honorary Pallbearers: Ricky Roubidoux Sr., Kenneth Roubidoux, Brett Reed, Frank Rojas, Shane Ferguson, Austin Rakestraw, LongGone McCovey, Allen "Buzz" McCovey, and James McCovey. Great Grandsons; Andrew, Jacob, Tyberious, Jarich, Howard, Daniel, Dylan and all of her nephews (too many to name individually).
A viewing will be held at Paul's Chapel in Arcata on Friday, May 26, 2017 from 4:30-7:30pm. Services will be held at the Shaker Church in Wautec on Saturday, May 27, 2017 at 1 p.m., officiated by Kathleen & Rodney Vigil.
Please join us after the services for a potluck reception to be held at the Morek Won Community Center on McKinnon Hill.
###

The obituary above was submitted by Bernice Roubidoux's family. The Lost Coast Outpost runs obituaries of Humboldt County residents at no charge. See guidelines here.