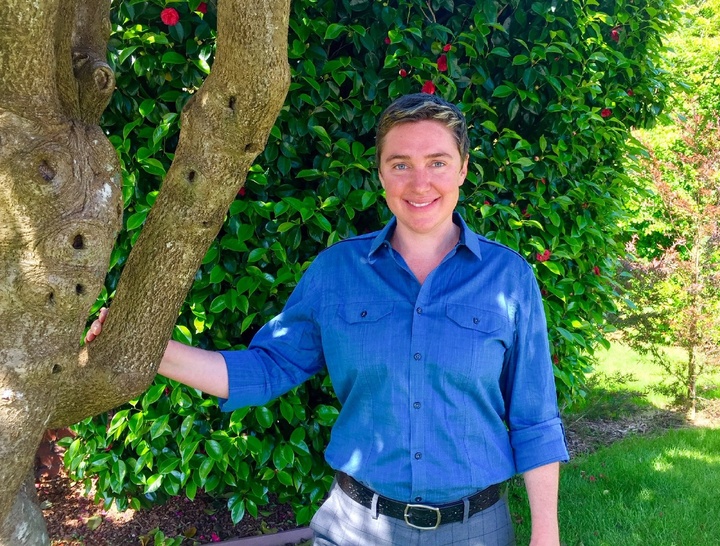 On one level, Lark Doolan knows that his decision to publicly transition from female to male is a big deal. As superintendent/principal of Peninsula Union School District, Doolan may well be the first openly trans public school administrator in the country below the college-level. That's a significant development in our culture, though Doolan noted it's almost certainly just the "openly" part that's new.
"I'm very confident there have been transgender principals, superintendents and administrators throughout our country's history," he said in an interview last week. And while he's surprised that, as far as he can tell, none have come out publicly before now, he also expressed feeling "grateful for the opportunity to be part of a movement towards acceptance and celebration of diversity."
So, yes, on that level Doolan's announcement is important. Historic, even. But as for the kids — the 31 students who attend transitional kindergarten through eighth grade at Peninsula School — Doolan doesn't expect much to change.
"I was Principal Doolan before transitioning, and I will still be Principal Doolan after transitioning," he said. "Academic instruction is carrying on as usual."
On a sunny afternoon last week, Doolan sat in the parklet outside Ramone's Bakery and Cafe in Old Town Eureka to drink a beverage — hot chocolate topped by a cumulus cloud of whipped cream — and talk a bit about his story. Yes, "his." The male pronoun is important, because while Doolan has publicly presented as female until now, he's never really identified as such.
Lark, the youngest of four brothers, grew up in Berkeley surrounded by his large and supportive family. But in school he was sometimes subjected to bullying and social policing because he didn't fit into traditional, binary gender roles. "I think people probably called me a tomboy, although I never really felt like that was a fit," he said.
These experiences, which occurred despite his school's supportive and inclusive atmosphere, helped instill in Doolan a passion for equity work, a desire to make sure all children — including historically marginalized groups such as English language learners, people of color, special education students and LGBT kids — get the support they need.
"I think that those [early experiences] have made me a better educator in that it provides me with a level of nuance and understanding that disenfranchised populations can be targeted in the school community," Doolan said.
In high school, an influential teacher suggested to Doolan that Humboldt County might be a good fit, and indeed it is. He first came up here at age 18, driving from the Bay Area with some friends to attend Reggae on the River. Along the way he saw a street sign with "Lark" on it, "and I just knew that was my name," he said.
He'd been searching for his true name for years. "In seventh grade I told every teacher a different name to call me," he recalled with a smile. None of those names stuck, but that summer after high school, Doolan was an adult setting off on his own for the first time. He was ready for this early step in his transition. Close friends have known him as Lark ever since.
As an undergrad at Humboldt State University, Doolan fell in love with the area — "the community and the beaches and the rivers, the farmers' market, Old Town, just all of it." After graduation he worked as a special education aide but eventually returned to HSU twice, earning credentials in special education and educational leadership.
After graduating the third time in spring 2016, Doolan landed his current job as superintendent/principal of Peninsula Union School District. He's grateful to be back in Humboldt County.
Until fairly recently, Doolan said, "I had no intention of publicly transitioning in the big sense, other than with select people." His close friends affirm his gender by using male pronouns, which means a lot to him.
'When people use 'he' pronouns for me I smile," Doolan said. "That hasn't changed for me in 10 years." Gradually he has asked more and more people to address him that way. "And as that percentage of people in my life has increased, I've felt increasingly happy and comfortable and confident," he said. "And at a certain point, the opportunity to have that everywhere in my life seemed more valuable than whatever obstacles were between me and that."
Doolan has an annual tradition of reflecting on the year that's just passed and looking forward to the year to come. This past fall he'd been thinking a lot about coming out, and it was causing him stress.
"I decided to go deep and figure out what's right for me," he said. "And the moment I made that decision to really look, the answer became really clear to me. I realized that transitioning was something I need to do."
He also believes it's important to share this transition with his colleagues, the community and his students at Peninsula School. There's a range of age-appropriate children's books that are in alignment with the California education code, which addresses how to talk about such issues.
California lawmakers have passed a number of protections for transgender students and worked to incorporate educational materials addressing such topics as gender expression, hate crime legislation and LGBT history.
The FAIR Education Act, signed into law in 2011, ushered in many of these changes. (Read more about it here.) And the School Success and Opportunity Act, which became law in 2014, was passed in order to "foster an educational environment that is safe and free from discrimination for all students, regardless of sex, sexual orientation, gender identity, or gender expression." (Read more about that one here.)
In the interview last week, Doolan said he wasn't worried about how the kids would respond. "Our students at Peninsula School are an incredible, kind, caring, thoughtful group of kids, and I have tremendous confidence in their ability to understand that this is just me being me," he said. "The fact that I am transgender is not something to be ashamed of or to hide from the kids. I really believe in treating children with dignity and respect, and to do something like this and not even tell them, to me, would go against the authentic leadership style that I embody."
Doolan has actively worked to incorporate "Restorative Practices" at the school, a process that brings students together in circles to have meaningful conversations following any "ruptures in trust," he explained. His passion for equity in the classroom aligns with this desire to "re-envision what discipline looks like so it's constructive and productive and teaching students skills for life rather than being punishment-based."
These approaches are rooted in respect, and Doolan views his coming out as consistent with that philosophy.
"The things that I value have not changed — wanting students to live authentic, courageous lives that are right for them. This is an opportunity for me to embody that and to give students the opportunity to learn about one of the many ways that diversity exists in our culture," he said.
Doolan came out to his colleagues and students this week, and he's been impressed by their reactions. "When I came out to the Peninsula staff, I was met with support. It felt incredible to have the news be so well received."
County administrators have voiced their support as well. Incoming Assistant Superintendent for Humboldt County Schools Heidi Moore-Guynup said, "I have been nothing less than impressed by Superintendent Doolan's leadership for Peninsula School District this year and I am confident that won't change anytime soon. … Superintendent Doolan's transition from female to male provides a real-world experience for students to learn and experience constructs such as inclusion and social justice."
Predictably, students did have some questions when Doolan told them about his transition. "Students asked how my family reacted, and I said my family is strongly supportive of me," Doolan said. "They asked how I knew, and I shared that it is something that has always been part of me and it's taken me many years, and a lot of reflecting, to be able to articulate that I am a transgender guy. One student asked if this means I will get a new car, and I let him know that I plan to keep the same car."
In the end, the kids proved very supportive.
"The students congratulated me and one student told me she thinks thinks it's really courageous of me to be who I am," Doolan said. "They thanked me for talking to them and expressed appreciation that they were included in the conversation. I am proud to serve in such a kind and inclusive school community."
Doolan also shared a letter with parents and guardians so they can have informed conversations with their children.
He knows, of course, that not everyone will be supportive. While transgender celebrities such as Caitlyn Jenner, Laverne Cox and Chelsea Manning have increased trans visibility and to helped educate the public, trans people still face tremendous discrimination.
Asked how he'll respond to any negative reactions, Doolan reiterated his belief in the power of education. We're fortunate, he said, "to live during a time when we have so many resources available for learning and educating ourselves so we can approach these matters from a kind and compassionate place of understanding rather than fear and ignorance."
To that end, he suggested the website genderspectrum.org for anyone wanting to learn more about how to talk to kids about trans topics in an age-appropriate way.
Below are a few more links to websites that may prove helpful for students, parents or anyone else hoping to learn more:
Ultimately, Principal Doolan said his transition won't alter his commitment to being an effective and impactful educator, supporting students and ensuring they have the best educational outcomes possible.