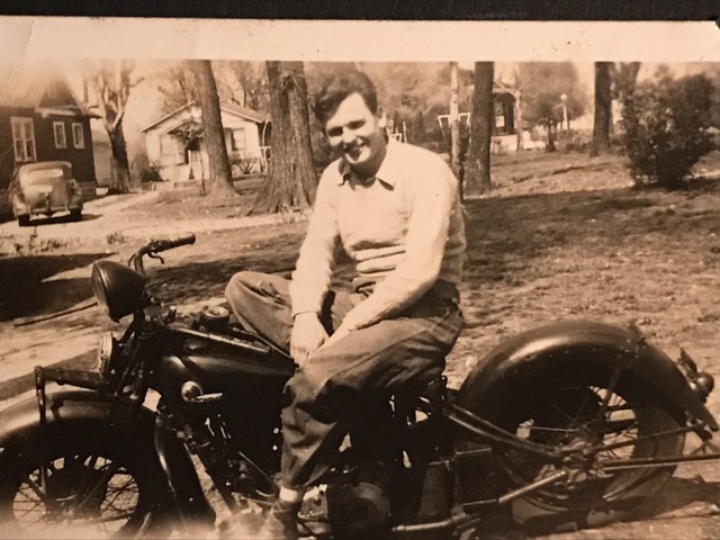 On the morning of April 29, 2017, Herbert Eugene Neely passed away in Eureka.

Herb was born on November 18, 1923, in Putnam, Oklahoma to Charles and Ruth Neely and raised in Missouri and Colorado. He attended Goodman High School in Goodman, Missouri and Hadley Vocational School where he apprenticed as an auto mechanic. He was the oldest of six children: one brother, James (Jim) and four sisters, Lois, Virginia, Jackie and Betty.
A fourth-generation Neely to enter Jefferson Barracks, Missouri, the oldest infantry base west of the Mississippi, Herb served two years and two months in Europe, including service in Northern Ireland, England, France, Belgium and Germany. He met the love of his life, Edythe McKee Neely, serving with the Army Air Corps, 8th Air Force in Carcassic, Northern Ireland. In August 1944, Herb and Edythe were married in Magheralin Church, County Down, Northern Ireland.
In 1946, after the end of World War II, Edythe joined Herb in the United States, initially living in St. Louis, Missouri. However, after visiting Herb's parents in Rohnerville, California, Edythe did not want to return to the "big city." The Humboldt County countryside looked so much like her native Ireland that she convinced Herb to stay and raise their family here.
Herb owned and operated Herb Neely Motors, the largest privately-owned automotive shop in Eureka, for 40 years. His honesty and forthright manner in doing business was exemplary. He was proud to serve on the Humboldt Automotive and Machinist Joint Apprenticeship Committee for over 20 years and as Chairman of the Labor Management Committee.
In 1954, Herb Neely petitioned Humboldt Lodge No. 79 of the Free and Accepted Masons, serving that Lodge as Master in 1973 and 1989. He was appointed Grand Royal Arch Captain in 1995 and installed as Grand High Priest of the Grand Chapter of California in May of 2000. Herb also received the coveted Hiram Award – the highest honor that can be bestowed on a member of the Masonic organization. He also served as the North District Representative to the Endowment Committee raising funds for the Masonic Orphan's home in Covina and for the Home for the Elderly in Union City.
Waterskiing was Herb's passion. He enjoyed skiing with his family and friends at Shasta Lake, Trinity Lake and Big Lagoon. After retiring from the automotive repair business in his mid-60s, Herb was hired by Humboldt State University to teach waterskiing at Big Lagoon. Herb continued to waterski until he was 86 years old.
He is preceded in death by his wife of 63 years, Edythe McKee Neely, his parents Charles and Ruth Neely, and his brother Jim Neely. Herb is survived by his son, Geoffrey Neely, a former Green Beret and his wife, Shalisa, as well as his four daughters: Bonnie Neely, Eureka; Colleen Wright and her husband Russ of Arvada, Colorado; Linda Neely, Arcata; and Kelly Sanders and husband Neal of Willow Creek; his grandchildren John Neely and wife Laura, Lisa Chapman, Tyler Wright, Jackson and Aria Lucido; great grandchildren Cody Chapman, and Jeffrey, Sean and Dylan Neely of Eureka. He is also survived by numerous nieces and nephews in the United States and Northern Ireland.
The family wishes to extend its deep gratitude to the wonderful caregivers at Frye's Care Home, his nurse Kim from the VA, as well as Dr. Armandi and the nurses and staff at St. Joseph's Hospital for providing comfort to Herb and his family through the final days.
In lieu of flowers, contributions in Herb's name may be made in honor of Herb's wife Edythe, to the 2017 Walk to End Alzheimer's –Edythe McKee Neely Team or Humboldt Lodge #79, Masonic Temple, Eureka.
Please join us for a memorial service celebrating Herb's life at Christ Episcopal Church, 15th and H Streets, Eureka, on Friday, May 5th at 11 a.m., followed by a reception at Five Eleven Restaurant, 511 Second Street, Eureka.
Arrangements are under the direction of Goble's Fortuna Mortuary.
Please sign the guestbook at www.times-standard.com click on obituaries.
###

The obituary above was submitted by Herb Neely's family. The Lost Coast Outpost runs obituaries of Humboldt County residents at no charge. See guidelines here.