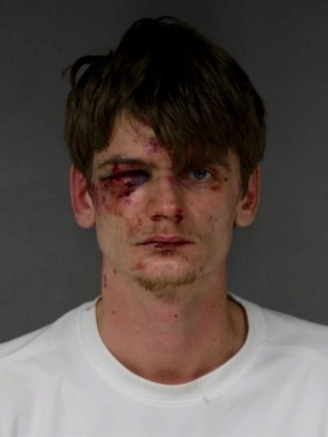 A friend of slain Humboldt State University student David Josiah Lawson provided a different version today of how Lawson spent his last moments alive.

Jason Martinez, testifying during the preliminary hearing of murder suspect Kyle Zoellner, said he was watching Lawson and another man standing in the grass when he heard one of them say "Oh shit, he has a knife." He couldn't identify which man was the speaker.
Then, Martinez said, he saw the other man "strike Josiah with his right hand, once on the lower part of his stomach and one motion toward the upper left side."
Next, Martinez said under questioning by Deputy District Attorney Roger Rees, he saw Lawson "run in front of me and throw himself into some bushes."
Martinez said he never saw a knife and couldn't identify the man who made the motions with his right hand.
Martinez had originally told a police investigator that Zoellner was the attacker. Today he backtracked on that statement, saying he can't identify Zoellner and can't say that what he saw was a stabbing.
"Do you recall saying you saw Zoellner stab Josiah?" Rees asked him.
"I don't know Zoellner," Martinez said. "I didn't know Zoellner. I never knew his name."
Martinez said he never gave a statement to police at the party, instead going to the hospital where Lawson had been taken. Other friends of Lawson's were also there.
"It was the saddest place I've ever seen," Martinez said.
"Why not tell the police about Zoellner making quick jabbing motions?" Rees asked.
Martinez said at that point it didn't seem real to him.
Yesterday another friend of Lawson's, Paris Wright, also testified he saw two men in the grass. One was Lawson and the other Zoellner, he said. But Wright said Lawson had Zoellner in a headlock as both of them lay on the ground. When he went to separate them, he realized Lawson was wounded and bleeding. He said he immediately punched Zoellner in the face.
Lawson, 19, was killed the morning of April 15 at a house party on Spear Avenue in Arcata. The 23-year-old Zoellner is charged with murder and personal use of a knife. He was arrested at the party and remains in custody.
Today, the third day of Zoellner's preliminary hearing, there was also strikingly different testimony about the conversation that started all the trouble that morning.
Zoellner had come to pick up his girlfriend Lila Ortega and three of her friends from the party. Ortega's expensive new cellphone was missing, and Zoellner was planning to ask people if they had seen it.
According to testimony, when they approached the front porch four people were standing there: Lawson, his girlfriend Renalyn Bobadillo, and brothers Kyle and Kristoff Castillo. Ortega has said they politely asked whether the four had seen a gold cellphone. But the Castillos and Bobadillo said Ortega was aggressive and accusatory.
"(Kyle Zoellner) came up to me and said 'Yo, have you seen my girl's phone,'" Kyle Castillo testified today. When he and the others said no, Ortega reportedly responded, "Bullshit. I know you have my phone." Castillo said Ortega demanded they turn their pockets out. They all refused.
Under cross-examination by Deputy Public Defender Kelly Neel, Castillo said Zoellner was not being aggressive.
"I'm not going to lie; he was not at all," Castillo testified. But he said Ortega's attitude made him angry.
"Who wouldn't be angry?" he asked.
Witnesses said it wasn't long before Bobadillo was in a physical fight with Ortega and her friend Naiya Wilkins. Bobadillo said Ortega bit her on the breast, leaving her with "bleeding bite marks" and scars. Ortega has denied biting anyone.
Several witnesses have said that while the "girl fight" was going on, Lawson punched Zoellner. It's in dispute whether it was just Lawson or a group of men who went after Zoellner. But Kristoff Castillo, Kyle Castillo's brother, testified he believed Zoellner was unconscious when the Castillos, Lawson and Bobadillo left the party.
"I think he's knocked out," he told his brother, and he said his brother agreed.
The Castillos denied assaulting either Zoellner or Ortega.
Both the "girl fight" and the confrontation with Zoellner ended with pepper spray. Kyle Castillo thought Ortega had used the chemical, while his brother thought it was Wilkins. Wilkins has acknowledged she used pepper spray, but she said it was because a group of people were attacking Zoellner.
Lawson, his girlfriend and the Castillos left to go home. But they came back because Bobadillo realized her face was burning, and she was panicked about what was causing that. Lawson followed behind her.
"What the fuck did you throw in my face?" Bobadillo said she asked Ortega and Wilkins. "What did you do to me?"
She said the two women "jumped me," and another fight ensued.
At some point she screamed out "Josiah!" and heard him call back, in a worried voice, "Babe!" That would be the last word she ever heard him say.
Instead she found him lying mortally wounded in the grass, "bleeding out." Lifesaving efforts failed, and he was pronounced dead at Mad River Community Hospital.
So far no witness has said they saw a knife. But one was found under a red Ford Mustang that was parked near where Wright says Lawson had Zoellner in a headlock. And suspicion has been raised about whether one of Zoellner's chef's knives was missing. The knife found under the Mustang has not been described. Nor has it been said that Lawson's blood was found on Zoellner.
The one fingerprint on the knife was not Zoellner's. And fibers found on the weapon did not match those from Zoellner's clothes.
Lawson was the president of Brothers United, a group of African American men at HSU. One of the witnesses today was Kiaundrey Clark, a former member of the group who said he was kicked out after Lawson's killing.
Clark, contradicting other friends of Lawson, said that after the stabbing he saw Paris Wright and about five other men kicking Zoellner as he lay on the ground.
According to Ortega and two of her friends, Zoellner was unconscious from the time he was beaten after asking about the missing cellphone.
Testimony is expected to continue before Judge Dale Reinholtsen.
HEARING COVERAGE:
PREVIOUSLY: