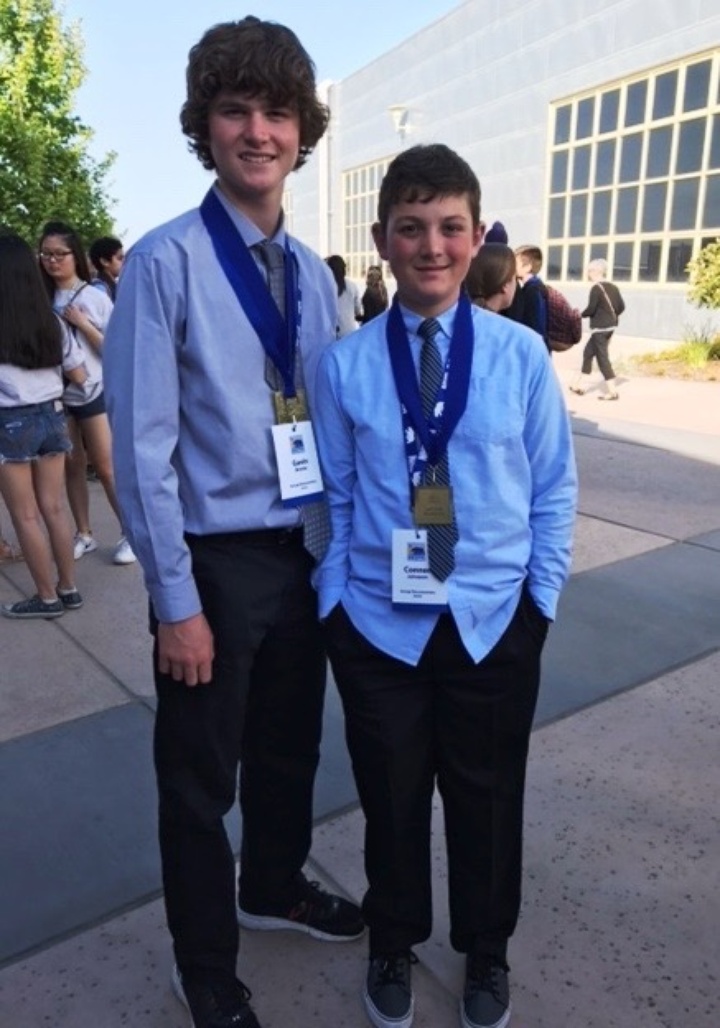 Doesn't get much cooler than this. Not only did eighth-graders Gavin Brooks and Conner Johnson just become California State History Day champions, earning themselves a trip to next month's National History Day competition in Maryland, but get this: Their video project was about the legendary Sun and Stax record labels.
In their 10-minute video, which we've included at the bottom of this post, Brooks and Johnson outline how those two historic Memphis labels defied Jim Crow-era racial segregation "to create lasting art."
And these two burgeoning documentarians aren't the only ones to make Humboldt County proud. Here are some more local student superstars:
Sylvie Benson & Klayre Barres, also of Zane Middle School, earned a fourth place in the group performance category for their project, "Stonewall Riots: Breaking the Barrier of Oppression."
In the group website category, Lucas Morace and Jacoby Coutant of South Bay Elementary were honored with the Promotion of History/California History Award for their project on the 1935 Humboldt logging strike.
Cicely Jones, a student at my alma mater of Fieldbrook Elementary, won the Elizabeth Avery Award for Social Justice for her web-based project called "Legalizing Love."
And at the high school level, McKinleyville High students Emilee Cummings, Madison Lende and Grace Rosebrook earned fourth place for their project "MADD: Candy Lightner's Crusade Against Drunk Driving."
Well done, youth!
Here's a press release from the Humboldt County Office of Education:
The Humboldt County Office of Education's Rising Stars Foundation supported 72 Humboldt County History Day champions to compete at California State History Day, held May 6-7, in Rocklin. With a 2017 theme of "Taking a Stand in History," over 1,200 top history students from throughout the state participate in the rigorous competition that featured multiple rounds.

Ultimately, a total of 27 local students – the largest number ever –earned recognition (last year's number was 14), including State Champions Gavin Brooks and Conner Johnson, 8th graders from Zane Middle School, for their project titled, "Sun & STAX: Record Labels That Defied Segregation and Created Integrated Classics." [Video posted below.] Brooks and Johnson will travel to the University of Maryland to compete at National History Day June 11-15.

In addition to the Rising Stars Foundation, other local organizations/individuals who sponsored student travel to Rocklin were Fortuna Sunrise Rotary, Rotary Club of Arcata Sunrise, Humboldt County League of Women Voters, Humboldt Sponsors, Emmett Till African American History Award, John H. Gross Native American Award, and Alex & Andrea Enyedi.


Each February, hundreds of students in 4th grade through high school compete in Humboldt County History Day, held at Humboldt State University. Through the process of researching and preparing creative and original History Day projects, students learn and analyze issues, ideas, people and events in history and apply that knowledge to their projects, reflecting that year's National History Day theme. Students can participate individually or in groups, and up to 100 students are selected as Co-Champions each year.

The Rising Stars Foundation is a non-profit program established to promote and recognize excellence. In addition to 10 countywide events, the Foundation sponsors related travel to regional, state, and national events. Ongoing community donations of any amount are appreciated, and 100 percent of every tax-deductible dollar donated goes directly to benefitting local students.

To directly support Gavin and Conner's trip to National History Day, please contact Rising Stars Foundation Managing Director Colleen Toste at 707-445-7164 or ctoste@hcoe.org. For more information about the Foundation, visit humboldtrisingstars.org and facebook.com/RisingStarsFoundationHCOE.