Above: Marci Kitchen arrives for court this morning | KIEM
Vehicular manslaughter suspect Marcia "Marci" Kitchen admitted to a friend that she'd been drinking and had hit her daughter and another girl, a California Highway Patrol investigator testified today.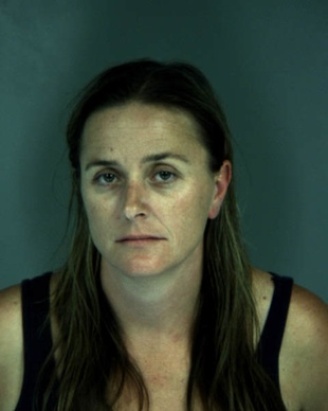 Officer William Chase Adams, testifying on the first day of Kitchen's preliminary hearing, said Kitchen's close friend Ronda Rex told him about her cellphone conversation with Kitchen the morning after Kitchen's daughter Kiya and her friend Faith Tsarnas were hit by a car on Eel River Drive.
Kitchen told Rex she was in Oakland (at the children's hospital) and Kiya had just died. She wanted Rex to go to her house and remove a 7-pound bag of marijuana and some alcohol from her Jeep.
Rex, while continuing to speak with Kitchen on the phone, drove to the house and found Kitchen's Jeep in a side yard. That surprised her because it was usually parked in front of the house. The Jeep was heavily damaged.
She said "Oh my God, Marci, oh my God, Marci," Adams testified. And Kitchen reportedly told her "I did it. I hit the girls."
Chase said Rex asked Kitchen whether she'd been drinking, and Kitchen responded that she'd "had a couple."
"But I thought I hit a deer, Ronda. I thought I hit a deer."
Kitchen told Rex she pulled over and looked back but saw nothing, so she left for home. Rex found no marijuana in the Jeep, and just one unopened bottle of beer. But at Kitchen's direction she removed one pound of marijuana from the bedroom.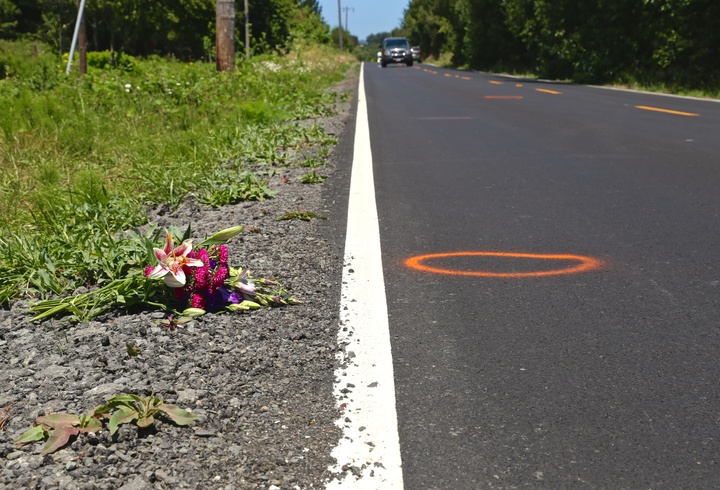 Rex spoke with Chase on July 22, 10 days after Tsarnas and Kiya Kitchen, both 14, were run over. Tsarnas, who had come from out of town to visit Kiya, was dead in the middle of the road. Kiya was found, barely alive, in some bushes 10 to 12 feet off the roadway. She died the next morning in Oakland.
The 911 call about the incident came in at 9:16 p.m. on July 12. Chase and two Fortuna police officers arrived within minutes and found Tsarnas dead.
Officers testified it was still daylight, no flashlights or car headlights required, and the incident occurred on a straight stretch of road. The weather reportedly was clear and dry.
Fortuna police Sgt. Jason Kadle testified that Tsarnas was lying face-down, and he and another officer rolled her onto her back.
Tsarnas had marks on her torso, head and hands, Kadle said, and her legs appeared deformed and twisted. According to later testimony her right leg was broken, and possibly her left ankle and knee. She had no pulse and wasn't breathing.
While officers were checking Tsarnas, they heard someone yell that a second victim had been found. It was Kiya Kitchen. Kadle said Kiya was pulled out from the bushes to the roadway. She was gasping for breath and apparently unconscious.
Kiya was put in an ambulance and taken to Redwood Memorial Hospital in Fortuna. Shortly afterward, Marci Kitchen arrived at the crime scene in a pickup truck being driven by her boyfriend, Josh Pearlston. It was less than 10 minutes after the first 911 call came in. She was yelling and crying, saying she wanted to see her daughter. Chase testified that Kitchen was obviously very drunk. She was unsteady on her feet, slurring her words. And he said the smell of alcohol coming from her was "overwhelming."
The officer gave Kitchen a ride in his patrol car from the crime scene perimeter to where Tsarnas was lying in the road. By this time the teen was covered with a tarp.
Chase said he was thinking "OK, now I have to deal with this drunk lady."
He told Kitchen they were going to see if the body in the roadway was that of her daughter, "and let you have a moment with her."
Chase said Kitchen was "in various states of hysteria."
And at that point, the officer choked up and was unable to continue testifying. Judge John Feeney called for a break.
After the break, Chase said he and Kitchen were standing next to the tarped body, and it seemed Kitchen was "bracing herself for the impact."
Then the tarp was pulled back. Kitchen reportedly said "Wait. That's not my daughter."
"Her demeanor completely changed," Chase said. "She went from almost hysterical to almost cavalier."
But when Chase asked if she knew who the dead girl was, Kitchen became upset again. She said it was Faith, who "is like my daughter."
Kitchen was told Kiya had been taken to Redwood Memorial Hospital. Chase said he was worried about her driving because she appeared to be so drunk, but Josh Pearlston assured him he would give her a ride.
When Chase arrived at the hospital he was surprised Kitchen wasn't there. But her son Jevin Kitchen and a friend of his were.
The officer went to the emergency room to check on Kiya.
"She seemed badly injured," he testified. "She was unresponsive. She didn't seem to be breathing on her own. The medical staff were still giving her CPR."
Chase returned to the scene of the collision, but came back to the hospital a couple of hours later. This time Kitchen was there, and she told him Kiya was going to be flown out of the area for treatment.
"They won't let me fly on the plane with my daughter because they think I'm drunk," she reportedly told the officer. Chase said he told her he agreed that she was drunk. In fact, he said, Kitchen was still slurring her words, repeating herself and struggling with multi-syllable words.
According to Chase, the injured girls were found 350 feet away from the initial point of impact. He said he attributed that to the driver traveling at a high rate of speed and continuing to drive after striking the girls.
There was various debris found in the roadway: a black flip-flop, an intact skateboard, a destroyed skateboard, auto parts and paint chips. Chase said the paint chips were later matched to Kitchen's Jeep.
The first person to call 911 that night was Duane Ashbach, who lives not far from the accident scene. He told Chase he was driving southbound toward home when he saw two girls along the east shoulder of Eel River Drive. One was walking, the other on a skateboard.
Ashbach was home for about 10 minutes, then headed back to Fortuna. This time he saw a car coming toward him that appeared to be swerving from lane to lane. Then he saw the vehicle slow down and pull over to the side of the road. He described the driver as someone who looked just like one of the skateboarders he had seen 10 minutes earlier.
Ashbach then saw a body lying in the road, and he called 911. He realized the girl in the road was one of the skateboarders he had seen moments before.
Kitchen, 39, listened quietly to testimony as she sat at the counsel table between defense attorneys Patrik Griego and Ben Okin.
A large group of people in the courtroom appeared to be friends and family members of Kiya Kitchen. A smaller group apparently were there to support Kitchen.
Testimony is expected to continue Tuesday morning, with defense attorneys cross-examining Chase.
PREVIOUSLY