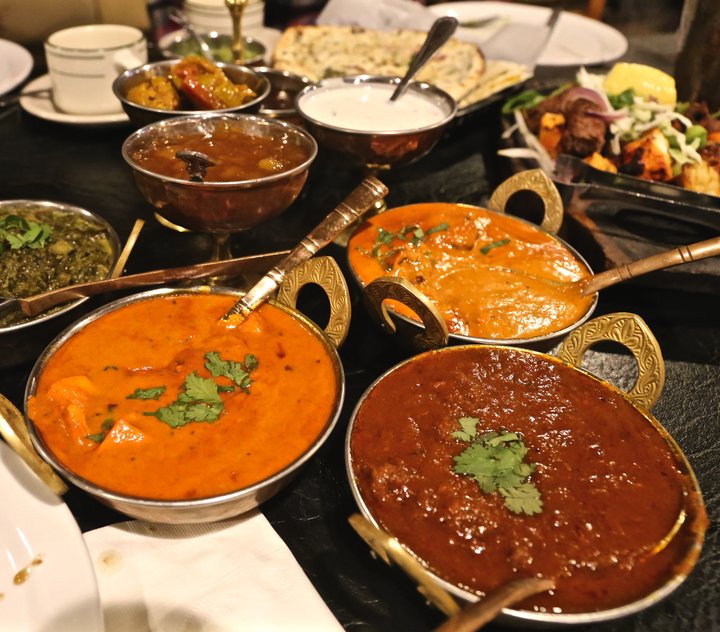 I love Indian food. Wouldn't it be wonderful to have three or four options? For a while there was that one on Broadway, which I liked, but I always felt like a truck was going to crash through the window at any minute. There was the one in Arcata, owned by that guy who didn't believe in permits. I didn't live here for that sweet chapter in Arcata history. I heard it was good. And then we have ye old faithful, That Indian Restaurant off the Samoa Bridge. Through various name changes and presumably owners, it has remained the same predictable Indian.

I like Tandoori Bites. When I want Indian food cooked by someone else, that's where I go. True, I have no alternative, but when there was another Indian restaurant I usually chose Tandoori (called Sam Raat, at that point. I'd love to know what that means!). The curries are really rich, well-seasoned and the naan is good. Not sensationally so, but still, naan. Warm, comforting, gluten-y naan. Do I think they could have used better quality oil and made more interesting food? Yes, I do. The food may be predictable, but it's solid. You can rely on your Chicken Korma to taste like Chicken Korma. There is obviously a playbook for Indian restaurant, and they're stickin' to it.
The decor is inoffensive. I imagine that if you went to an Indian restaurant in Tampa in the '90's, you'd see the same gold hues and glittering gold serving towers, awaiting tomorrow's aromatic Lunch Buffet. The booths are comfortable, the standard of cleanliness is high. Sometimes it's overwhelmingly scented with industrial cleanser, but this wasn't one of those times.
The menu has all the things. They have lamb, which I really appreciate. Why don't we eat more lamb? Where is the local lamb? C'mon, Humboldt, don't let New Zealand keep their stranglehold on the lamb market!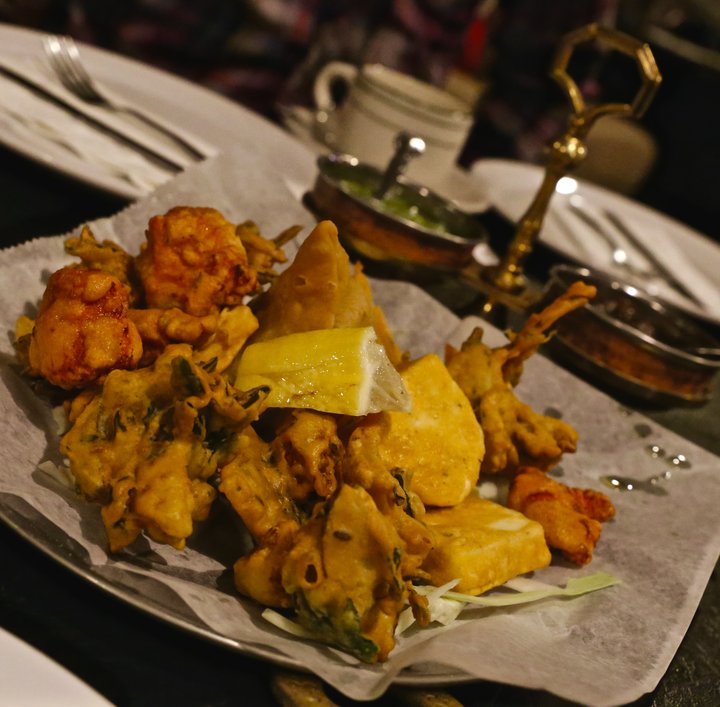 Let me say right off that their green sauce is magnificent. That sauce is Green Chutney, and every Indian American restaurant has it on the table. Tandoori Bites clearly makes it fresh every day. A green coriander-mint chutney, you can taste the pulverized garlic, ginger and fresh herbs. The mint's piquancy is an ideal foil for the often overly rich curries. It was lovely with the Assorted Appetizer ($7.99) which has a potato-filled samosa — delicious, correctly salted — 'veg' pakora, chicken pakora and paneer pakora. The chickpea batter is nicely seasoned with a good curry powder and it's very tasty. Not as good as my home-made paneer, but tasty. I was escorted by Andrew Goff and John Ferrara from the Lost Coast Outpost, and Melody and Big Iz, so we handled a big plate of fried stuff with style and aplomb.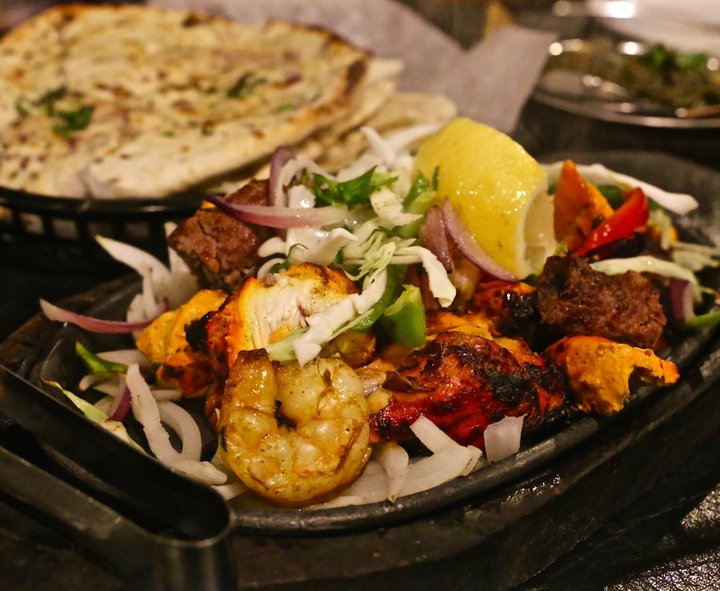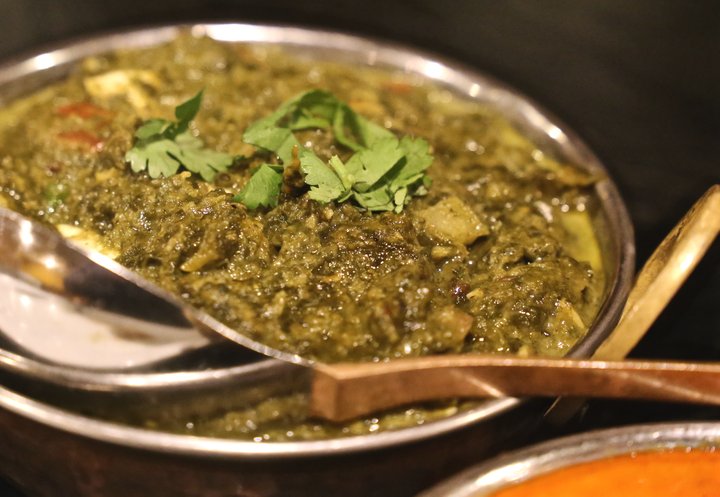 We ordered the things I always get (usually just one) at any Indian restaurant; Rogan Josh (tomato and yougurt-based curry with lamb, $12.99), Chicken Tikka Masala ($11.49, chicken tandoori style in a 'rich cream sauce'), Sag Paneer ($8.99, spinach with paneer cheese), Vegetable Biryani ($9.99, basmati rice with slivered almonds and vegetables), Paneer Tikka ($9.99, cheese cubes in 'rich cream sauce', and the impressive Mixed Tandoori Grill ($16.99, tandoori chicken, chicken tikka, shrimp, seekh kahab or ground beef with spices, onion, bell peppers).
Other than the tikka sauce being overly sweetened, the Tikka Masala was delicious. It's a sauce made of yogurt, cream, tomato, onion, garlic, chili pepper, and some of the huge cornucopia of spices that can go into a curry: cumin, nutmeg, cardamom, coriander, cayenne. This one clearly had sugar. It's absolutely standard on Indian American Menus, and I can't find any real fault with this one. The paneer was dry (as it was in the Saag Paneer), but it's a solid B+ Tikka Masala. The Mixed Grill was sadly underseasoned, but moist, and the grilled vegetables were appreciated. The Vegetable Biryani is always one of my favorites; basmati rice has the most appetizing aroma, I just love it. With blanched almonds, chopped vegetables, coconut and cinnamon, it was an excellent contrast to the heavy curries, and it was buttery and light and mouth-watering.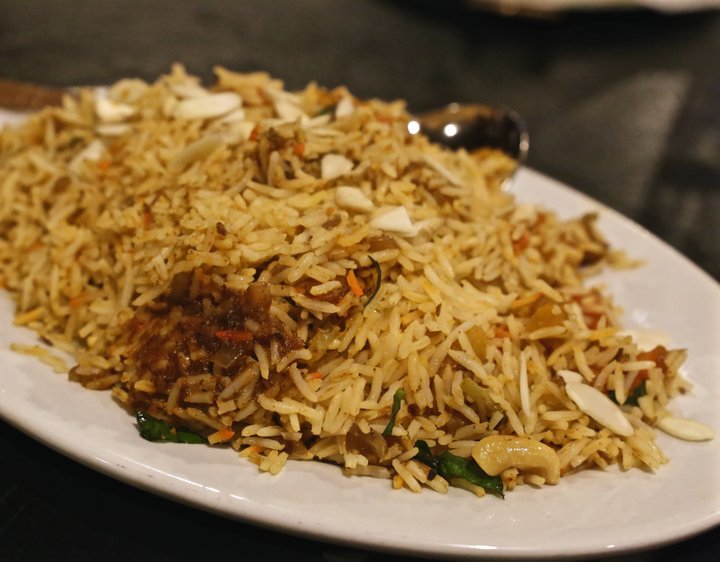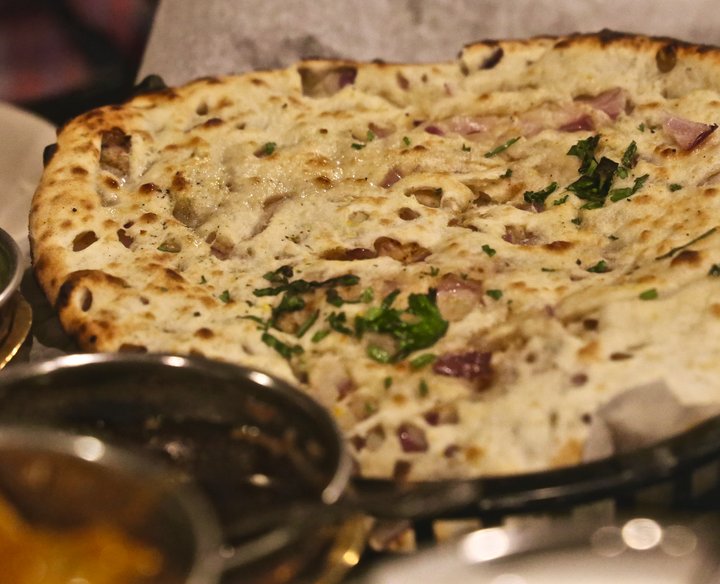 Their naan is fine. The kulcha, the onion-stuffed one, could have used a lot more onion, but it was still good; hot fresh-baked naan is one of life's great treats. I eat Indian food as a way to eat lots of naan. It's leavened, so it's soft and fluffy, but still a flatbread; imagine a good pizza dough baked without toppings. It's all nice and chewy. Tandoori Bites has a good naan, not the best, but good.
Indian food is meant to be shared, and we had a convivial meal. Sparkling convo. The place was cold, but the family style eating, steaming fresh naan, and tingling aromas made for a pleasant evening. Tandoori Bites gets a solid B. Nothing original, but no big screw-ups in the execution. Plus, the kids say that it's one of the only places that you can order delivery online from, so if you want to do that, you totally can! You can finally have dinner without ever talking to anyone. Netflix and solitude. No one will see you eat all the naan.
###

Tandoori Bites. 1735 4th St., Eureka. Open 5 p.m.-9:30 p.m. daily; open for lunch 11:30 a.m.-3:30 p.m. Monday through Saturday. (707) 442-6500.