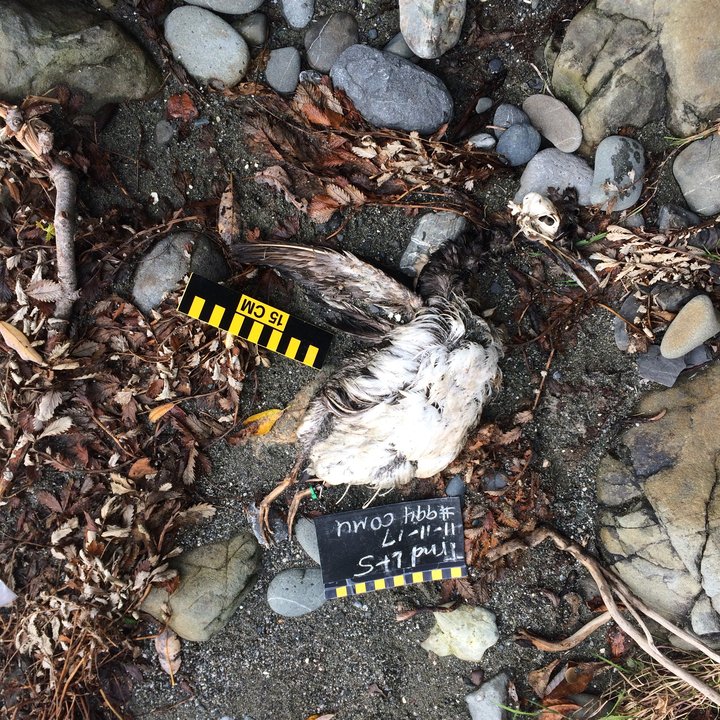 For the past three years, Valerie Eurs and Kim Farahmand have been stewards of the dead, volunteer chroniclers of avian decomposition, along one of the most beautiful and rugged stretches of the Northern California coast, where cliffs and vegetation are shorn off abruptly, continually by the incessant and unyielding power of the world's largest ocean.

This Saturday, Valerie and Kim, along with Kim's five-year-old daughter Anna, and myself as a witness for the sake of this column, attended to that monthly volunteer work along Old Home Beach, a half-mile stretch of rugged sand and stone at the foot of a steep set of stairs below the Trinidad Memorial Lighthouse.
Over the past few months prior, Eurs and Farahmand had recorded the highest number of dead birds ever found on their survey, among them common myrrhs, western gulls cormorants, even a rhinoceros auklet. Reasons could range anywhere from a massive food die-off further up the food chain to a simple change in tides that meant more birds were being washed up onto the shore.
"It could be somethng as simple as the tide cycle," Eurs said. "At high tide the carcasess get pushed up against the cliff and if the tide doesn't get that high again it doesn't pull them out. Or it could be something to do with the food cycle. As citizen volunteers, we don't get into that level of detail."
So this month, they were anxious to see if the pattern had continued or if the numbers had returned to average.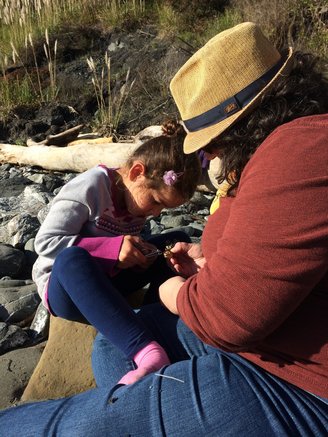 It's all part of COASST — the Coastal Observation Seabird Survey Team — project run out of the University of Washington, one of a number of such citizen science projects, where institutions utilize the interest and passion of people throughout the West Coast and elsewhere to crowd source data collection. They field large numbers of volunteers for this particular program — essentially a team per beach, Eurs said.
These everyday people walk their routes once a month, observe the beaches, and look for dead birds. They don't try and determine cause of death. They simply number the carcass, take its photograph, file it, and send the information back to the organizers.
They also count the number of people and dogs on the beach and haul out litter, which Saturday included the sole of a shoe, broken bottles, strips of leather, bits of plastic, a shirt, several socks, fishing line, and all manner of human detritus.
The project is a mix of modern science, the modern methodology of crowdsourcing, and —incidentally— what feels like a kind of primal connection one could develop with a single piece of land only after returning to it again and again and again and again, in all kinds of conditions, and seeing it transform over time, under such forces as only the earth can bring to bear: Wind, ocean, sand, and stone battering away, or even just gently prying at the edges. Somehow, someway, it's always working on you.
Old Home, which had earned a place in both of their hearts in recent years, is an unpredictable, dynamic place, Eurs said.
"It's crazy because we have these giant huge massive stumps sticking out of the sand and the next month you'll only have this little nub sticking out of the sand," Eurs said. "Especially after last winter when we had the huge storms and the pounding waves for days on end and it's eating away at the cliffs, the vegetation is falling down, boulders got shifted around. So, change. That's the dynamic nature of the environment. Some things are dying and some things are thriving and it's interesting to see it shift."
The survey Saturday was a return to the mean. The number of dead birds was closer to the more normal twos and threes, rather than the double digit numbers they'd seen since the summer.
It was as if the ocean had scoured the beach clean of all remnants of feather and bone, old and new, and left fresh ground behind.
The cycles do repeat themselves.
It's been said that the influence of science is waning in this country. People just aren't looking in the right place.
Here's a tip. You know you're among dedicated scientists when they encounter the stench of death in the air and instead of walking away, they drag it in toward their nostrils and seek it out with enthusiasm, growing frustrated when it becomes clear the deceased lies unreachable halfway up a hill covered in thick brush.
Farahmand, who let young Anna get her hands dirty Saturday by handling a carcass and helping to tag the head of a gull toward the end of the afternoon, said knowledge is paramount to a better society.
"I think we need to know as much what's going on with Earth as we can so we can make change in a positive way if we need to," she said. "I love our area, our coast, and I love to be able to contribute to our understanding of it."
What better battle cry for the citizen scientist?
For more information about the program, visit https://depts.washington.edu/coasst/
####
James Faulk is a writer living in Eureka. He can be reached at shozbot17@gmail.com.