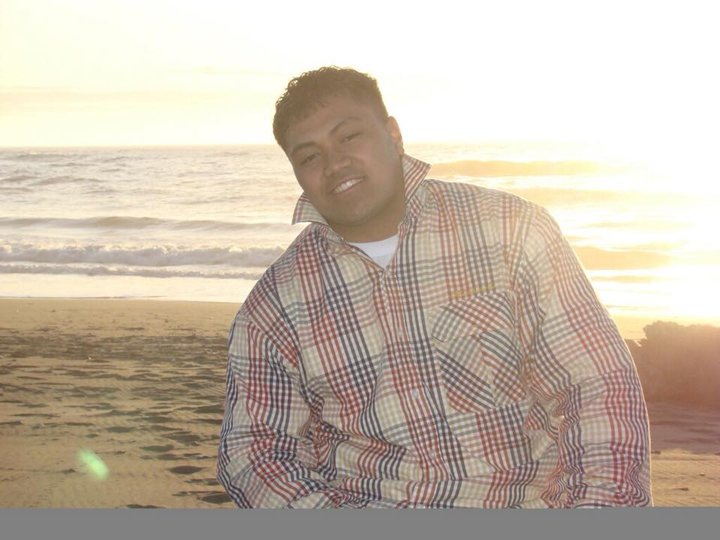 The Heavens gained another angel on October 22, 2017 — our beloved Talavou Toga Fonoti, at the age of 25.
Talavou was born on October 18, 1992 in a village called Leone, American Samoa. He was the youngest boy out of 11 siblings. His siblings are Mila, Fiti, Toga, Sally, Sam, Suzie, Lalavai, Havenly, Ron, Marianive and Peato. His father was the late Toga La'u Fonoti. His mother — Suiaana Tuli and step-mother, Tausaga Iakopo-Fonoti of Leone, American Samoa.
When Talavou was six months old they moved from American Samoa to make a new home in Hawaii with Aunty Tuileisu and Uncle Charles Miller and family in Aiea, Oahu. In 1998, Talavou and his late father Toga La'u Fonoti made their way to Eureka, where both his brothers Toga and Sam had resided. Talavou attended Worthington Elementary then transferred to Ridgewood Elementary. His middle school years were in Leone Midkiff Elementary/Intermediate School; his high school years were spent here in Eureka at Eureka High School 'til his junior year, and then he transfered and graduated from St. Bernards High School.
He played football for both schools. He loved the sport and later he helped coach his nephews and niece in little league for the Knights football team to returning, to St. Bernard's to help coach their football JV team with our one and only Omeli Tanuvasa.
His first job was working for UPS during the seasonal holidays, and at Target and Carpet Express. He then was employed by Humboldt Redwood Company Lumber Mill. He played under-19 rugby for Humboldt Husky Fortuna. He attended College of the Redwoods, where he played as their fullback, played rugby for HSU and Humboldt Old Growth semi-pro. During his college years is when he met the love of his life and his best friend, Ruta Mata'u. On August 19, 2013 it was Ruta's birthday when Talavou proposed on the beautiful downtown Boardwalk, where they both set a date one year later. It was Rutas best birthday gift ever.
It was one year later where they started their journey as husband and wife. On that day Talavou became part of the Matau'Leaana Aiga, where they made memories that will last a lifetime.
Talavou's other talents were: He danced in a youth and village group in American Samoa. He help build a Hula group (Aiga Ile Tai/Te Reo O Te Moana Nui) danced, performed and a musician.
Talavou will always be remembered for his loving arms, tightest hugs and the biggest heart ever. He never judged anyone — always had a smile from ear to ear. He was a big brother to everyone and the bestest uncle to his nephews and nieces. He made friends where ever he went — too many to mention, but you know who you are. He will forever be MISSED!!
Ia manuia lau malaga, Ia tu Ieova i lo tatou va , Alofatele ia te oe le uso pelevau aiga , toe lagi
( We love you our dear brother….Families are Forever!! God be with you till we meet again)
Talavou is survived by his wife Ruta, his siblings Toga (Roberta), Sam (Keaka) from Eureka, Mila (Olive) from Australia, Fiti (Kimberly) from Oahu, Sally, Susie Lalovai, Havenly , Ron Toleafoa, Marianive Toleafoa, Peato Togise from American Samoa his nieces and nephews, Talimaivao, Fa'apisa, Malia, Puletele, Tamasili, Moana-Marie, TJ Talavou, Issac, Sabrina, Gabriel, Natasha, Sera-Maria, Itiare, Isaia, plus all his extended family and friends.
He is preceded in death by his father Toga Fonoti Sr.
Funeral services will take place at the Eurek,a First United Methodist Church, 520 Del Norte Street, Eureka on Saturday, November 18, 2017. General viewing from 8 a.m.-10 a.m. Service from 10 a.m.-12:30 p.m. Burial to follow at Ocean View Cemetery at 1 pm
On behalf of our Fonoti Family, we would like to thank each and everyone of you for all your well wishes, prayers, donations and all your support.
###
The obituary above was submitted by Talavou Toga Fonoti's family. The Lost Coast Outpost runs obituaries of Humboldt County residents at no charge. See guidelines here.