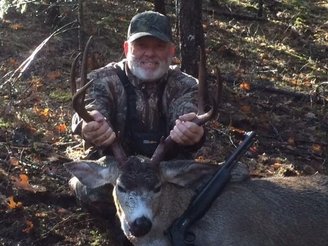 Terry Lee Barns passed away suddenly on January 13, 2017, at the vibrant age of 64.

Terry was born in Humboldt County on November 18, 1952. Terry would have turned 65 this month. He was a lifelong resident of Eureka. He attended and graduated from Eureka High School in 1971. This is where Terry meet his high school sweetheart, Carolyn Johnson (Barns).
Terry and Carolyn married in 1973. They were excited to start a family together and soon had a daughter, Kelly, and son, Damon. Terry worked for Gustafson's as a salesman after graduating from high school. He later worked for Arcata Redwood Company as a green chain-puller for many years. After being injured on the job, Terry was no longer able to return to work and pursued a career as a school bus driver. Terry was a school bus driver for the Arcata School District for the last 20-plus years. He was very dedicated to his job and very much enjoyed being a part of the students' day. He built many friendships with the people he worked with and the families of the children he drove school bus for.
Terry and his wife Carolyn retired in June 2015. It was always their dream to move up to Ruth Lake and live there year-round.
Terry enjoyed every moment he spent with his family and friends. Saying that he had a love for the outdoors would be an understatement, especially concerning his time spent up at Ruth Lake/Trinity County. Terry and his family spent much of their time camping, hiking, hunting, fishing, etc. at Ruth Lake. He was an avid deer hunter. He made the Boone and Crockett Big Game record in 2011 with a deer he claimed with his family on a very cold, snowy day. It took the better part of a day, with his wife and two children, to pack the deer back to their vehicle. Nothing made him prouder than to share this accomplishment with his family.
Terry's family was his life. He was very proud of their accomplishments. He is preceded in death by his grandfather Albert Barns and father Lester Barns. He is survived by his wife, Carolyn Barns; daughter, Kelly Barns (Larry Ford); son Damon Barns (Sarah Barns); mother and step-father, Martha and Casey Nylander, sisters Sharon LeRoy (Jeff LeRoy) and Tracy McCormack; sister-in-law Marlene Henley (Tom Henley); brother-in-law Lyle Johnson (Norma Johnson); grandchildren Kaylyn Victorine, Addison Barns, Ava Ford, Lane Ford, Luke Ford; and numerous nieces, nephews, cousins, aunts and uncles.
Terry had many wonderful friends who have stood by him through good times and challenging times. No matter what was going on in his life, they were always there for him and his family. Terry's family thanks all of the many friends who have reached out and for their kind words. A celebration of life has already taken place with Terry's immediate family members.
###
The obituary above was submitted by Terry Barns' family. The Lost Coast Outpost runs obituaries of Humboldt County residents at no charge. See guidelines here.