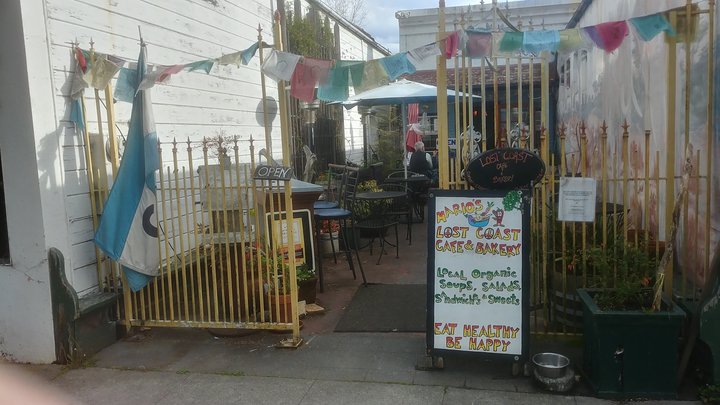 I remember the first time I walked by Lost Coast Cafe on Main Street in Ferndale. A vegan/vegetarian cafe with Buddhist prayer flags is something I expect to see in Arcata, but on Main Street in Ferndale? Where were the angry townspeople with burning pitchforks?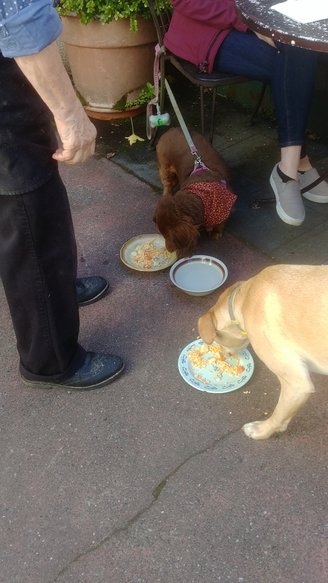 Well, just goes to show I don't know Ferndale. When I go to Lost Coast Cafe, there are lots of different kinds of people: German tourists, moms with kids in yoga pants, overly-talkative and friendly regulars, and, yes, a few rancher-looking fellows.

The reason is the food. I love meat. (I am picky about what meat, but if it's a steer slaughtered in Humboldt, I am excited to grill that sucker). But I don't miss it at this idiosyncratic, homey cafe, with impeccably sourced organic ingredients and a sourdough starter that the owner says is his longest relationship. The mostly-whole-wheat-sourdough with local hand-ground wheat he makes with it is worth the drive alone. You can taste the hand grinding with every bite.
The owner is a friendly fellow named Mario, who, along with a small staff that includes his son, makes everything on the menu, and Mario's hospitality and generosity is unparalleled. Time allowing, he comes out with a hello to most everyone, and feeds your dogs for free (allowed on the patio).
Coffee is very good, and free, which I think is a great idea. I'd always pick the place with free good coffee for a weekend brunch. Free equals welcoming. Also coffee always seems annoyingly pricey nowadays. I'm paying $15 bucks for you to poach my eggs, and another 3 bucks for brewed regular coffee seems a bit rich, you know? It's the little things like that. When Jenny and I ordered two pieces of Apple Strudel and he just finished off the last third of cake by slicing it into two enormous portions, we felt like Mario's top priority was our happiness. Generosity, peace signs and delicious (despite vegan and GF) ginger snaps for $1.50 make for a swell meal.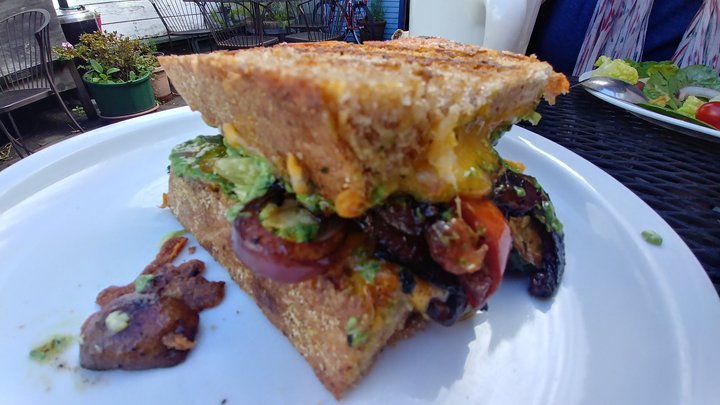 Jenny and I split the Adult Grilled Cheese for $10.75 with salad. Stuffed with grilled squash and onion and peppers and jalapenos, gooey ample cheddar with burned crisp edges where it oozed off the bread, and generous ripe avo on the amazing sourdough, it's a solid contender for best vegetarian sandwich in Humboldt. The salad had a nice miso dressing, with roasted grapes that took a while to identify. What a great salad idea - grapes roasted in oil with oregano and thyme, that pop with sweetness in your mouth.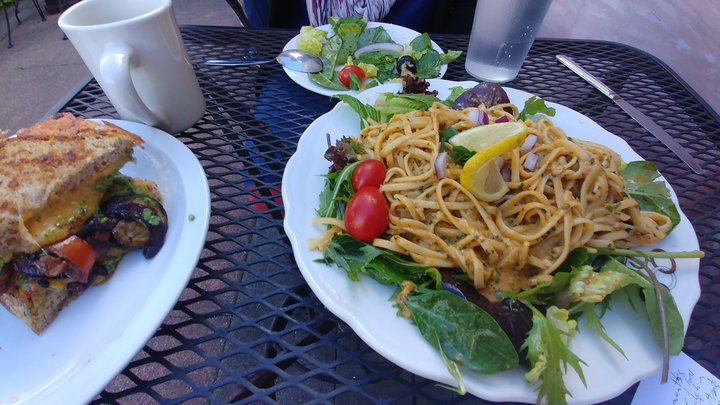 The Special was a tasty and well-executed Thai noodle thing with peanut sauce on mixed greens for 12 bucks, and I got a velvety bean and cabbage soup ($4.50) that was nourishingly hearty, with the cabbage properly cooked down to the sweet caramelly vegetable it can be in stews when treated properly. Next time, I want to try the chili, which I was assured by a fellow diner was the best vegetarian soup of any kind there is. That's a tall order, but it does look and smell delicious, with lots of melty cheese and scallions on top.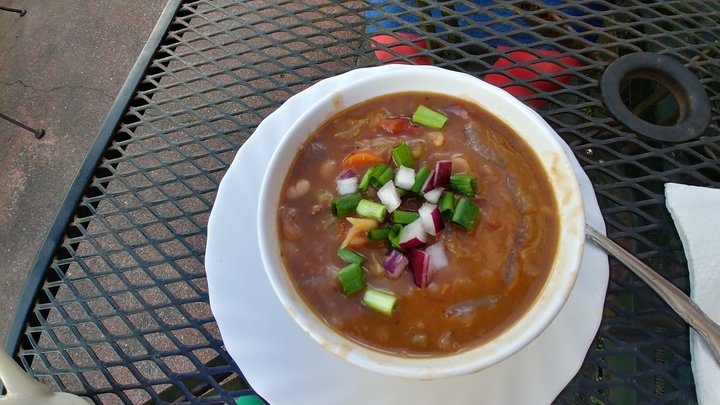 The wait can be long and the menu is small, but each dish is crafted with such good ingredients.You finally understand what your old hippie friend meant about "vegetarian food made with love," which always bugged the crap out of me because it usually meant unsalted kasha.
However, all is not peace and prayer flags at the Lost Coast Cafe. Whoever owns the store next door to the cafe is kicking Mario out, apparently to create another six feet of space to sell Christmas ornaments, so if you want to experience The Adult Grilled Cheese for yourself you should head down there in the next few weeks. Maybe call first. If you enjoy your experience, encourage Mario to re-open in a new location, which he is willing to do with some community support. Humboldt needs this friendly, special, and family-run restaurant.
###
Lost Coast Cafe. 468 Main Street, Ferndale. (707) 786-5330. Regular hours: Thursday through Monday, 10:30 a.m.-4 p.m.