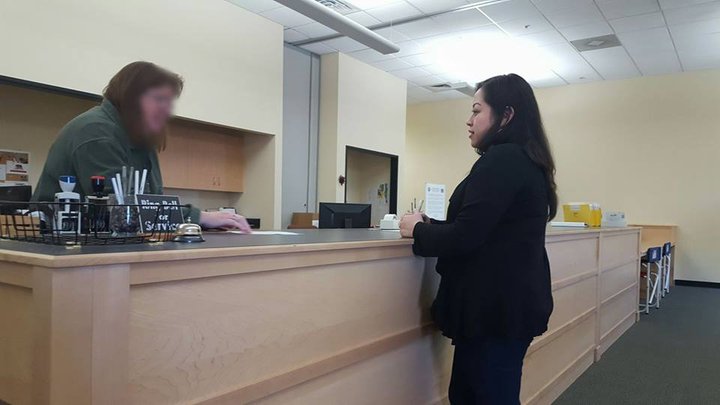 Less than four months into her tenure as Humboldt County's assistant auditor-controller, Karen Paz Dominguez has already made quite an impression. As we explored earlier this month, she has challenged the status quo and called out weaknesses in the county's accounting practices, and on Nov. 7 she made an impassioned plea to the Board of Supervisors for more staffing in the department.
Now she's taking a run at the top job. Here's what she posted on Facebook this morning:
It's one thing to complain. It's another thing to take action. I submitted my Candidate Intention Statement at the Humboldt County Elections Office this morning. I am going to run for Auditor-Controller in 2018.
With current Auditor-Controller Joseph Mellett's admission that he's burning out and ready to retire after this, his second term in office, Paz Dominguez becomes the only candidate thus far to announce for a position that hasn't seen a close election this century.
"When I got hired, I was hoping to be groomed for the position," Paz Dominguez told the Outpost. "But I found out that I'm pretty capable already."
Paz Dominguez graduated from Humboldt State University in 2013 with her bachelor's in business administration and an emphasis in accounting. A member of The National Association of Enrolled Agents, Paz Dominguez said she has accumulated more than 2,500 hours in auditing while working two years at Fortuna firm Anderson, Lucas, Somerville & Borges, LLP, and three years at Eureka firm Martin, Hutchison & Hohman.
She's in the process of becoming a certified public accountant, having passed the first of four state exams, with the rest scheduled in January and February 2018.
"I've already started developing a transition plan, identifying areas I thought needed to be improved or corrected," Paz Dominguez said. She has also been keeping a list of things to fix, she said, noting, "the list has gotten pretty long."
At the top of the list she placed improved training for staff in the department, "because if I'm not going to get the additional staff I need, then I need to train people to do more," she said. She would also like to improve employee morale in an effort to cut down on turnover, she said.
And she'd like to increase transparency for the public.
"The goal, the dream, the vision is to have community meetings, to give people a snapshot of the county's finances today," she said. Rather than just submitting audit reports to the Board of Supervisors, Paz Dominguez said she'd like to share them with the community.
"If I have to rent out a space, I want to let the public ask questions, and let the public guide policy," she said. "Right now it's a bunch of non-accountants deciding what's best for everybody," she added, repeating a criticism she's made before — that the Board of Supervisors and County Administrative Office have seized too much control over county budgeting and accounting functions.
After challenging the board publicly earlier this month, Paz Dominguez has been encouraged to run for auditor-controller by friends, and she has been researching the various responsibilities for auditor-controllers here and in other counties, she said. "I wouldn't run if I didn't feel I was capable of doing the job and doing the job well," she said.
Ans she believes accountability is a key component of that goal.
"In order to build trust for a county organization that's already mistrusted, it's important to promote transparency," she said.
California's primary election, which in Humboldt County will include the race for auditor-controller, is scheduled for June 5.