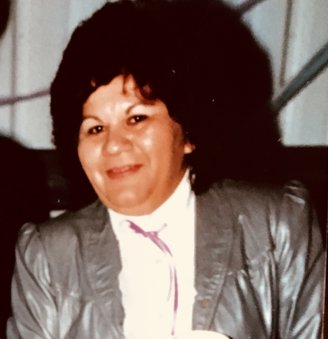 Esther Carmen Colegrove passed away on the morning of Monday, Nov. 21, 2017. She was born to the late Frank and Lila Nixon Colegrove on July 22, 1944 in Hoopa. She was the youngest of six children.

Esther, a member of the Hoopa Tribe, valued her traditional cultural training. She always looked forward to the annual cultural dances and ceremonies. She was a member of the Indian Shaker Church and especially enjoyed attending church with her sister Marilyn Hostler and her brother George "Pordie" Blake.
While attending Eureka Senior High School, she operated a hamburger stand in downtown Eureka. After high school she attended and graduated from Frederick and Charles and obtained a Cosmetology license. Later she attended Humboldt State University (HSU) where she received her bachelors of science degree in business with an emphasis in accounting.
She was employed as an accountant for various entities including: Tri-County, College of the Redwoods, HSU, Trinidad Rancheria, Redtail Hawk Construction, Tesir Industries, Paragon Industry and Greenville Rancheria. She lived in the Reno, NV area, where she worked for Club Cal Neva. After moving home to Hoopa she was employed for the Hoopa Fisheries Department until her retirement. Her family and home were her hobbies. She learned to weave baskets and enjoyed gathering materials throughout the year. She kept a special berry patch and was content working in her flower garden.
She is survived by her brother Everett "Tweet" Colegrove, (Marjorie), sister Marilyn "Dodo" Hostler, brother-in-law David Drake and sister-in-law Patricia Colegrove, her children: Lelanette "Snickles" James, Jesse James, and Farrah Pratt, her grandchildren: Timothy, Katrina, Frances, Thomas, Carmen, Kininden and her great-grandchildren: Destiny, Charlee, Tomera, Terry, Josh Jr., Jace, Donald and Evangelina. She was proceeded in death by her sister Adrienne "Cuddles" Drake, brothers Wilfred Colegrove and Frances"Bunzy" Colegrove, brother-in-law David "Skippy" Hostler and grand-daughter Cassie Perry. She is also survived by numerous friends and family members. She shared special friendships with Joy Sundberg, Walt and Callie Lara, Jeanie "Betsy" Lopez and family.
Honorary Pallbearers: Rick Hall, Rick Hall, Jr., Lance Hall, Bro Beck, Joe Joe Johnson , Tanner Johnson, Frankie Hostler, Nicowah Hostler, Frankie Hostler, Curtis Hostler, David "Sonners" Hostler, Everett "Muss" Colegrove, Louis George Colegrove, Bronc Colegrove, , Joe Surber, Jackson Surber, Gary Lewis, Jr., Monte "Boogs" Jarnaghan, Bradley Hostler, Sonny Jim Hostler, Rod Gulley, Shaun Perry, Oscar Colegrove, Sonny Hescock, Willie Raymond, Brian Colegrove, Lonnie Colegrove, Alphonso Colegrove, Billy Colegrove, Nolan Colegrove, Sr., Owee Colegrove, Gary Colegrove, Gary Colegrove Jr., Mike Ferris, Boyd Ferris, Arnold "Deacon" Ferris, Leonard "Spam" Ferris, Sebastian Ferris, Lorenzo Rogers, Lonnie Wilson Jr., Dexter Cooper, Clyde Moon, Phillip Vigil, David Vigil, Rodney Vigil, Jake Blake, Cawtep Sylvia, Lawrence O'Rourke, Michael Masten, David Drake, Carl Colegrove Sr., Rudolph Colegrove, Lyle Moon, George Moon Jr., Gary Ewing, Chris Lopez, Aaron Lopez, Tim Ewing, Fernando Ewing, Louie Lopez, Joe Toe James, Honeyman, David Jackson, Manual Mattz, Clyde Matilton, Richard Stewart, Paul Petros, T.R. Maloney, Roy Jones, Tim Hunt, Tismil Avery, Bill Taylor, Thomas "Smitty" Branham, Troy Branham, Amos Pole, Willie Beck, Leroy Baldy, Walt Lara Sr. and Sammy Cooper.
The family would like to express special appreciation to the kind staff of St. Joseph Hospital, Dr. Eva Smith and all of the many visitors and supporters during her illness. Special thanks to Pordie Blake for all of his kindness and attention over the years.
Family and friends were invited to a wake at Esther's home on Tish Tang Road, Hoopa, on Friday November 24, 2017, at 7 p.m. Graveside services and interment were held at the Colegrove family cemetery at 10 a.m. on Saturday, November 25, 2017, and they were followed by a meal at the Hoopa Fire House.
###
The obituary above was submitted by Esther Colegrove's family. The Lost Coast Outpost runs obituaries of Humboldt County residents at no charge. See guidelines here.